1999.10: Take that, AppleInsider, MacNews, and all the rest!
At the suggestion of John Farr, I hereby take the lid of the "new iMac" controversy.
As Amy Hoy noted on The Daily Mac, all those photos we saw last week were clever Photoshop creations designed to mislead the Mac faithful.
In fact, they may have been part of a deliberate disinformation campaign by Apple Computer, as hinted by David K. Every at MacKiDo.
Or some Wintel Photoshop savant is trying to pull the wool over our eyes.

Well, it's all one big hoax!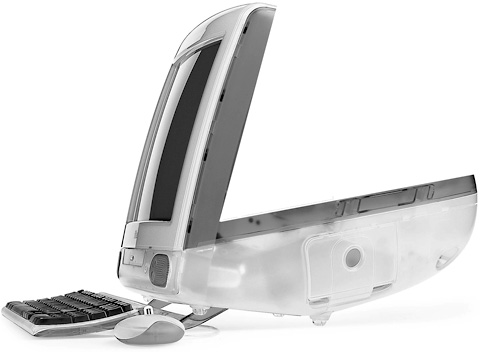 Instead of punching a zillion little holes in the iMac to improve airflow and allow Apple to eliminate the internal fan, the new iMac will be topless! Well, more precisely, it will be a convertible design, retro-reminiscent of the ragtops and T-tops produced by the automobile industry.
To protect users from the dangerous voltage of an open-air CRT, the topless iMac uses the same 13.3″ 1024 x 768 TFT display famous from the original PowerBook G3 Series (not to be confused with the Kanga PowerBook G3, PowerBook G3 Series II, or the Lombard "Bronze Keyboard" PowerBook G3.
Since the iMac is a desktop, Apple doesn't need to worry about hinge stress loosing the LCD connections, so they will finally be able to unload the hundreds of thousands of 13.3″ LCDs purchased in bulk before the PowerBook G3 Series stopped using them.
With today's inflated LCD prices, it just makes good economic sense for Apple to dust off this warehouse full of screens and turn old inventory into cash. Because Apple has already written off a portion of the cost of these "lemon" screens and received a huge settlement from the manufacturer, they can actually install them in the new iMac for the same cost as the traditional iMac CRT
That means, unlike the Packard Bell NEC Z1 and Gateway Profile LCD computers, the topless iMac will be a consumer computer with a consumer price tag.
Specification
And what would an exposé be without all the relevant specs? Hardly worth your time!
announced October 5, 1999 at US$1,199
requires Mac OS 9.0 or later
CPU: 350 MHz G4
bus: 100 MHz
performance: 7.0 (estimated), relative to 7100/80; 14.1, BYTEmark; 1275, MacBench 5
RAM: 64 MB, expandable to 512 MB using SO-DIMM SDRAM (3.3V, unbuffered, 64-bit, 144-pin, 100 MHz or faster, 10ns) in two DIMM sockets, top DIMM socket accepts 2″ DIMM, bottom socket takes 1.5″ DIMM
VRAM: 16 MB SGRAM
Video: native resolutions of 1024 x 768 color active matrix using ATI Rage Pro Turbo chipset, interpolated (somewhat fuzzy) 640 x 480 and 800 x 600 resolutions available, will support resolutions to 1600 x 1200 on an external monitor
monitor: 13.3″ 24-bit 1024 x 768 color active matrix LCD
L2 cache: 1 MB 2:1 backside cache
hard drive: 10 GB EIDE drive
DVD-ROM: 2x player
SCSI: none
PCI slots: none
USB ports: 2, each with separate controller (as in the Sawtooth G4)
FireWire: 1
integrated 56 kbps modem supports v.90 standard
10/100Base-T ethernet connectors on back of computer
height: 15.7 in
width: 15.1 in
depth: 17.3 in
weight: 18.4 lb.
Conclusion
The disinformation campaign unleashed just over a week ago was brilliant, especially the participation of Apple legal in making everyone believe the photos were legitimate – and the ensuing firestorm from Mac webmasters greatly increased Apple's online visibility in the days prior to the official announcement.
The decision to use Motorola's 350 MHz G4 eliminates the need for a hardware codec or slow software decoding when watching DVDs. The LCD greatly reduces power consumption. Overall, there are some brilliant design ideas in the new iMac.
Get your mitts on Kihei, the first topless Macintosh, and undoubtedly a trend setter to be copied by the Wintel manufacturers by January.
 – Anne Onymus
keywords: #kiheiimac #imacg4 #imacrumors