1999: Whether you call it the P1, Consumer Portable, iBook, or WebMate, Apple's newest portable Macintosh is shaping up to be a real winner. For consistency, we'll call it the WebMate in this article.
The following anticipated specifications are reproduced from Mac OS Rumors under their Open Content License:
300 MHz PowerPC 750 processor
66 MHz main bus, 512 KB backside L2 cache (rumors of a cacheless version persist but are considered unreliable).
32 MB of RAM, expandability to 384 MB with SDRAM SO-DIMMs (same as used in WallStreet, Lombard, and iMac).
2 MB ATI 64-bit graphics supporting millions of colors at 832 x 624 resolution. Unknown whether the resolution will be switchable.
11″ passive matrix LCD display. Display quality will be industry-leading for this price point, but still behind the latest professional models.

"Bulletproof" enclosure designed to survive nearly any accidental impact or fall. Employs high-strength plastics similar to iMac and Blue & White G3. The design will employ translucent colors not from any existing Mac, rumored to be based around smoke grey and purple (colors are highly speculative and not confirmed). Form factor reported to take a page from the eMate's book, but due to design constraints it will be significantly larger and may not include a handle.

Total weight approximately 4.5 pounds.
Because of the curvaceous design, thickness measurements can be misleading, but reportedly the enclosure will be approximately 3″ thick in the middle and approximately 1″ thick at the edges.
Expansion port of some type (either a Mezzanine PCI slot or PC card slot) to accept wireless LAN and Internet access options.
Built-in 56k v.90 modem and 10/100 ethernet.
Two USB ports
Supports NetBoot capability
Reported retail pricing: $1,349
(above list ©1999 by Mac OS Rumors/Black Light Media)
Looking at the WebMate feature by feature, we should be able to agree that a 300 MHz G3 is a lot of power for a computer, even one aimed especially at the education market. Although faster G3s are available, running at 300 MHz draws less power – and battery life is a key issue for Apple. It also allows Apple to use the least expensive G3 available.
The same can be said of the 66 MHz system bus, which requires less costly and more energy efficient parts.
Having seen how much slower the cacheless PowerBook G3/233 performed than the PowerBook G3/233 with a cache (see our Road Apples article for details), I hope Apple will include a backside cache. That half megabyte of fast RAM would make the WebMate about 70% faster than it would be without it.
A 32 MB Macintosh is adequate these days – witness the continuing popularity of the iMac. Most of all, by shipping with 32 MB standard, Apple shaves perhaps US$50-100 from the retail price.
Whether it has a SuperVGA 800 x 640 or more Mac-typical 832 x 624 color display, I don't expect it to have the same quality as the amazing 14.1″ active matrix screen on the PowerBook G3 Series. Passive matrix would be a compromise, but Apple may find it necessary to keep the price down.
Field reports say PowerBooks are already quite durable, but an extra measure of strength to survive use in schools will be a real bonus.
Size and weight are very attractive. I'm sure appearance will be, too.
I hope the WebMate will offer an expansion port and/or expansion bay. These specs say nothing about hard drive capacity, but 4 GB is probably the smallest that's readily available these days. CD-ROM would be a natural for loading software and playing games.
No, make that essential. A bootable CD-ROM is essential for running diagnostics, reinstalling system software, and more. Whether that's an internal drive as used in the current PowerBook or an external bootable USB CD-ROM drive, it's an absolute must.
Some sites think wireless networking and/or a wireless modem is essential to the WebMate's success. I think both would be great options that would make an already compelling machine even more attractive, but doubt that Apple will make either a standard feature. Either would raise the price too much. Still, they need to have some way for users to add wireless communication, perhaps by PC Card. (Maybe Apple will offer a PC Card cage to fit the same space as a removable CD-ROM?)
With a modem, ethernet, and USB ports, the WebMate is ready to interface with the world. And with NetBoot, schools can make sure everyone's WebMate is running the same OS and programs – this could be a real plus for tests, especially if the WebMate can be told to ignore the internal hard drive while the student is writing an exam.
At a suggested retail price of $1,349, the WebMate should easily sell the one million units a year that Apple has contracted for. In fact, it might force Apple to reduce the iMac to $1,099 or bump the iMac to 64 MB of memory to keep it selling well.
A lot of us are going to see the WebMate as a great personal notebook and game machine (GameBoy on steroids) and a viable alternative to the vastly more expensive PowerBook G3.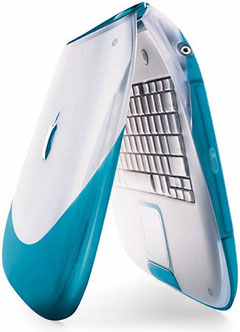 Whatever Apple calls it, this little guy should be a runaway success.
Update: The iBook was announced in July 1999 and available in Sept. 1999. The 30 MHz consumer portable weighed a hefty 6.7 lb., was just 1.8″ thick, had a handle, and used a pretty decent 12.1″ 800 x 600-pixel display. Price started at $1,599, so it definitely didn't cut into the iMac market.
keywords: #ibook
short link: https://goo.gl/sv5Lk4