The iBook has been the best selling portable computer since it began shipping in late September 1999. It's also been picked on for having too little memory, too small a hard drive, and garish (some say "girlie") colors.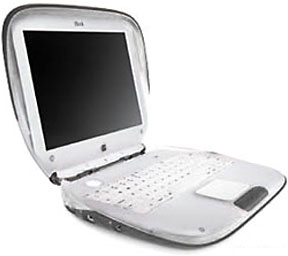 The iBook Special Edition (SE) solves those problems: It ships with 64 MB of memory, a 6 GB hard drive, and a 366 MHz G3 processor, all enclosed in an attractive graphite-and-ice case.
If the extra speed doesn't entice buyers to spend an extra $200, the graphite may. Too bad it still has just a single USB port.
The iBook SE was replaced with a faster, DVD-capable version with FireWire in September 2000.
Details
Online Resources
Cautions
Keywords: #ibookse #graphiteibook
Short link: http://goo.gl/vMyyi5
searchword: ibookse366mhz