1/4/2K: Apple has been getting dissed on for years by the AV community for a lack of expansion slots in the Power Mac G3 – and now the Power Mac G4 as well.

Four slots, one of which must hold a video card, is fine for the average user. But the AV pro may well need a SCSI card, a video capture/video-out card, a high quality sound card, and more in addition to that.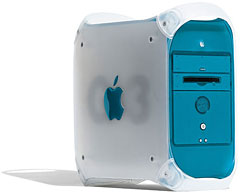 There go all the slots. Where is that fifth card going to fit?
And that's not the only problem with the otherwise clever G3/G4 case with drawbridge access. There's a serious shortage of drive bays for removable media drives.
Well, that's something MegaCase is addressing with their new G-Mac case, along with a couple other issues important to IT types.
First, the case emulates Apple's excellent decision to put the logic board on a fold-down door (not to be confused with Intel's blue door). The main board from a G3 or G4 attaches to a drawbridge door, just like on the current Power Macs.
But MegaCase one-ups Apple in several ways. For instance, the case doesn't sit on plastic handles. Instead, it has a base that raises the case about 1″ from the floor or desktop to allow circulation, but the supports are wider than the computer case to prevent tipping.
Likewise, the G-Mac case has solid metal handles on the top, making it easy to move the computer, but not extending beyond the front and back of the case. This results in a case almost 1.5″ smaller than Apple's.
It's also a bit narrower, since MegaCase doesn't feel constrained to stick fancy plastic on the side.
As for height, it's taller than the current Apple minitower case to make room for more PCI slots and more drive bays.
You read that right – the G-Mac case comes with a three-slot PCI expansion chassis, which connects to the fourth PCI slot on the G3 or G4 motherboard. This finally gives those who need six slots access to them without an external expansion box.
At the same time, MegaCase has given the G-Mac box more externally accessible expansion bays. Users will now be able to have more than just a Zip drive and optical drive that are externally accessible. With three 5.25″ bays and two 3.5″ bays, it's possible to have a DVD-RAM drive, a CD-RW burner, a Jaz or ORB drive, a Zip drive, and a tape drive all within the computer case.
The G-Mac case also uses a hard drive mounting sled similar to Apple's, providing room for three 3.5″ drives at the bottom of the case. In total, users can have eight drives in the G-Mac case.
But it doesn't stop there. The G-Mac case is equipped with a robust 500 W power supply that has a built-in UPS, making it not only a great production machine, but an excellent choice for setting up a server. As shipped, the UPS will power a fully equipped computer for 12-15 minutes.
And it doesn't stop there, either. MegaCase offers an external battery that can work in conjunction with the internal battery. OEMed from American Power Conversion (APC), this box also includes a DC-to-AC converter to power a monitor and one or two external devices.
The MegaPowr external battery will be available in 90-minute and 4-hour versions – and can be combined with more MegaPowr modules to reach 24 hours and beyond.
Finally, the MegaCase won't ship in graphite-and-ice. It will come in a brushed metal finish or a black lacquered case. It will also ship with matching faceplates for most types of drives, with additional faceplates available on a special order basis.
So if you need a bit more computer than Apple offers, you no longer have to try to scrounge up a used Power Mac 9500, SuperMac S900, or one of Power Computing's tower models. Instead, you can drop a Blue & White G3 or G4 motherboard into the G-Mac case and have the full power of the Yosemite or Sawtooth design.
 – Anne Onymus
Short link: http://goo.gl/yxiGLx