2001 – Four years ago, there was no Low End Mac. There were good resources for PowerBooks and Power Macs, but support for older models was spotty. You might find a really good Mac Plus page or a site with excellent Mac IIfx info, but I couldn't find a comprehensive resource covering the oldest Macs.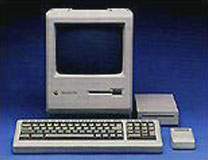 April 1997 seems like a long time ago. Yahoo and AltaVista were the hot search engines; Google and Sherlock were a long ways off. Finding the information you wanted/needed on the Web usually meant an investment of time. You've come a long way, baby. (Thank you, Sherlock!)
I had to support old Macs at work, and I'd just begun my own "old Mac" collection. I decided to start the site with the Mac Plus and go all the way through the Mac II series and the LCs, the range of Macs that seemed the most under-represented on the World Wide Web.
Humble Beginnings
I launched The New Low End User Site on my personal Web space on April 7, 1997. We had just six computer profiles that day: Mac Plus, SE, SE/30, II, IIx, and Mac Portable.
That whole site, archived as of late April 1997, takes about 50K of space and includes 24 files. It had few outside links, but it did contain core information about each of the Macs covered.
Within two months, The New Low End Mac User Site had site graphics, a page on 56k modems (all the rage back then), and profiles of Centris, Quadra, and PowerBook – and pre-Plus models. Profiles, such as this one for the Mac Plus, now included links to outside pages and information on accelerators that had been available for each model.
The whole thing just grew out of my passion for older Macs. I had no idea it could ever become a commercial success, but by July 1997 I was being approached by some who saw the potential and wanted to host my content on their server. Shoot, I might even make a few bucks!
That took months to settle, months during which I posted my first online editorial, Gil Amelio: Facts & Speculation. Editorials weren't a big part of the site – we published less than ten in 1997 – but they did serve to round out our content and provide more exposure as other sites linked to Low End Mac.
We launched our first email list, Quadlist, in November 1997, filling the void between the existing Classic Macs and Power Mac lists.
The MacTimes Network
Jason Pierce had a great idea for integrating several independent sites into the MacTimes Network. His primary focus was news; mine was hardware. He thought the two complemented each other and brought Low End Mac in as the first subsite on the MacTimes Network.

Things grew as we added other sites (Pure Mac, Bare Feats, and others) and added our own Thinking Different editorials (Apple legal took exception to the name – of course). Traffic grew, as did the number of ads displayed, as did the level of accounts receivable.
In the end, that's what killed MacTimes, receivables. You simply can't run a profitable business if your key sponsors stiff you – often by going out of business.
LowEndMac.com
Things came to a head in late 1998 as subsites began to move their content from MacTimes to other servers. We moved Low End Mac to our own domain, lowendmac.com, in February 1999, taking The iMac Channel and MacInSchool with us.
We also had our email lists, which now included Mac Webmasters, Vintage Macs, PowerBooks, SuperMacs, our own PowerMacs list, MacInSchool, and the first email list for iMac users.
I launched Mac Daniel's Upgrade Advice, sort of Dear Abby for Mac users, in October 1998. The column proved so popular I was unable to keep up with email and put Mac Daniel on hiatus in June 1999. Mac Daniel & Friends came back as a team effort in October 1999.
We added our first paid columnist, Evan Kleiman, in January 1999. Evan's iMac columns were part of The iMac Channel and appeared under the title Mac Happens. (Today Evan is a regular contributor to Mac Daniel.)
We had achieved an impressive level of success, serving nearly 400,000 pages in both December 1998 and January 1999.
But now we were on our own. We had to pay for our own server space and had no ad income from the site itself. If not for affiliate fees from Amazon.com and Outpost.com plus text ads on our email lists, Low End Mac could have vanished during mid-1999. By June, site traffic was below 250,000 pages per month, a drop of nearly 40% from our peak just six months earlier.
infiniMedia
We eventually hooked up with Brian Breslin at infiniMedia, who ran several smaller Mac-related sites. We moved to his server as "lowendmac.net" in Sept. 1999 and started seeing regular ad income a few months later. We had a very cordial relationship with Brian and infiniMedia through June 2000.
BackBeat Media
Low End Mac made its mark as the definitive resource for older Macs. Traffic had grown from 245,000 pages in June 1999 to 475,000 in January 2000. The guys at BackBeat Media, who also handle Mac Observer and MacSurfer (among several others), were interested in bringing us on board.
A bit of history. There used to be an excellent site called Webintosh. The owner decided to pursue other interests and sold it; the new owner renamed it The Mac Observer. After successfully rebranding the site (no easy feat), he helped create BackBeat Media to handle ads for Mac Observer and other technology-related sites.
The guys at BackBeat believe in taking care of their own before they add others, which meant I had to wait several months while they launched BackBeat and filled the ad rotations for the member sites. But by June 2000, they were ready for Low End Mac. We moved the site mid-June and have never looked back.
What most impresses us about BackBeat Media is their business savvy. These aren't just some part-time geeks trying to earn tuition or spending money by selling ads; these guys do this for a living. Not only that, they're also very up front about things. I really appreciate that.
Since joining BackBeat, we have seen a huge growth in traffic (678,000 pages in March!) and site income – enough to make Low End Mac my full-time job for the past two months.
Where We Are Today
We've come a long ways from the first two-dozen pages that made up The New Low End User. We don't have an accurate page count, since we add content daily, but there are probably well over 1,500 pages on the site. So many, in fact, that we added a site search engine last year – even I can't keep track of all the technical articles and editorials we've published.
We have 15-20 regular contributors (see our Editorials page), a few occasional writers, and lots of one-shot articles in My Turn and My First Mac.
Where we used to get 25,000 hits in a good month, we now pass that mark on a good day.
We run over two dozen email lists, covering everything from the Apple II line and the Lisa through education issues, networking, and running Unix or Linux on Macintosh hardware.
We've found our niche on the Web – and I've found my niche in life as a Web publisher. This was not a career I anticipated four years ago, let alone one I was trained for. I had the good fortune to have a good graphics background (going back to junior high), good writing skills (honed in college), good design skills (learned at Baker Book House, where I designed book interiors for almost eight years), all of which prepared me for the Web.
I never would have looked for writers if several hadn't come to me first, but they've certainly added a lot to the site in areas where I have little or no experience. And without them, Low End Mac wouldn't be nearly as big and helpful as it is today.
Opportunity Costs
The hardest lesson I've learned since going full-time is something called opportunity costs. Not only did my TiBook cost $2,600 plus RAM and AppleCare, but that's about $3,000 that can't be invested anywhere else.
In retrospect, I probably should not have bought my 400 MHz PowerBook G4 in January. Sure, the cash was there, but funds have been tight ever since. Still, I would have purchased one sooner or later. I definitely should have postponed the $300 I spent on AppleCare until the warranty was about to expire. And I could have saved a bit more by buying just one 256 MB memory module and settling for 384 MB total RAM.
I made my choice, spent my money, and had to postpone paying my writers and myself. At this point I'm about caught up on the finances, but this has forced me to learn about opportunity costs the hard way.
But I love this computer. Without it, I'd have been unable to review FireWire peripherals.
Where We're Going
I don't foresee any big changes. I'm very satisfied with the overall look, although navigation becomes more troublesome as the site grows. I'm pleased with the content, the focus on value, the response from the outside world. I'm pretty happy with the way things have turned out.
I would like to add a woman's perspective on the Mac, but I haven't been able to find the right writer yet. Maybe they're all too busy just using their Macs to spend as much time analyzing their "power tools for the mind" as guys do. :-)
Low End Mac will be more of the same for the foreseeable future. We'll cover OS X, but we'll retain the focus on the older hardware and the older operating systems, since that's what our typical user has. (Site statistics point to most of our users having Macs that came out 4-6 years ago, none of which will officially run Mac OS X.)
If you've enjoyed the ride, stick around. We plan on being here for the long haul.
If you've just discovered Low End Mac, do some exploring and discover the value of Macintosh computing.
Keywords: #lowendmachistory
Short link: http://goo.gl/5eoKRK
searchword: lowendmacat4