2001-03-23: Apple is clearing out leftover 400 MHz Pismo inventory, MadsonLine and Dr. Bott announce new Titanium PowerBook accessories, MCE's FireWire dock for Lombard and Pismo PowerBooks, and more.
Except as noted, prices are in US dollars.
New 400 MHz Pismos $1,799 from Apple Store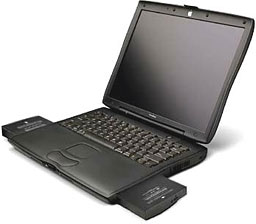 The Apple Store is clearing out leftover Pismo 400 MHz units at $1,799, the same price as an iBook SE, making it an interesting choice. While the iBook has a 466 MHz G3 750cx processor, the Pismo's full megabyte of backside cache and 100 MHz system bus probably gives it a speed advantage for real world tasks. Then there's the larger screen, more ports, and the PC Card slot. I'd say this one is a no-brainer unless the iBook's physical ruggedness is a factor for you.
These new Pismos carry a one-year limited warranty against defects in materials and workmanship.
PowerBook 400 MHz/64/10 GB/DVD/8SD/E/56K – $1,799.00
For more information, visit The Apple Store. Click the "Special Deals" link.
Also offered there are Refurbished 366 MHz iBooks
iBook 366 MHz 64 MB/10G/CD/FW/AV Indigo – Refurbished $1,249.00
Note that Apple Refurbished Products are covered by Apple's 90 Day Limited Warranty, and that the AppleCare Protection Plan is currently not available for Refurbished products. Apple is in the process of evaluating an AppleCare Protection Plan specifically for Apple Refurbished products.
Using Older PowerBook Power Supplies with TiBook
A MacInTouch reader reported successful connection of an "old" power supply to a new TiBook using a 2.5 mm diameter headphone jack. He notes that "the round tip is not connected, the base of the plug (ground for headphones) is +24V, and the central ring is the return, or ground connection.
MadsonLine Announces PowerBook G4 Travel Accessories Available for Preorder
MadsonLine this week announced pricing and shipping dates for their PowerBook G4 product line. Included are two new products previously unannounced.
These products are now available for preorder on MadsonLine's secure website:
MadsonLine G4 Saver. US$58 Est. Shipping Date: April 1st. Soft Neoprene Carrying Bag. Protect your PowerBook G4 from marks and scratches with 1/4″ neoprene protection. Comfortable and sturdy nylon handles for easy transport.
G4 MicroAdapter (Limited Edition). US$88 Est. Shipping Date: April 23rd. The world's smallest PowerBook AC Adapter redesigned for the Titanium PowerBook G4. This model comes in black and has an Apple Spec. DC cord and connector plug.
Weighing just 5 oz, it's the perfect second adapter for your carry bag.
G3 to G4 "Generation Gap" Adapter Converter. US$20 Est. Shipping Date: April 23rd. Convert your existing G3 Micro-Adapter* to work with the new PowerBook G4 with this handy and economical device. Will work with all PowerBook adapters from the PowerBook 1400 through to the PowerBook (FireWire)
G4 EmPower Airline Adapter. US$39 Est. Shipping Date: April 23rd. Straight cable from EmPower Airline socket to PowerBook G4.
G4 MicroAdapter. US$88 Est. Shipping Date: May 21st. The world's smallest PowerBook AC Adapter redesigned for the Titanium PowerBook G4. This model comes with MadsonLine's space-saving L-shape plug. Further information on this product will be available in April.
G4 Auto/Air Adapter. US$75 Est. Shipping Date: May 21st. Includes EmPower plug adapter. Connect your PowerBook to a standard car cigarette lighter or the EmPower socket in your airline seat. Redesigned for the PowerBook G4 with MadsonLine's space saving right-angled power plug. Transformer integrated into the barrel of the adapter to reduce size. Further information on this product will be available in April.
A Gaggle of 1 GHz PC Laptops to Debut Next Week
Cnet reports that several major PC notebook makers will break the portable gigahertz barrier next week.
On Monday Intel is scheduled to release its 1 GHz mobile Pentium III chip for notebooks, along with a 900 MHz mobile Pentium III and a 750 MHz mobile Celeron chip. Hewlett-Packard will be first out of the gate with a release of its new Pavilion N6395 1 GHz notebooks on Sunday. The new machine will sport a 1 GHz mobile Pentium III, a 15-inch display, 256 MB of RAM, 30 GB hard drive and 8x DVD drive for $3,199, and weigh in at 5.8 pounds and about 1-inch thickness.
Toshiba, Compaq, IBM, and Dell are expected to join the 1 GHz notebook parade on Monday.
While the TiBook is getting lots of positive press coverage, it's hard not to note that the Wintel world now doubles it in clock speed, albeit not in real world performance. However, let's hope Motorola can get some 600 MHz PPC 7410 G4 chips in the pipeline soon.
Dr. Bott's Announces New TiCase Coming in April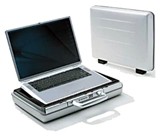 Dr. Bott's new US$399 TiCase makes "power & sex" safer, offering style, elegance, performance, and protection.
"Steve Jobs touted the Titanium PowerBook G4 as the ultimate in power and sex," said Eric Prentice, CEO of Dr. Bott LLC, "We'reexcited to offer a case that is specifically designed to protect the TiBook without compromising the style of the sexiest computer around."
The detachable cover allows you to use the TiBook while it is in the case using the special "Lift-o-Matic" rear pads. These risers provide access to the rear ports while adding an ergonomic tilt to the keyboard. These cases may look sleek and satin-smooth, but they're also tough and durable. This type of case was used in the James Bond movie The World Is Not Enough.
Brushed Aluminum Shell
Combination lock
Unique TiBook Interior Design
Weighs less than 11.5 lb. with the TiBook inside
Available: April 2001
MCE FireBay External FireWire Docking Unit for PowerBook Expansion Bay Devices Coming in May
Mac Components Engineered's PowerBook Products Division this week announced the FireBay, an external FireWire docking unit for PowerBook expansion bay devices. Once inserted into the MCE FireBay, PowerBook expansion bay devices such as hard disks, CD/DVD-ROMs, CD-R/RWs, Zips, etc. can be used externally on any Mac or PowerBook with a FireWire port. Eligible expansion bay devices are those designed for the Apple PowerBook (FireWire) and the Apple PowerBook G3 Series 1999 (Bronze/Lombard). Release is set for early May.
"Expansion bay devices are no longer confined to the PowerBook platform," said Arnold Ramirez, President of MCE PowerBook Products. "Now PowerBook owners can more fully realize their investment in expansion bay modules by the ability to use them as external FireWire devices across machines."
The MCE FireBay is a small, stackable bay which can accept one PowerBook expansion bay device at a time. Depending on the particular expansion bay device in use, the FireBay can be either bus-powered or can be powered by the included AC adapter. This product gives PowerBook users, or users of any FireWire-equipped Mac, the ability to use several of their expansion bay devices simultaneously, instead of just one at a time and only in the PowerBook's single expansion bay.
Of particular interest to multimedia authors is the ability now to capture digital video on location using their PowerBook and expansion bay hard drive, and then later simply inserting the same bay drive into the MCE FireBay connected to their PowerMac G4 desktop for final editing and rendering.
The MCE FireBay can be used as a single, stand-alone unit or multiple FireBays can be stacked on top of each other. In addition to a standard FireWire port on the rear, each MCE FireBay has a topside FireWire port which connects to a port underneath each unit when stacked, thereby eliminating the need for extra cables.
The MCE FireBay FireWire Expansion Bay will ship with FireWire driver software, a FireWire cable, and owner's manual. Final pricing has not yet been determined.