2001-04-06: Apple's Mobile Newsroom deal built around Titanium PowerBook. New FireWire hard drive enclosure. Bargain 'Books. First refurbished TiBooks available. More 'Book news.
Except as noted, prices are in US dollars.
Apple Offers Mobile Newsroom Deal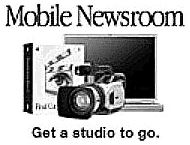 Through June 30, 2001 Apple is offering a PowerBook Mobile Newsroom bundle including the Titanium PowerBook G4 (500 MHz), Canon's GL-1 MiniDV Camcorder, Final Cut Pro 2, and AirPort wireless technology in one package. The Mobile Newsroom containseverything needed to compose and edit digital video footage wirelessly, freeing you from traditional postproduction and classroom environments, allowing for remote access to the advanced editing features of Final Cut Pro 2, when and where you need it.
The Mobile Newsroom provides the basis for building an Electronic News Gathering (ENG) system or electronic journalism course. The Mobile Newsroom Editing Station includes a Titanium G4 PowerBook, Canon GL-1 MiniDV Camcorder, AirPort card, AirPort Base Station and Final Cut Pro 2.
PowerBook G4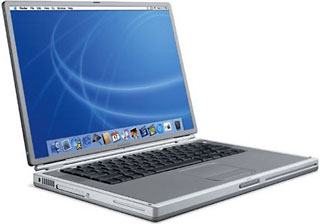 With the Titanium PowerBook G4 and Final Cut Pro 2, students can record, capture, and edit news stories in any location using a true professional source/record editing model to create and deliver broadcast quality news and features. Final Cut Pro 2 is Apple's video editing solution that features an interface designed for fast and efficient editing and FireWire integration. When combined with PowerBook G4 performance and the included Canon GL-1 camera, it yields substantial mobile news editing capabilities. AirPort technology enables users to gather high-quality news stories, and wirelessly output the final digital media to the Web.
The PowerBook G4 with 500 MHz PowerPC G4 processor provides a formidable platform for mobile video production. With its 15.2″ mega-widescreen display, you now have the room to edit and review video on the go.
Canon GL-1 MiniDV Camcorder
Canon's GL-1 allows you to shoot outstanding video even under the toughest conditions. By combining the most advanced technologies in lenses (featuring three CCD chips for high-level color capture) and signal processing with manual controls, the GL-1 achieves a perfect balance of amazing picture quality and performance versatility.
Final Cut Pro 2
Final Cut Pro 2 is Apple's next generation video editing, compositing and special effects software. With dozens of user interface and workflow enhancements and topnotch editing functionality Final Cut Pro 2 has features that meet the need of the most demanding ENG assignments. The new cutting station mode is perfect for quick source/record editing. Final Cut 2 also features precise media management tools, Edit Decision List import/export, and OMF audio export that help you meet the most demanding assignments. Final Cut Pro 2 is optimized for the supercomputing performance of the PowerBook G4. Its cross-platform QuickTime architecture and included Media Cleaner 5 EZ means that editors can quickly and easily repurpose their content for the Web.
AirPort Card and AirPort Base Station
AirPort delivers fast, reliable communications between multiple computers and the Internet. The wireless data rate is 11 megabits per second. With AirPort you can wirelessly transfer files, even through solid walls, from your computer to another AirPort-equipped system up to 150 feet away.
The Apple Store's B5411LL/A – Mobile Newsroom Solution Bundle:
PowerBook G4 (500 MHz)
AirPort Card
Canon GL-1 Digital Video Camcorder
AirPort Base Station
Final Cut Pro 2
(*Note: You must include an AirPort Card as one of the PowerBook G4, Configure-to-Order options to have a fully wireless solution)
The Mobile Newsroom Bundle sells for US$7,199.
PowerBook Zone Reader Giveaway Contest
There's still time to enter the PowerBook Zone Reader Giveaway Contest, which closes at midnight CST on Monday, April 9th.
All you need to qualify is an email address. There are no other qualifying requirements. Just fill in your first and last name along with a simple question about how you found the website.
Enter only once (they'll be checking and disqualifying multiple entries), and people related to PBZone.com, its parent organization, etc., are ineligible.
As of last evening there were 19 separate prizes, with possibly more to be added. Prizes include:
FireWire Depot: One FireWire PC Card and one FireWire enclosure
MacSpeech: Five copies of iListen 1.0
MadsonLine: Three MicroAdapters and Three Auto/Air Adapters
Other World Computing: Five Laptop Screen Protectors
Spire: One Zoom Backpack
PowerBook Parts: $50 Off Any Merchandise/Repair
Road Tools: 15 Podium CoolPads
The PowerBook Zone: One FireBox 2500 2.5″ FireWire Hard Disk Enclosure
FireBox 2500 FireWire Hard Disk Enclosures
Also from the PowerBook Zone, which has purchased a quantity of these units that they are making available to readers at the price of $115 plus shipping of $5 via FedEx Ground.
The Cross-Linking Corp. FireBox 2500 is an external case for a 2.5″ IDE hard drive. You purchase a drive on your own (or use the extra you have lying around after your PowerBook's hard drive upgrade), and the installation takes about five minutes. It allows you to put what used to be an internal 2.5″ IDE drive into the external FireWire case and use it with any FireWire equipped Mac.
You'll receive a brand new product in the original factory box. The box is well padded and includes driver software, a FireWire cable, and documentation. The drive enclosure is bus-powered but can use an optional AC adapter.
It also comes in two different colors, red and graphite, both of which are included. (The top pops right off for installation, that's the part that's colored, and that's the part that is changeable.)
PowerBook Power and Battery Frequently Asked Questions
A new Apple Tech Info Library (TIL) article addresses more PowerBook Power and Battery Frequently Asked Questions
Questions answered in this article:
How can I increase the battery life of my PowerBook?
What is processor cycling and how do I turn it off?
Can I charge my PowerBook from a car cigarette lighter?
I am taking my PowerBook to another country, do I need a power converter?
Can the PowerBook 5300 or 190 use two batteries simultaneously?Where else can I go for answers?
Haliburton Case at Small Dog for $149
Small Dog Electronics is offering a Zero Haliburton Z5 Aluminum Carry Case for the special price of $149.
Features:
Heat Tempered Aluminum Shell
Interior Padding
Triple-Digit Lock
Cyber-Angel Security Tracking Software
PowerBook Deals Of The Week
Leftover Pismos are getting thin on the ground, but there are a few still around, as well as some refurb units.
Pismo G3/400 64/6 GB/DVD/56k/FireWire/14.1″, $1,849.95
(r=refurb; n=new)
…and Refurbished TiBooks Already!
DealMac.com notes that MacConnection is offering refurbished the PowerBook G4/500 256/20.0/DVD/56k/100BT, model no. M7710LL/A for $3,199. A 90-day Apple warranty applies.