2001-05-18: BookEndz docking station for Titanium PowerBook. MadsonLine power adapter for TiBook.  Another source of 512 MB modules for PowerBook G4. More 'Book news.
Except as noted, prices are in US dollars.
BookEndz Docking Station for TiBook

With the new BookEndz docking station for TiBook, you can connect or disconnect a video monitor, ethernet network,USB devices, FireWire device, modem, and AC power adapter simultaneously. You quickly have the equivalent of a desktop system.
No more crawling under your desk looking for that elusive cable. No more bent or broken pins on a mismatched connector. You'll never leave your PowerBook on your desk just because it was to difficult to disconnect everything. When you return, you'll reattach everything for true desktop power in seconds. By using a single CPU, file synchronization problems between a separate desktop computer and a portable computer are eliminated. You'll always have the correct application and data files with you.
BookEndz converts your PowerBook to a convenient desktop computer in seconds. Initial one-time installation takes only a few minutes.
For even more convenience, you can have docks in multiple locations (example: at home and at work) and dock to all your peripherals in either location quickly. You can use the same PowerBook as a desktop machine in both locations, with no need for file transfer or synchronization.
Product Highlights:
Easier docking requires less insertion force
Easier undocking using new ejection levers
All rear panel PowerBook ports are replicated: FireWire, USB, Ethernet, S-video, Composite video, Modem, Reset button, IrDA, Power, and Kensington lock slot feature. Also included is a built-in retainer to clip and hold user's audio cable.
Angled IrDA port allows easy side-access to infrared transmission
Low profile design allows increased stability; optional rubber feet included for added versatility
Available in two colors. Your choice of "titanium silver," to closely match the Titanium PowerBook, or basic black
The BookEndz Docking Station conveniently converts your PowerBook to a desktop computer in seconds
Here's how it works: All of your peripheral devices plug into the dock once and remain plugged in. All it takes to connect your PowerBook to all of your peripherals simultaneously is to slide your PowerBook into the dock. There is no need to plug the devices into the PowerBook individually every time you want to use them. Gone is the hunting for cords and cables which have fallen behind the desk. There is no wear and tear on connectors from constant plugging and unplugging. You are connected to all of your devices in about two seconds.
The initial one-time installation takes only a few minutes, only the time it takes to plug in your devices to the dock once.
Ordering Information: Photo Control Corporation is currently taking pre-orders for the G4 BookEndz with shipments beginning May 18th, 2001
Docking Station for G4 PowerBook specs:
Weight: 3 lbs.
Titanium, $244.95
Black, $229.95
For more information, visit BookEndz, call 800-787-8078 x483, or email besales@photo-control.com.
MadsonLine PowerBook Power Adapter
Photo Control Corporation also offers the MadsonLine PowerBook power adapter, which can take the place of Apple's yo-yo shaped unit.
Features:
"Credit card" size: 3-1/4″ x 1-5/8″ x 7/8″
Weight: 5 oz.
Right angle power plug saves space.
Heavy Duty 20 wire-gauge dc cord eliminates fraying.
Automatically adjusts for use between 240-100 volts AC.
Output: 24 Volts at 45 Watts continuous.
Extensively tested by Underwriter Laboratories. All UL, SA, CE, and Dentori approvals.
Two AC cords included; 18″/48cm and 6'/184cm.
For PowerBook G3 (All Models), iBook, 3400, 2400, 2300, 1400 and Duo.
Unconditional 30-day money back guarantee.
1 year warranty from manufacturer.
Price: $88
MadsonLine also has a new MicroAdapter mini PowerBook adapter in titanium silver.
For more information, visit BookEndz or MadsonLine.
Peripheral Enhancements Releases 512 MB PowerBook G4 Module
Peripheral Enhancements Corporation has announced immediate availability of a 512 MB PC-100 memory module for the Apple PowerBook G4. The module is designed to work in the top socket of the PowerBook G4 and carries a retail price of approximately $500. Users can realize 768 MB of total memory when using Peripheral's 512 MB module along with a 256 MB module in the bottom socket.
The TiBook has two memory expansion sockets. This 512 MB module is designed to fit in the top socket position. As a special promotion, the company is offering a "Memory Bundle" that includes both a 256 MB and the 512 MB EDGE Memory module at a special introductory price.
Willow Jacques Pack Titanium PowerBook G4 Backpack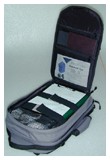 The Willow Jacques Pack Titanium G4 PowerBook backpack has been specifically designed to maximize theprotection of your TiBook and to compactly carry the accessories that are a part of your working system. It is extremely comfortable, stylish, and discreet.
The Jacques Pack ensures superb protection by centering the Titanium from all the perimeter walls by foam padded dividers. It offers room for the G4, power supply, accessories and personal items, room for two inches of letter sized paperwork and an outer business organizer pocket. A new feature is a convenient cellphone pocket located on the shoulder strap for fast access.
Features:
elegant design – at home on the road and acceptable in the boardroom in its briefcase form.
increased personal security by making your case not look like a briefcase or laptop carry case
superb laptop protection through a centrally protected location surrounded by thick, single piece foam padding on the back, sides and bottom
additional protection ensured by internal TiBook compartment corrugated dividers sandwiched to a "gushy" foam padding to isolate the TiBook from the external pack walls.
front protection is assured by three separate levels of foam layers
easy storage of cables, and some accessories with a convenient Velcro secured, fold-down accessory divider /pocket system in the laptop compartment.
additional storage for the power supply and other accessories by a removable, mesh topped zippered pocket located in the upper section of the paperwork compartment.
extreme carrying comfort with contoured, padded shoulder straps which are quadruple layered at the back panel connection line for extreme durability.
removable sternum strap for increased stability and comfort as well as a removable waist belt for shifting your load to the hips and legs.
contoured pack back and bottom which will not allow anything to dig into your back, especially in your low back area
additional thickly padded removable wrap handle for extra comfort in briefcase or vertical handle carrying mode
.090 thickness of high density polyethylene reinforcement underneath the web handles with quadruple rivet reinforcing for even greater strength and durability
a thickly padded traditional single shoulder carrying strap when you want to look more cosmopolitan
room in the paperwork compartment for an eight centimeter (2.5″) depth of letter sized file folders or other items plus a centimeter (0.5″) of legal sized file folders.
lots of organizer pockets in the outer pocket and throughout the case
convenient shoulder strap flap to hide away shoulder straps which can double as an easy to get to newspaper or magazine pocket
security pocket on back panel hidden under shoulder strap flap
convenient shallow outer zippered pocket for airline tickets, change or other items you want fast access to
new easy access cellphone pocket which can be attached securely to either of the two shoulder straps. (A second pocket for sunglasses or other items can be ordered for an extra $15 Cdn/$10 US).
two highly reflective luminescent patches on the cellphone pocket and opposite shoulder strap for increased safety through nighttime visibility. (These patches can be removed if desired.)
lifetime guarantee against defects in materials or craftsmanship.
Available Colours: Black, Charcoal, Navy, Teal, Purple
Weight: 1.8 kg/3.7 lb.
Airline Carry-on: under seat or overhead bin
Pricing: $228 Cdn./$152 US
Bargain 'Books
Profile shorthand: RAM in MB/hard drive size/media drive/modem/screen size (when more than one size possible). Open box units may be store demos and have a full Apple warranty. Refurbs may be Apple refurbs with one year warranty or store refurbs with store warranty – check before buying. Stock is often limited and may be sold out.
LA Computer Center offers:
Infinity Micro has some interesting offerings:
PowerBook G3/300 WallStreet, 64/8GB/DVD/56K/14.1″, Apple refurbished, $1,899
PowerBook G3/333 Lombard, 64/4GB/CD/56K, $1,793
PowerBook G3/400 Lombard, 64/6GB/DVD/56K, $1,668
PowerBook G3/233 WallStreet, 32/2GB/CD/56K/12.1″, used, 30 day warranty, $775
PowerBook G3/300 WallStreet, 64/8GB/20xCD/56K/14.1″, open box,$1,599
PowerBook G3/400 Lombard, 64/6GB/DVD/56K, $1,521 (new)
PowerBook G4/400 TiBook, 128/10GB/DVD/56K, $2,303
PowerBook G4/400 TiBook, 128/10GB/DVD/56K, refurb 90 day warr $2,288
At MacSelect:
PowerBook G3/400 Lombard, 64/6GB/DVD/56K, 90 day Apple warranty, refurb, $1,549
PowerBook G3/266 WallStreet, 192MB/4GB/20xCD/100MB ZIP/56K/14.1″, $1,249
PowerBook G3/250 WallStreet, 64MB/4GB/20xCD/100MB ZIP/3.5″ Floppy/56K/13.3″, $1,249
PowerBook G3/292 WallStreet, 128MB/8GB/20xCD/100MB ZIP/3.5″ Floppy/56K/14.1″, $1,329
PowerBook 3400C/240, 80MB/3GB/Floppy, $799
PowerBook 1400C/166, 48MB/2GB/8xCD/Floppy/28.8, $529
PowerBook 1400C/133, 40MB/1.3GB/Floppy/8xCD/56K, $499
MacWorks/MacResQ deals:
PowerBook 3400c/200, 48/2GB/33.6/Floppy/Refurbished/90 day warranty, $599.99 (does not include CD-ROM drive)
Deals at Global Deals:
PowerBook G3/233 WallStreet, 32/2GB/CD/14.1″/56K, $975
PowerBook G3/233 WallStreet, 32/2GB/CD/12.1″, $750