2001-05-25: Top end Dual USB iBook gains Combo drive as a standard feature. Compaq laptop/desktop prototype. New iBook teardown. More 'Book news.
Except as noted, prices are in US dollars.
The OS X Free Upgrade Cutoff
I hear that some folks who bought new iBooks during the first three weeks of May are less than gruntled that Apple has not included them in the free upgrade to OS X announced at WWDC this week for new Mac purchases between May 21 and August 21.
I can understand how they might feel hard done by, but there has to be a cutoff date for any offer like this – the announcement date is the logical one, and the iBook being released just three weeks earlier is incidental.
If Apple had retroactively extended the offer to all new iBook buyers, they would have been obliged out of fairness to include buyers of all Macs since May 1, which would no doubt have made people who bought new Macs in late April feel left out, and so on. I think they made the right decision.
Whenever you buy any computer, you could be missing out on something that will surely be introduced in the not too distant future. The iBook is a wonderful little machine at a great price. Enjoy.
Apple Changes iBook Configuration Marketing Strategy
Apple has changed its iBook marketing policy to allow resellers to sell the iBook model featuring a combination CD-RW/DVD-ROM drive. This model was originally available only as a build-to-order (BTO) model direct from Apple. This drive is, thus far, unique to the iBook.
The plain CD-RW iBook will become a BTO option instead. Prices for the various configurations remain the same.
iBook 500 MHz, 64 MB RAM, 10 GB hard drive, CD-ROM, 56K modem, 10/100 ethernet, $1,299
iBook 500 MHz, 128 MB RAM, 10 GB hard drive, DVD-ROM, 56K modem, 10/100 ethernet, $1,499
iBook 500 MHz, 128 MB RAM, 10 GB hard drive, CD-RW, 56K modem, 10/100 ethernet, $1,599
iBook 500 MHz, 128 MB RAM, 10 GB hard drive, combo CD-RW/DVD, 56K modem, 10/100 ethernet, $1,799
Other World Computing Offers Mobility Bundles
OWC Mobility Bundle #1 includes the very cool RoadTools CoolPad, LapBottom, and an OWC Laptop Screen Protector, all for $42.75 from Other World Computing.
Laptop Screen Protector
PowerBooks made since the 1998 WallStreet models all the way up to the brand new PowerBook G4 have had problems with their keyboards coming into contact with the delicate LCD display and leaving marks on the screen that sometimes will not come off. Most are oils left from your fingers on the key caps; however, some are not removable.
The Other World Computing Laptop Screen Protector is made of first quality 1 oz. (approximately 1-2 mm thick) black vegetable tanned cowhide. Leather has always been thought of as one of the most durable natural materials, and it is also very soft. The leather used to create the Laptop Screen Protector is glove soft, you can be assured that it will protect your screen from any marks. The Laptop Screen Protector has one side of the leather finished in a smooth, tight pinpoint grain, called a chrome finish, to protect your screen from any lint or dirt gathered by an unfinished hide. The back side that lays on top of the keyboard is a soft suede backing, natural unfinished leather hide.
Vegetable Tanned Leather is definitively the best answer to your requirements of a top quality product which is, at the same time, respectful of the environment. Vegetable tanning is the result of a natural product processing, superb in both technical details and quality procedures. It is a mixture of technological innovation, scientific research and the best tanning tradition of Tuscany. The result of this particular processing is a top quality range of products, more and more wear resistant and destined to improve with time. The leather hide used in this product is tanned exclusively by means of substances derived from plants and barks, according to an ancient tradition which dates back to early history.
The Laptop Screen Protector is 11.5″ x 5″ and designed to fit easily over any standard keyboard. The protector was designed to work with any Apple PowerBook or iBook made from 1998-2001 (WallStreet, Lombard, Pismo, Titanium, and all iBooks).
The Laptop screen protector also ships with a Kleer Screen Apple Polish one time use screen cleaner & wipe.
LapBottom
The LapBottom has a comfortably padded underside which grips your lap. The top combines raised ridges and non-slip feet to provide air flow under your laptop while holding it in place. It is made of light weight and durable materials. Measuring 12.25″ x 9.5″, it compresses to just under an inch thick.
This accessory provides:
A comfortable and ergonomic way to use your laptop where it was meant to be!
Added stability at home or while traveling!
The air flow your laptop needs to cool itself and last longer!
Additional padding and protection when included in your carry case !
It also includes new gripper pads that grip your laptop better and give you an even more secure work surface. In addition, an extra set of thicker gripper pads is included for those who prefer to use their laptop in a slightly slanted position.
RoadTools CoolPad
Most laptops dissipate heat through the bottom and the more air that's allowed to flow under the bottom, the better chance that heat will dissipate. As you know, if you place a running laptop on a bed it will probably overheat as air will not flow under the bottom.
The CoolPad increases the airspace as well as elevating the back. The six small rubber pads on the bottom of the CoolPad really grip – a boon for air travelers whose laptops slip off tray tables.
The CoolPad allows you to easily pivot your laptop so everyone gets to see your dazzling PowerPoint presentation without rubbernecking.
If it ever breaks, RoadTools will fix or replace it, 30 day money back guarantee and guaranteed for life (it's really hard to break!).
Statistics:
L x W x H: 8-1/4″ x 6-1/2″ x 3/8″
Materials: ABS, rubber, Teflon
Weight: approx. 8 ounces
Color: black
OWC's Mobility Bundle #2 is the same as Bundle #1 except that it substitutes the Road Tools Podium CoolPad for the standard CoolPad.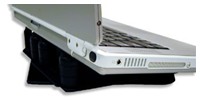 The Podium CoolPad's stackable risers let you adjust the keyboard incline by 1/2″ increments. The base plate'strapezoidal shape and the 'Lexan' risers provide a rock-solid, stable base for serious typists. 'Furniture friendly' rubber feet really grab any surface.
Increasing the air space under your laptop will allow better heat dissipation. Your laptop heats the surrounding air. This hot air rises and is replaced by cooler air which creates a slow natural convection current.
The Podium CoolPad also pivots 360 degrees for easy access to your ports
Stripping Down the New iBook
This series of Web pages from ISU shows photos of a teardown of the new iBook to replace the hard disk. Looks to be somewhat easier than with the old model.
Modular Laptop/Desktop Previewed
ZD Net's Joe Wilcox has posted New Compaq PCs: Two for one?, a feature on a new prototype notebook/desktop hybrid from Compaq.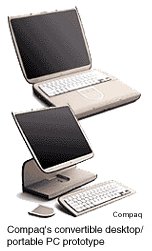 This is a concept I have advocated for years, and it would be nice to think that Apple has something similar on the drawing boards. (Do they use drawing boards anymore in design offices?)
The Compaq concept machine is designed to fold over and create a stand for a 15″ flat-panel display with removable wireless keyboard and mouse. Production plans (or not) have not been firmed up.
Wilcox notes:
At first look, the computer is a typical notebook with a 15-inch display, but the keyboard and mousepad are both removable and connect to the main system using Bluetooth wireless technology. The notebook sports several hidden hinges that allow the unit to fold over into a stand supporting the display. In just a few seconds, the notebook converts into a desktop PC, meaning people can use the same system at work, at home or on the road.
Bargain 'Books
It's WallStreet week at MacWorks, who offer a
PowerBook G3/233, 96/2 GB/20xCD/56k/14.1″, 512k cache, refurbished, 90 day reseller warranty, $1,199.99
MacSelect also features a nicely tricked out refurbished WallStreet:
Chez the PowerBook Guy, you'll find these older model 'Books:
And DataTech Remarketing has some really low-budget refurbished PowerBooks: