2001-07-27: LapBottom keeps 'Books cooler. PC Card drive from CMS. PowerBook hoods. More 'Book news.
Except as noted, prices are in US dollars.
Willow i/Ti Slipcases Ease Slip-Sliding Away
Willow Design has introduced three new slipcases to make "slip, sliding, and away" even easier for iBook and Titanium owners. The Titanium slipcases features a briefcase and end opening orientations while Willow's first iBook slipcase has a briefcase oriented opening.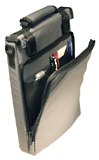 The slipcases don't compromise on protection despite their compact size. Each slipcase features thick half inch "gushy"foam throughout, backed up by corrugated plastic reinforcement on all sides and very tight foam tolerances. The tight tolerances make for a surprisingly solid case.
All the slips are comfortable to carry. Each features a removable foam padded wrap handle around the web handle which is riveted through a high density polyethylene backing plate for extra security. Each slipcase comes with a comfortable, foam padded, contoured shoulder strap which is standard equipment, not an "extra" item needed to be bought!
"The reaction from European and Pacific customers has been particularly great" commented Willow president, Nigel Peck. "Because of the small size and weight, we're able to special delivery mail the slipcases to almost anywhere in the world for around $ 24 US. The customer then only has to worry about their country's import duties or taxes."
'Slide G4 Slipcase Features:
excellent protection for your Titanium G4 afforded by 1.2cm (0.5″) soft "gushy" foam reinforced by corrugated plastic on the top and bottom plus all sides.
a clean, very lightweight and compact size.
great carrying comfort insured by a foam padded wrap handle which is removable for times that maximum compaction in another case is important.
standard wide, contoured, padded shoulder strap with a special sticky bottom to keep it on your shoulder.
nylon web handle quadruple reinforced with rivets to insure the safety of your laptop.
outer front organizer panel with pockets for business cards, pens, elasticized pocket for the Apple power supply plus room for the power cord and an ethernet cable.
flat external rear pocket especially handy for maps, magazines or newspapers.
lifetime guarantee against defects in materials or craftsmanship.
Pricing: $90 Cdn./$60 U.S.
The new slipcases are covered by Willow's 100% satisfaction guarantee and lifetime guarantee against defects in materials and craftsmanship – as with all other Willow backpacks, laptop, G4 tower and flat panel monitor carry cases,
It's been a busy year for Willow so far with massive Titanium and other Apple case sales, but they are finally getting caught up with production and are able to put more work into new products. So Peck says to expect some exciting new cases and packs over the coming weeks and summer.
The LapBottom
The new LapBottom offers a sleeker profile, a more secure work surface, and gives you more options so that you choose the position that works best for you and the way you use your portable.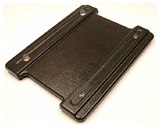 The LapBottom has a comfortably padded underside which grips your lap. They have made the undersidethinner yet a bit more rigid and firmer with the same comfortable feel. This thinner profile makes the LapBottom more portable than before. The top combines raised ridges and non-slip "feet" to provide air flow under your laptop while holding it in place. It is made of light weight and durable materials. Measuring 12-1/4″ x 9-1/2″, it compresses to under an inch thick. The LapBottom now comes with three different size self adhesive "feet" which allow you to choose a variety of "tilts" or choose more or less air space under your laptop. The new polyurethane "feet" are more durable and hold your laptop more firmly in place.
Features:
A comfortable and ergonomic way to use your laptop where it was meant to be!
Added stability at home or while traveling!
The air flow your laptop needs to cool itself and last longer!
Additional padding and protection when included in your carry case !
CMS Launches Mac Support with Pocket and PC-Card Hard Drives
After months of development and testing, CMS Peripherals announced the expansion of their entire line of USB ABS (Automatic Backup Systems) and new Fire & Forget Type II PC-Card hard disk drives (HDDs) to include support for Macintosh users.
These pocket- and credit card-sized solutions provide Mac notebook and desktop users unprecedented backup and removable storage capacity ranging from 2 to 30 gigabytes (GB).
The USB ABS delivers a stable, high data throughput for backup, additional storage and recovery of files. Upon connection, the ABS' patent-pending "automatic launcher" technology immediately initiates a complete or incremental backup of your HDD, storing all data in native file format without requiring the user to input a single software command.
Available in 2 GB and 5 GB (Fire & Forget), and 6 GB, 10 GB, 20 GB, and 30 GB (USB ABS) capacities, in addition to providing PowerBook users with a storage solution they can fit in their wallet, the Fire & Forget drive weighs less than two ounces and needs only a single PC-Card slot to operate. Requires no additional cables or power support.
Compatible with the Macintosh OS 8.6 and 9 (OS X coming soon) in 6 GB, 10 GB, 20 GB, and 30 GB capacities, USB ABS solutions are now shipping with a three-year warranty. Pricing starts at $329.00 MSRP. The Fire & Forget Type II hard drives in 2 GB and 5 GB capacities are shipping with a one-year warranty. MSRP for the 2 GB Fire & Forget is $349 and $499 for the 5 GB. Solutions are available through major distributors, corporate resellers, mail order and direct from the company's website. USB 2.0 and FireWire solutions are currently under development.
New PowerBook G4 Sleeve From J.R. Hill and Company
J.R. Hill and Company are kicking off their Back To School Sale with the introduction of the new PowerBook G4 Sleeve. The Sleeve, available in Full Grain Leather or Ballistic Nylon, is a slim, padded, form fitted bag made for the PowerBook G4.
Both Sleeves have leather handles and piping and also include a unique three sided zipper so you can use your PowerBook on your lap or airplane tray without having to take the PowerBook out of the Sleeve. All J.R. Hill And Company computer accessories including their PowerBook and iBook Screen Protectors are on sale at 10% off.
CA04, PowerBook G4 Sleeve Leather, $89.99 (regularly $99.99)
CA05, PowerBook G4 Sleeve Nylon, $64.99 (regularly $74.99)
CA02, PowerBook Screen Protector, $11.25 (regularly $12.49)
CA03, iBook Screen Protector, $11.25 (regularly $12.49)
Hoodman PowerBook Hoods
Hoodman makes sun shades or hoods for products that needs to be shaded while in use outdoors, including a hood for the PowerBook including the new G4. The Hoodman E-2000 fits all PowerBooks and iBooks with 10″ to 15″ screens, and costs $39.95.
Reconditioned PowerBooks
Stephen Hildreth over at PowerBook Central has compiled a list of sources of reconditioned TiBooks ranging in price from $2,199 to $3,325 depending on the model the last time I looked.
Apple Is Honoring Both PowerBook Sales Promotions
Apple is honoring both the PowerBook free CD-RW and the Lexmark/Rio/Canon/HP camera rebates. There is just one UPC product label which must be sent in to qualify for the rebate, so Apple is asking customers to send a photocopy of the UPC label for the CD-RW, and send the original UPC label for the rebate program.
---
Bargain 'Books
This Week's Best iBook & PowerBook Deals
Small Dog Electronics is offering a bundle consisting of a factory refurbished PowerBook G4/500 and a new LaCie Pocket CD-RW for $3,099. Specs: PowerBook G4/500 256/20 GB/DVD with a 1 year Apple warranty and new LaCie 4x4x24x USB and FireWire Pocket CD-RW Drive
Also at Small Dog: