2001-03-30: A $13 keyboard screen protector, IBM's new quiet laptop drives, WallStreet PowerBook limit on where OS X can be installed, and more 'Book news.
Except as noted, prices are in US dollars.
$13 Leather Keyboard Screen Protector and Other PowerBook Screen Mark Solutions
PowerBooks starting with the Lombard have been plagued with the problem of the keyboard contacting the LCD screen when the 'Book is closed and leaving both skin oil residues and scuff marks.
Unfortunately, this problem has not been dealt with in the new TiBook. Apple has argued that it is a "hygiene problem." I and others beg to differ. A TiBook-owning friend of mine, who is of Italian extraction, comments: "Due to my ethnic background, I am blessed with very active sebaceous glands. This skin oil gets on the keys and is transferred to the screen. Looks like dents in the screen, but a soft damp cloth gets them right off. I guess they were tested only by dried-up Anglos <grin>."
Well, my ancestry is Anglo/Celtic/Manx, but I have something of the same issue.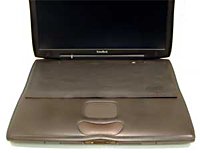 Anyway, Other World Computing is offering a very nice leather screen protector that can be inserted between the keyboard and screen.
OWC describes the problem and solution thus:
Have you ever noticed that the keyboard is leaving marks on the LCD screen? Apple PowerBooks made since the 1998 WallStreet models all the way up to the brand new PowerBook G4 have had problems with their keyboards coming into contact with the delicate LCD display and leaving marks on the screen that sometimes will not come off. Most are oils left from your fingers on the key caps; however, Some are not removable.

We at Other World Computing have been troubled by this for a number of years. And instead of just putting up with the problem, we decided to do something about it. We have created…..

Made from first quality 1 oz. (approximately 1-2 mm thick) black vegetable tanned cowhide, this protector is an all natural product. Some slight marks, or blemishes may appear on the surface of the protector. This is not because of low quality, it should be viewed as proof of a genuine leather product. Leather has always been thought of as one of the most durable materials, and it is also very soft. The leather used to create the Laptop Screen Protector is glove soft, you can be assured that it will protect your screen from any marks. Care is also very easy, we suggest that you do NOT do anything to it; all natural vegetable tanning will leave no oils to cause problems with your screen or keyboard.

The Laptop Screen Protector is 11-1/2″ x 5.5″; designed to fit easily over any standard keyboard. Be certain to check your keyboard dimensions to insure that it will fit properly. The protector was designed to work with any Apple PowerBook made from 1998-2001(WallStreet, Lombard, Pismo, Mercury), but it will work perfectly well with any other laptop computers."
The OWC Laptop Screen Protector sells for US$12.95.
A similar solution is the Bookmark 4, available from Mac Components Engineered. The Bookmark 4 is a silicone "gummy" pad that is designed to keep your keyboard from marking your display. It is paper-thin and fits over the keyboard of just about any laptop computer A special coating over the silicone gives the Bookmark a nice, tactile quality that isn't sticky, but still keeps the pad in place.
Measurements: width: 280 mm height: 130 mm thickness: 1 mm
The Bookmark 4 sells for US$30.
And for simple cleaning of finger residues from your screen, there is iKlear Apple Polish and associated Klear Kloths from KlearScreen. This product is recommended by Apple Tech Support.
IBM Introduces New Big, Quiet, Laptop Hard Drives
This week IBM announced what it claims to be the world's quietest family of mobile hard disk drives, including the industry's highest capacity notebook drive. These latest Travelstar drives raise the standard for storing data, music, video, digital photos, movies, and streaming media on an internal laptop hard drive.
IBM has incorporated its Drive Noise Suppression System (DNSS) across its entire Travelstar line, offering significantly reduced noise levels that enhance the user experience while listening to music or watching movies and videos on notebook computers, as well as making them more pleasant workstation companions in general. DNSS replaces the traditional ball bearing design with the fluid dynamic bearing spindle motor technology and voice coil motor dampening enhancements, resulting in acoustical noise reduction, improved shock tolerance, and superior reliability.
The new Travelstar 48GH model features the industry's highest capacity in a notebook drive at 48 GB, allowing storage of 48,000 high-resolution photographs, 74 music CDs, 48,000 paperback novels or 12 DVD movies, according to IBM. The Travelstar 48GH stores 50 percent more data than IBM's previous largest mobile drive, the Travelstar 32GH, which was also the industry's capacity leader.
While most mobile drives spin at 4,200 rotations per minute (rpm), the Travelstar 48GH spins at 5,400 rpm, making it not only the largest capacity and quietest, but also the fastest mobile hard disk drive on the market. With media transfer rates up to 241 megabits per second (Mbits/sec), the Travelstar 48GH combines spindle speed and improved processing speed to boost its overall performance. IBM says its new drives are also more power efficient, increasing capacity and speed while maintaining the energy requirements of the previous product generation.
The new family of mobile drives include Travelstar 48GH, 30GN (available in 30 and 20 GB capacities) and 15GN (available in 15, 10 and 6 GB capacities) models. The 30GN and 15GN offer improvements in both performance and acoustics. In fact, the Travelstar 15GN is quieter during its read/write operation than its predecessor is while idling.
In addition to the DNSS acoustical advantage, each new Travelstar drive incorporates glass disk platters, an ATA-100 interface, giant magnetoresistive recording heads, Partial Response Maximum Likelihood digital channel, load/unload technology and an Enhanced Battery Life Extender 3.0.
IBM plans to ship these new hard disk drives in the second quarter of 2001.
TECHNICAL SPECIFICATIONS
Travelstar 48GH
48 GB
12.5 mm in height
5,400 rpm
4 glass disk platters
8 GMR recording heads
700 G/1 ms nonoperating shock, 150 G/2 ms operating shock
5.5 ms average latency
12 ms average seek time
100 MB/sec Ultra DMA mode-5 maximum interface transfer rate
ATA-5
155 grams in weight
2.5 Bels typical idle acoustics
3.5 Bels typical operating acoustics
Travelstar 30GN
30/20 GB
9.5 mm in height
4,200 rpm
2 glass disk platters
4/3 GMR recording heads
800 G/1 ms nonoperating shock
180 G/2 ms operating shock
7.1 ms average latency
12 ms average seek time
100 MB/sec Ultra DMA mode-5 maximum interface transfer rate
ATA-5
99 grams in weight
2.4 Bels typical idle acoustics
3.1 Bels typical operating acoustics
Travelstar 15GN
15/10/6 GB
9.5 mm in height
4,200 rpm
1 glass disk platter
2/2/1 GMR recording heads
800 G/1 ms nonoperating shock
180 G/2 ms operating shock
7.1 ms average latency
12 ms average seek time
100 MB/sec Ultra DMA mode-5 maximum interface transfer rate
ATA-5
95 grams in weight
2.1 Bels typical idle acoustics
2.7 Bels typical operating acoustics
Good Customer Experience with Pbparts.com
Reader Jack Durré writes:
Hi Charles,

I just wanted to drop a short note to you about my recent dealings with some of the "Good Guys". There's more to this tale that you want to know, but suffice to say that I've just had a very pleasant experience, dealing with John (the Owner, I believe) of PBParts (http://www.pbparts.com).

In brief, my wife's several-years old iBook needed its modem replaced. Of course, we all know that Apple says to send it to them, give it up for days 'n days, spend oodles of money, etc., right?

Well, I bought a replacement (internal) modem from PBParts, and they even "held my hand" on the telephone, as I opened the 'Book, removed the old modem, etc., and inside of about 15 minutes, we had gone from step 1 (remove the battery and disconnect) through step ## – logging on to the ISP! Many thanks to John for all of his help, and my strong recommendations to give his company a try!

Jack Durré
WallStreet PowerBooks must Install OS X on First 8 GB of Hard Disk
According to Apple's Before You Install Mac OS X document:
If you install Mac OS X on a PowerBook G3 Series computer that does not have USB, an original Power Macintosh G3 (Beige),or a Rev. A, Rev. B, Rev. C, or Rev. D iMac, and the hard disk is larger than 8 GB with more than one partition, be sure to select a destination partition for Mac OS X that is completely within the first 8 GB of the disk.
If you have a hard drive larger than 8 GB (for instance, my 10 GB Toshiba, OS X must be installed on a partition entirely contained within the first 8 GB of the disk.
For more info see the Read Before Your Install PDF.
OS 9.1 CD that Ships with Mac OS X 10.0 Can't Boot TiBook
Apple has posted a Tech Info Library (TIL) article noting that the Mac OS 9.1 CD-ROM included with Mac OS X does not start up computers introduced in early 2001. A flashing question mark appears if you try to start up an affected computer from the Mac OS 9.1 CD included with Mac OS X.
Products affected
PowerBook G4
Power Mac G4 (Digital Audio)
iMac (Early 2001)
The workaround is to use the Mac OS 9.1 CD that came with your computer. Because your computer was produced after the release of Mac OS 9.1, it requires the computer-specific version of Mac OS 9.1 that came with it.