May 2001 – Back in 1998, the new Director of Management Information Systems at the Grand Rapids (MI) Public Schools (GRPS) decided to move the school system to Windows. Mac using parents and teachers fought back (see Grand Rapids (MI) Schools Standardizing on Windows).
My teacher contact in the school system sends me notes now and again – "I saw some more iMacs on the loading dock." We didn't get the system to go 100% Mac, which was never our goal, but we helped keep them from going 100% Wintel. A small victory is better than no victory at all.
Over the weekend, I received another note from this teacher. As some of you know, the State of Michigan has set aside $1,200 per teacher to buy personal computers, desktops or laptops, so teachers can have a computer at home and become more familiar with the technology.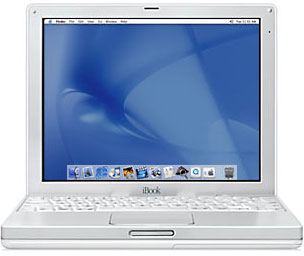 Guess what the education price is for the iBook? ;-)
You may have guessed already, the iBook is the runaway top choice of teachers in the Grand Rapids Public Schools. That's right – the exact kind of computer the IS guy tried to kick out of the school system three years ago.
Given the choice between Apple, Compaq, and Dell, a lot of teachers are picking the Mac – at one school, all but two teachers are getting Macs.
Although IS folk often prefer the intricacies and job security of Windows, when users have a choice, they prefer the Mac OS.
Hooray for small victories!
Keywords: #teacherchoice #grandrapidspublisschools #grps
Short link: http://goo.gl/Jt4BrB