2001-03-09: Apple has reinstated trade-in deals on PowerBook 190 and 5300 models. Third-party ColorSync profiles available for iBook, Pismo, and TiBook. More 'Book news.
Except as noted, prices are in US dollars, bold links are to outside sites, and regular links lead to 'Book profiles on Low End Mac.
PowerBook 5300/190 Trade-In Deal Back Again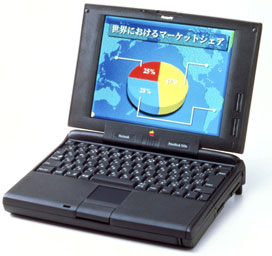 The biggest PowerBook news this week is that Apple, despite saying that it wouldn't, has brought the PowerBook 5300/190 trade-in deal back for a fourth iteration, but this time it will be a short one. Just how long it lasts depends on how the supply of 400 MHz leftover Pismos holds up, but in any case, it's all over March 23rd.
Basically, the deal is that Apple will give you a nice, new, Pismo 400 for $1,599 (plus tax and shipping) plus your PowerBook 5300 or 190 in trade. The 'Book does not need to be in working condition, and you can remove any RAM upgrades or peripherals if you wish. Apple seems very anxious to get these machines out of circulation.
My old 5300 is still going strong under my 16-year-old daughter's stewardship these days. It got a new case and chassis last summer, thanks to Apple's extended repair policy on these machines (the trackpad button had broken). That was the 5300's first service in nearly four years of intensive use.
However, I don't think I would be inclined to take Apple up on that offer this time. For one thing, it's a moot point. I'm in Canada, and the trade-in deal is only good in the US. Once again, Apple is treating it's non-US customers as second-class citizens. So what else is new?
Secondly, if I had wanted a Pismo 400 at that price, I could have purchased one for the equivalent of US$1,625 dollars a couple of weeks ago from MacWarehouse Canada (sorry, they'll all gone now) with no 5300 trade-in. That's only $26 more than the cash component of the current trade-in deal, and it included a 64 MB RAM upgrade.
Don't get me wrong. $1,599 is a very decent price for a 400 MHz Pismo, but if you have a 5300 or 190 in good working order, you're basically giving it away for no more than a couple of hundred dollars in equity at best.
On the other hand, if you can pick up a 5300 or 190 on the cheap, this is a good way to lower the cost of a new Pismo. For example, the editor of a major Mac Web site emailed me this morning to say he had just purchased two PowerBook 5300cs machines with a bunch of accessories for the princely sum of twenty dollars. If you can find a deal like that, grab the 5300 and trade it in on the Pismo now if you want an up-to-date PowerBook.
Visit Apple's Program Details page to participate in the latest PowerBook 5300 and 190 Upgrade Program.
In brief, to take advantage of this offer:
Place your order by calling the Apple Store at 1-800-MY-APPLE on or before March 23rd, 2001. Be sure to mention this Offer good through March 23, 2001, and while supplies last.
Attach a piece of paper inside the PowerBook with your name, address, telephone number, Web order number for the new PowerBook and serial number of the incoming PowerBook. We suggest that you tape this information to the display. This information will help us to confirm receipt of the product.
Package and ship the PowerBook 5300 or PowerBook 190 to:Apple
10175 Ironrock Way
Elk Grove, CA 95624
Attn: 664-0120
All PowerBook 5300s and PowerBook 190s must be received by Apple within 21 days of the date of the order, or this offer becomes void. Your new PowerBook cannot be shipped until Apple has received your PowerBook 5300 or PowerBook 190.
Klear Screen Laptop Display Cleaner
Troubled by the screen on your Lombard, Pismo, or TiBook getting soiled and marked by contact with the keyboard when closed?
Klear Screen safely cleans LCD laptop displays and computer monitors, and it is recommended for the Macintosh PowerBook.
Klear Screen contains a 3-step liquid polymer-based formula that lifts and dissolves surface contaminates and fingerprints, floating debris off the screen surface, leaving an antistatic coating which reduces surface friction and wear, resists fingerprinting and provides a renewable protective screen barrier.
Klear Screen's formula is antistatic, 100% nontoxic, environmentally friendly and contains no alcohol or ammonia.
Not Just Another Pretty Face: TiBook Survives the Unintentional Drop Test
Brian Tobin (not Canada's federal Industry Minister) has a tale on Artificial Cheese that will make you wince.
He relates how Chris Kenney recently witnessed a TiBook being dropped three feet onto concrete, and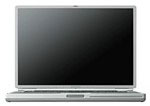 he has photos to prove it. Damage was limited to a small crack in the DVD-ROM drive and a small dent where the impact occurred. The machine reportedly works fine.
Brian, who has worked for several years as an Apple technician, says he knows that a traditional plastic case would not have survived the fall.
ColorSync Profiles for iBook, Pismo, and TiBook
Brock Brandenberg says these profiles were generated with a visual ColorSync calibrator plug-in that written a couple of years ago. It is the only calibrator that he knows of (still to this day) that will properly measure the transfer function of an LCD panel.
Each profile is compressed as a single binhex file. Just click on the appropriate link below and your browser will automatically download the file. If you have Stuffit Expander installed, the file will automatically decompress, ready to be dropped into your ColorSync Profiles folder.
Note: The G4 profile was made with the display at half brightness and has a 1.8 target gamma, but it does not contain valid RGB phosphor values (I can't find data on the new flat panel yet, so don't expect any color management systems to generate accurate results). It still has the "mmod" tags in it, so the possibility exists that it may not show up in everyone's list of profiles. I would hope that Apple is currently using a single LCD flat panel model in all of the Titaniums, but only time will tell.
CoolPads at Dr. Bott
Dr. Bott is now a dealer for Road Tools' CoolPad and Podium CoolPad, which are a must-have accessory for today's hot-running PowerBooks, as well as offering the convenience of a swivel base, and adjustable keyboard angle.
The standard CoolPad sells for $19.95, and the height-adjustable Podium CoolPad $29.95.
Protect Your PowerBook with SleeveCase
The sleek, minimalist SleeveCase keeps
your laptop out of harms way without taking up much valuable space.
A plush layer of high grade neoprene wrapped in a Ballistic shell surrounds and protects your computer. The ultra smooth neoprene skin makes sliding your laptop in and out a snap. And they've left enough room on the sides so you can leave your PC cards in
There is a model that fits the G4 TiBook (13.5″ x 9.5″ x 1.1″)
The SleeveCase sells for $39.
If Your PowerBook G4 Battery Fails to Charge
A new Apple Tech Info Library (TIL) article notes that the battery of a PowerBook G4 computer will not charge unless the AC adapter is correctly inserted. The article explains how to insert the AC adapter plug properly on a PowerBook G4 computer.