Apple improved the popular iBook by boosting CPU speeds another 100 MHz. The entry-level 700 MHz model has a CD-ROM drive, while the 800 MHz one includes Apple's Combo (CD-RW/DVD) drive. The new iceBooks use ATI's Mobility Radeon 7500 with 16 MB or 32 MB of VRAM.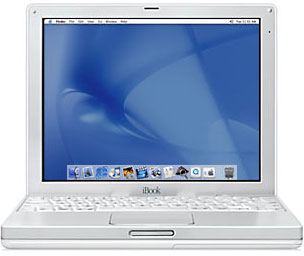 The 700 MHz model was the first opaque white iBook, while earlier models and 800 MHz ones were a translucent white. All future iBooks would be opaque.
MacInTouch has called the dual USB G3 iBooks Apple's most unreliable notebooks ever. According to their survey of iBook and PowerBook Reliability:
…by affected percentage of models, the G3 iBooks were the worst by far, with more than half requiring logic board replacements. Apple created a warranty extension program for some versions, but not all. (MacInTouch readers are still reporting newly failed iBook G3s, and the warranty extension program has ended.)
The white 12″ iBook G3 series became much less reliable through its first five revisions, reaching a 73% failure percentage! The last revision dropped to a 49% failure percentage – much improved over the previous model, but still unconscionably high. The problems appear to have been solved, for the most part, in the newer iBook G4 series.
Keep in mind that Apple had an extended replacement program on many iceBook models, so most problematic motherboards have already been replaced.
It can boot Mac OS 9.
Details
CPU Upgrades
Online Resources
Cautions
Keywords: #12inchibook800mhz #12inchibooklate2002
Short link: http://goo.gl/9T2jW1
searchword: 12inchibooklate2002