A bit more than six months after speed bumping the TiBook to 550 and 667 MHz, Apple overhauled the titanium workhorse with still faster processors (667 and 800 MHz); a brighter, higher resolution screen (1280 x 854 vs. 1152 x 768); and ATI Mobility Radeon 7500 graphics with 32 MB of video memory. This is the oldest PowerBook to fully support Quartz Extreme graphics (part of OS X 10.2 and later).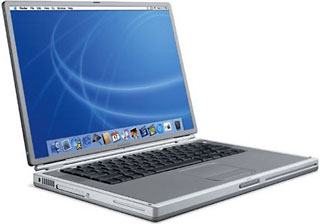 The VGA port on the older PB G4 has been replaced with DVI to support Apple's flat panel displays, and these 'Books originally shipped with a DVI-to-VGA adapter.
Both models include a 1 MB level 3 cache and an 8x8x24x Combo drive that can burn CDs as well as read DVDs. (It wasn't until the next revision of the PowerBook G4 design that Apple managed to squeeze a SuperDrive into the 1″ thin design.)
Closed Lid Mode: TiBooks support "lid closed" (or clamshell) mode, which leaves the built-in display off and dedicates all video RAM to an external display. To used closed lid mode, your 'Book must be plugged into the AC adapter and connected to an external display and a USB mouse and keyboard (you might also want to consider external speakers). Power up your 'Book until the desktop appears on the external display and then close the lid. Your 'Book will go to sleep, but you can wake it by moving the mouse or using the keyboard. The built-in display will remain off, and the external monitor will become your only display. Since all video RAM is now dedicated to the external monitor, you may have more colors available at higher resolutions. The TiBook is designed to run safely in closed lid mode, but if yours runs hot (perhaps due to overclocking or high ambient temperatures), you may want to open the lid when in closed lid mode: The screen will remain off and the computer will more readily vent heat from the CPU.
To resume use of the internal display, you need to disconnect the external display, put the computer to sleep, and then open the lid. This will wake up your 'Book and restore use of the built-in display.
Details
CPU Upgrades
Online Resources
Cautions
Keywords: #tibook #tibook667dvi #tibook800 #tibookdvi
Short link: http://goo.gl/recAZt
searchwords: tibookdvi