First 2.5″ 80 GB notebook hard drive, Logitech QuickCam for Notebooks, handle for Titanium PowerBooks, Apple addresses Sleep of Death, double-speed USB floppy drive, and more.
Except as noted, prices are in US dollars.
IBM Releases 80 GB Hard Drive for Portables
IBM has introduced the world's highest capacity mobile hard drive at 80 GB – made possible by enhancements to the company's patented "pixie dust" technology.
IBM also announced plans for a new 7200 RPM performance category, offering workstation performance with mobility.
The new Travelstar 80GN breaks current areal density records by allowing up to 70 billion bits of data to be written on each square inch of disk space. IBM achieved this by adding another coating of "pixie dust" – an additional ruthenium/magnetic layer to create a five-layer sandwich called laminated-"pixie dust."
The additional layers bring about an even higher signal-to-noise ratio, which allows data recording at ultra high densities while maintaining data integrity. With this new data density record, IBM is quickly approaching the 100 gigabits/square inch the company predicted "Pixie Dust" would achieve in 2003.
Announced last year, "pixie dust" is an IBM data storage breakthrough achieved by sandwiching a three-atom-thick layer of the element ruthenium, a precious metal similar to platinum, between two magnetic layers – technically called antiferromagnetically-coupled media. That only a few atoms could have such a dramatic impact caused some IBM scientists to refer to the ruthenium layer informally as "pixie dust."
The Travelstar 80GN is based on proven reliability and a mature design with high shock robustness and low power consumption. An 8 MB cache contributes to making the 80GN the world's highest performing 4200 RPM mobile hard drive. In addition, IBM reduced drive operating acoustics by as much as four decibels, continuing the Travelstar 80GN's leadership as the world's quietest mobile hard drive.
Logitech QuickCam for Notebooks Pro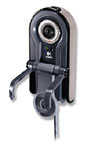 Bring instant messages to life, create and edit videos, capture high-quality photos, andmore no matter where you are. The QuickCam for Notebooks Pro features an integrated notebook mount that attaches to any notebook computer and folds up for compact storage and lens protection. With its studio-quality image editing software, you can create high-impact movies on the plane or at the beach. Life isn't stationary and neither are you – travel light with QuickCam for Notebooks Pro.
Features:
Zoom in or out, even pan and tilt to get the right shot.
Use the carrying case for easy camera storage without cable clutter.
Enjoy 640 x 480 video resolution with the advanced VGA CCD sensor and high-quality 1.3 megapixel photo resolution.
Create movies like a pro with studio-quality MGI editing software.
Add live video to Yahoo! Messenger with integrated software.
Use Logitech's free IM Video Companion to add live video to MSN® Messenger and AOL Instant Messenger.
QuickCam for Notebooks Pro sells for $99.95
John Droz Jr. Updates Mac vs. PC Website
John Droz Jr. has just completed a major update of his Mac vs. PC site, which now includes over a hundred new reports, studies and articles.
There are also completely new sections on:
New TiHandle Carry Handle Offers an Easy Way to Tote Apple's G4 Titanium
Other World Computing and Newer Systems Technology have introduced the TiHandle, an ergonomically designed handle plus stand for the Apple PowerBook G4 "Titanium."
The Newer Tech TiHandle makes it easy to carry a PowerBook G4 and also doubles as a stand, providing an elevated angle that allows for more natural typing position and better heat dissipation for cooler operation.

"The TiHandle is a well-constructed, sturdy handle that makes it much easier for PowerBook ownersto tote their G4 Titanium either across the office or across the country," said Larry O'Connor, president of Other World Computing. "We have combined the convenience of a carrying handle with the benefits of an ergonomically correct stand that allows your computer to breathe while you work comfortably and naturally. If all you need is your PowerBook when you travel, leave the bulky bag behind and attach a TiHandle to make traveling easier."
The TiHandle attaches to G4 Titaniums using the supplied Torx screwdriver and four supplied Torx screws. It also includes clear heavy-duty rubber tape to protect the paint on the underside of your PowerBook when using the TiHandle as a stand. The single-design TiHandle fits all PowerBook G4 models from 400 MHz to 800 MHz.
The Newer Tech TiHandle is available exclusively through OWC for $39.95. OWC is actively seeking resellers for the TiHandle.
Dr. Bott announces "Dr. Bott Imports" For Apple 'Books
Dr. Bott announces distribution of Micro Solution and Felicidad products from Japan. Products include iSuit, stylish replacement lids for the iBook, iWax polycarbonate polishing paste, Junin Toiro II for giving your iBook a custom color, Twist Protector for the Titanium PowerBook G4 and the popular Groove Jacket for iPod.
"Dr. Bott Imports fall outside what many people would consider our core product lines," says Eric Prentice, CEO of Dr. Bott LLC. "While these products carry a higher price tag, they are great examples of what Mac users find interesting in different parts of the world."
Dr. Bott has leveraged their worldwide distribution partnerships to bring these products to the US market. Dr. Bott Imports are only compatible with those who are able to think outside the box and have larger pocketbooks.
Dr. Bott will be adding new "imports" as they become available. Visit the Dr. Bott web site for products that are currently available.
Apple Addresses PowerBook Sleep of Death
Apple Knowledge Base article 75374 notes:
In some cases a PowerBook computer may wake from sleep, but the screen stays dark. Despite the fact that the LCD display is dark, external VGA monitors connected to the computer work, and the computer responds to network requests.
Products affected
PowerBook G3 Series
PowerBook G4
Mac OS X
Apple's Solutions:
Close the computer, then open it up again.
Press the brightness buttons (normally F1 and F2) on the keyboard.
If an external VGA monitor is connected to the computer, open the Displays pane of System Preferences, then reselect the display size to turn on the LCD display.
Restart the PowerBook.
CompuCable FireXpress 250 External Hard Drive Conversion Kit
The CompuCable FireXpress 250 External Hard Drive Conversion Kit allows you to take a spare 2.5″ IDE hard drive (perhaps left over from upgrading your PowerBook's internal drive) and convert it to a portable external hard drive. The "conversion" time takes about 10 minutes and the kit comes with a fully illustrated 32-page user manual that clearly details each step of the process. The kit is compatible with any FireWire-equipped Macintosh or PC.
You'll receive a brand new product in the original factory box. The box is well padded and includes the enclosure, a five foot high-quality FireWire cable, user's manual (including drivers necessary for older Mac OS users), a nice padded carrying case for when you take your FireXpress on the road, and a auxiliary power adapter for FireWire ports that don't provide power such as add-on PC Cards.
The enclosure is semi-translucent charcoal color that complements the look of any Macintosh, old or new. It has two rubber slide-on bumpers on each end to cushion the unit during travel. There is a status LED in the front left of the unit that indicates if the drive is operational.
This enclosure uses the super-fast Oxford 911 chip. It's the fastest "bridge chip" out there – the chip that converts, in effect, the FireWire bus to the IDE connector inside the enclosure.
In addition to the 32-page users manual, which includes simple installation instructions for Macintosh and Windows-based systems and a troubleshooting guide, CompuCable offers full technical support via email and telephone. Details on getting support are in the user's manual.
2x USB FloppyDisk Drive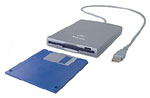 This 2x USB Floppy Drive is claimed to be the fastest of its kind – double the speed of a normal floppy disk drive.
Features:
Reads and Writes Floppy Diskettes at 2x Speed. The 2X USB floppy doubles the speed of reads and writes of standard floppy diskettes.
Sleek and Compact design. At just 280 grams (under 10 oz) and about / inch thick this drive is ideal for portability and desk saving.
USB Power. No need to carry a bulk AC adapter. This unit is powered through the USB port. Simple plug and play without reboot.
Compatible with all popular OSes. Mac OS 8.6 and higher, Windows 98 and higher, and Windows CE. As well as other "Mass Storage Compliant" operating systems including many *nix systems.
MSRP $69.95
PowerBook Central Free PowerBook and iBook Classifieds
Now that Apple has introduced updated PowerBooks and iBooks, you're may want to unload your current laptop so you can buy one of the new models. Try PowerBook Central's PowerBook and iBook Classifieds, which are totally free (no catch).
They have categories for all the PowerBooks and iBooks, from the newest 1 GHz screamer to the original Mac Portable.
Bargain 'Books
There are two different versions of WallStreet running at 233 MHz, the cacheless MainStreet version and the later Series II with a level 2 cache. It's not always possible to determine from the vendor's listing which is being offered, so we've included links within this paragraph to the two models. The same goes for the PowerBook G4/667 (Gigabit Ethernet/2001) and G4/667 (DVI).
new PowerBook Pismo G3/400, 64/10 GB/DVD, $1,099.99. Condition is flawless – new, never used – in retail box with original CDs, manuals, AC adapter, SVGA video adapter, and weight saver.
used PowerBook 3400/200, 80/2 GB/CD-ROM, crack in case (replacement casing provided), $269
searchword: bookrev20021115