Teardown guide for WallStreet PowerBook, third-party USB startup key, new laptop bags, and more.
Except as noted, prices are in US dollars.
PowerBook G3 WallStreet Teardown Tutorial
I frequently get requests for info on how to tear down G3 Series PowerBooks Having done a WallStreet once without benefit of instructions, I'm pleased to note that a PowerBook fan has posted an excellent illustrated tutorial on disassembling a WallStreet.
onCue USB Start-Up Key for Mac Pro Keyboard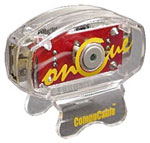 Apple computer enthusiasts have always enjoyed the flexibility of starting their Macs from their keyboard, unlike PC users who must bow and pay homage to the box located under their desk. Unfortunately, Apple has a tendency to provide keyboards that are just a hair shy of perfection. First, Apple introduced the awkward sub-sized keyboard for the iMac, and then came the Apple Pro Keyboard without a power key.
Now Mac users everywhere can rejoice by adding the  onCue Start-Up Key to any USB enabled Macintosh computer! Specially designed to attach to the Apple Pro Keyboard, the onCue can be attached as a dongle to practically any USB keyboard.
Clip and add Macintosh Start-Up button to Apple Pro Keyboard (or to any USB keyboard as a dongle)
No software installation
LED Button indicates system status
6′ pass-through cable included
iMac DV Summer 2000 or later do not have the ability to start from USB device
The onCue has a pass-through port so you will not "waste" a USB port for the device
The onCue is priced at under $20 and can be purchased from most online Macintosh resellers.
Laptop Backpacks by Booq
Based on the successful original, BooqPaq2 is the second generation BooqPaq, with small but important design improvements that make it more comfortable, easier to use, and more durable.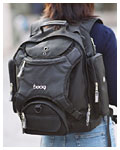 BooqPaq2 is the state-of-the-art mobility solution for all your tech gear. More than just an ergonomicallydesigned laptop backpack, this supercharged gear center achieves extreme levels of design refinement, with among the highest quality of materials and finish. With its bombproof 1680D nylon exterior with PVC backing, neither the harshest weather nor the most abusive wear can harm this tough and tech-loving laptop carrying case.
Designed to be the perfect technology center and versatile laptop backpack with tons of storage options for your laptop and gear, MPEG Player or CD player, media, digital camera and documents, this laptop backpack leaves plenty of cubic space for all your other stuff you'll need on your next trip.
BooqPaq2 also makes for a great school backpack or college backpack. This backpack is comfortable to wear – even for long hikes at heavy loads – due to our attention to ergonomics and human factors in design. In fact, since we've paid special attention to female ergonomics, BooqPaq2 also makes an extremely comfortable women's backpack!
While the actual laptop backpack is available in black and navy color, the bag's detachable front piece "Shell" comes in a variety of styles, so you can build your personal BooqPaq, and change styles whenever you want!
BooqPaq2 Laptop Backpack Features:
Second Generation BooqPaq Laptop Backpack with Gallons of storage room;
Securely stores your large or small laptop or notebook (up to 15″ x 12″ x 3″);
Laptop Backpack made from tough, weather-resistant 1680D Nylon;
External front pocket stores up to 10 CDs, disks etc.;
Large side pockets hold cables, pens, cell phone etc.;
Multifunctional interior pocket array neatly stores disks, flash cards, business cards, pens;
convenient, protected multimedia pocket for CD or MPEG Player – listen on the go;
padded super comfy, large-area BodyHuq™ shoulder strap design for optimized load distribution;
attach FonePaq™/PDApaq (included in BooqPaq System) to shoulder straps;
Padded carrying handle;
NEW! Sternum strap for additional comfort;
High-density polyurethane foam/layered mesh padded back for extra rigidity, comfort and optimum breathability;
Integrates interchangeable cover piece "shell", comes in a choice of colors;
Adjustable hip strap with padded hip flaps for secure active wear;
Large back document pocket holds folders and documents – flat;
Equipped with high-quality zippers;
Built with the toughest nylon straps and webbing;
Price: $110.00 (Free Shipping)
Colors: Black or Navy
Exterior Dimensions: 16″ H x 17″ W x 7″ D
Max. Laptop Dimensions: 14″ H x 12″ W x 2.25″ D
Kensington AstroPack Laptop Bag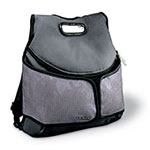 Go anywhere without worry. Perfect for iBook or other laptop users. The Kensington AstroPack isan easy-carry backpack with rugged laptop protection and space for everything you need on the go.
Features and Benefits
Organize electronic tools and other gear in laptop computer backpack
Ideal for iBook and other laptops with large, padded compartments for computer protections
Space for files, adapter, cell phone, pager, books. notebook, and more
Easy to carry with comfortable handle or cushioned, adjustable backpack straps
Sturdy construction with wear-resistant fabric and mesh plus curved zipper for easy access
Dimensions
Exterior 15″ L x 16″ H x 4.5″ W
Computer compartment 13″ L x 12″ H x 2″ W
Compatibility
iBook clamshell
iBook Dual USB
PowerBook G3 Series (Wallstreet)
PowerBook G3 Series (Bronze)
PowerBook G4 (Titanium) – snuggly fit
PC Laptops too
Price: $29.99
ATI's Mobility Radeon 9000 and Mobility Radeon 7500 Processors for PowerBook G4 and iBook
PR: ATI's industrial-strength mobile graphics processor, the Mobility Radeon 9000 with up to 64 MB of integrated DDR RAM, is now available in Titanium PowerBook G4 notebooks, and the powerful Mobility Radeon 7500 with up to 32 MB DDR RAM is now available in the the iBook.
"The Mobility Radeon 9000's version 1.4 pixel shaders bring exciting new special effects to Apple's mobile users, while the Mobility Radeon 7500 accelerates 3D visual effects and enables crisp full frame-rate DVD video to deliver a truly immersive multimedia experience to consumers" said Reuven Soraya, Director of Marketing, Mobile Business Unit, ATI Technologies Inc. "ATI is delighted to be working closely with Apple to deliver impeccable 3D graphics and an outstanding overall visual experience to Apple's PowerBook G4 and iBook customers."
"The Titanium PowerBook G4 and the new iBook deliver cutting-edge features in stunning, thin and light portable designs," said Greg Joswiak, vice president of Hardware Product Marketing. "By choosing the world's fastest, most feature-rich mobile graphics processors for both the PowerBook and iBook, we're delivering best-in-class graphics performance to our professional and consumer portable customers."
The Mobility Radeon 9000 is the world's most powerful mobile visual processor, and is the first and only mobile visual processor to support version 1.4 pixel and vertex shaders, which deliver breathtaking realism to the latest 3D games. The Mobility Radeon 7500 graphics processor brings all the features and performance of a desktop PC to the notebook space, including lightning-fast 3D acceleration, superior video editing capability, smooth DVD (digital versatile disc) playback, integrated TV-out, multi-monitor support, and the ability to run the industry's most graphics-intensive applications.
All of the new Titanium PowerBook G4 and iBook models take advantage of Quartz Extreme in Mac OS X Jaguar. Quartz Extreme uses the OpenGL-based graphics engine rather than the G4 processor to accelerate the compositing and rendering of 2D, 3D, and QuickTime content. The entire desktop becomes a fully accelerated OpenGL scene to dramatically improve overall system performance and make the graphical user interface more responsive. For all-day mobile use, the new notebooks also offer industry-leading battery life.
Other World Computing Releases Faster Mercury Pro CD and DVD Read/Write Solutions
PR: Other World Computing (OWC) has introduced six new models of its popular Mercury-brand external optical storage line. Offered with FireWire and USB/FireWire compatibility options, add-on software, writable and rewritable media, and complete one-year warranties, these drives are more than hardware devices – they are high-value, high-speed information storage solutions.
The CD Read/Write (R/W) solutions come with Roxio Toast 5.2.x Lite, 25 pieces of CD write once/read many media, and one piece of rewritable media and all necessary cables. The 44x24x44 CD/RW models also come with Yamaha Safe-Burn & Exclusive Disc T@2 Labeling Technology, while the 48x12x48 models come with Lite-On SMART-BURN technology.
The Mercury DVD R/W solutions ship with CharisMac Discribe 5.x, five pieces of DVD-R 2X Media in Jewel Case, 25 pieces of CD-R media, one piece of CD-RW media, and all the necessary cables.
"Our new Mercury optical storage drives make data and file management more efficient and more affordable than ever before," said Larry O'Connor, president and chief executive officer of OWC. "These drives have started selling at a pretty good clip before we even had a chance to formally announce them. This validates both the high-value/performance level of these drives, as well as the fact that people are doing more and more with their computers, increasing the need for faster file transfer rates and larger data storage capacities."
OWC Mercury and Mercury Pro drives weigh approximately 7 pounds, have the speed to transfer large quantities of data very quickly and the capacity to store thousands of MP3 files, hundreds of large digital images, and/or backup an entire internal hard drive. Pricing for the new drives is as follows:
Mercury Pro 48x12x48 CD-RW, FireWire, $139.99
Mercury Pro 48x12x48 CD-RW, FireWire & USB 2.0/1.1 Combo, $159.99
Mercury Pro 44x24x44 CD-R/W, FireWire, $229.97
Mercury Pro 44x24x44 CD-R/W, FireWire/USB 2.0+1.1, $249.97
Mercury DVR-105 DVD-R/RW + CD-R/RW, FireWire,  $439.95
Mercury Pro DVR-105 DVD-R/RW + CD-R/RW, FireWire & USB 2.0/1.1, $459.95
The Mercury and Mercury Pro optical storage solutions are available exclusively from OWC. All drives come with a one-year OWC warranty.
WiebeTech Introduces Next Generation MicroGB FireWire Pocket Drive
PR: This dual FireWire port product is smaller, lighter and even faster than the original MicroGB, and is also less expensive. MicroGB+ will be featured at Macworld Expo in San Francisco, Jan. 7-10, 2003, but is available for immediate purchase online at http://www.wiebetech.com.
"MicroGB+ raises the bar for performance, even as the physical size and weight of the product is reduced," said James Wiebe, CEO of WiebeTech LLC. "It offers burst transfer rates in excess of 35.7 MB/sec, which is faster than many desktop drives, through its dual bus-powered daisy chainable FireWire ports.
"MicroGB+ is also less expensive than our original MicroGB product," Wiebe continued. "For example, the 40 GB version with 5400 RPM high speed spindle and 8 MB cache is priced at $269.95. This includes the enclosure, drive, FireWire cable and carrying case. We also include a copy of MediaFour's excellent Mac Drive 5TM software, which allows Mac formatted drives to be read on Windows computers. This software has a value of $59.95. The user configurable version of the product also includes a screwdriver for easy installation of any 9.5 mm notebook drive."
Price and Availability
enclosure, $99.95
20 GB/5400 RPM, $199.95
30 GB/4200 RPM, $219.95
40 GB/4200 RPM, $239.95
40 GB/5400 RPM, $269.99
60 GB/4200 RPM, $349.95
AC adapter, $19.95
(Basic product includes: Aluminum enclosure, FireWire cable, carrying case and screwdriver for easy installation. An AC adapter is optional and required only for use with non-powered FireWire hosts.)
Case: Anodized aluminum, silver color, with black plastic bezels.
In the U.S. and Canada, dealers may purchase MicroGB+ from WiebeTech's distributor, Dr Bott LLC, or from dealers. All configurations are in stock and available directly from WiebeTech. Canadian resellers may purchase products from EMJ.
Bargain 'Books
There are two different versions of WallStreet running at 233 MHz, the cacheless MainStreet version and the later Series II with a level 2 cache. It's not always possible to determine from the vendor's listing which is being offered, so we've included links within this paragraph to the two models. The same goes for the PowerBook G4/667 (Gigabit Ethernet/2001) and G4/667 (DVI).
PowerBook Lombard G3/333, 128/4 GB, 60 day guarantee, refurbished, and in excellent condition, $689.99
Add a 30 GB hard drive, installed for free, $89.99
iBook with Airport Base Station and .Mac Internet Account: new iBook 800, 128/30 GB/Combo, Airport Base Station, .mac subscription, $1,689
iBook 600 12″, 128/20/CD, refurbished, $869
searchword: bookrev20021206