With the introduction of the G4 iBooks in October 2003, Apple phased out the last Macs with G3 processors, which had been in use since November 1997. Although the G4 iBooks use a G4 CPU, it's not the same version used in the PowerBook G4 – this edition has only a 256 KB level 2 cache, which means it won't provide the same performance as a PowerBook at the same clock speed.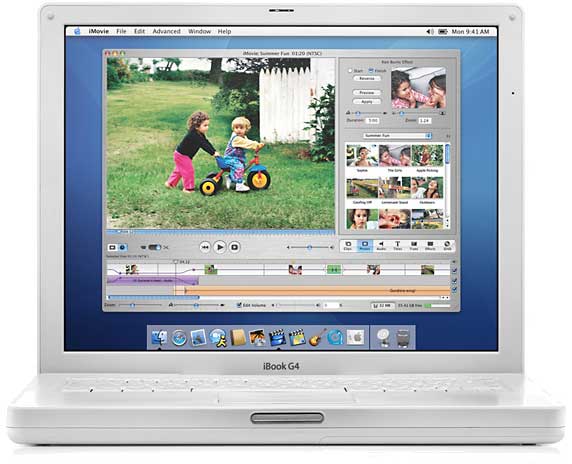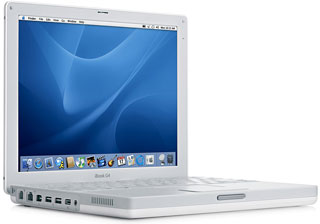 The G4 iBooks support AirPort Extreme, which has 5x the bandwidth of the original AirPort. Also new are USB 2.0, Mobility Radeon 9200 graphics, room for an internal Bluetooth module, and the use of DDR (double data rate) RAM.
Base memory on the 12″ model is now 256 MB (128 MB onboard, 128 MB in a slot), and all iBooks now ship with a Combo (CD-RW/DVD) drive.
Apple has admitted to a manufacturing defect in first generation G4 iBooks that may cause the power system to fail due to failed solder joints.
Details
Nickname: iceBook
introduced 2003.10.22 at $1,099; replaced by 1.07 GHz model 2004.04.19
requires Mac OS X 10.3 Panther through 10.4 Tiger, 10.5 Leopard not officially supported but can be used
CPU: 800 MHz G4
Bus: 133 MHz
Performance:

Geekbench 2 (Leopard): 450
Geekbench 2 (Tiger): 433

ROM: 4 MB, NewWorld ROM in RAM architecture
RAM: 256 MB (128 MB of SDRAM soldered in place and one removeable 128 MB SO-DIMM), expandable to 1.125 GB using one 1.25″ PC2100 compliant SO-DIMM (PC2700 compatible)
Level 2 cache: 256 KB on-chip cache
Video: ATI Mobility Radeon 9200 4x AGP
VRAM: 32 MB
display: 12.1″ 24-bit 1024 x 768 106 ppi color active matrix, resolution scaling for 640 x 480 and 800 x 600 modes
Video out: VGA and composite video
Hard drive: 30 GB UltraATA-100
optical drive: 16x8x8x24x Combo (CD-RW/DVD)
floppy drive: external USB only
expansions bays: none
USB: 2 USB 2.0 ports
FireWire: 1 FW400 port
Ethernet: 10/100Base-T
Modem: v.92 56k
WiFi: 802.11g AirPort Extreme optional
Microphone: built in
PC Card slots: none
Battery: rated at 5 hours
size: 11.2 x 9.1 x 1.35″ (28.5 x 23.0 x 3.4 cm)
Weight: 4.9 pounds (2.2 kg) with battery
Online Resources
Low End Mac's Compleat Guide to the iBook G4, Charles W Moore, 'Book Value, 2008.07.09. Replacing the G3 iBook in October 2003, the iBook G4 was and remains a value leader until it was replaced by the MacBook in 2006.
PRAM and Battery Issues in iBooks and 12″ PowerBooks, Low End Mac Tech Journal, 2018.02.09
Unsupported Leopard installation, Dan Knight, 2007.10.31. How to install Mac OS X 10.5 on unsupported hardware – plus field reports.
Faking out the Leopard installer with Open Firmware, Dylan McDermond, Unsupported Leopard, 2007.12.06. You don't have to hack the installer to make the Mac OS X 10.5 installer run on sub-867 MHz G4 Macs by using this simple Open Firmware trick.
What's the best Mac OS for your iBook, PowerBook, or MacBook?, Charles W Moore, 'Book Value, 2008.08.19. Tips on choosing the best OS for your PowerBook 500 Series or newer Mac notebook.
What's the Best Version of OS X for My Mac?, Ian R Campbell, The Sensible Mac, 2008.02.28. Which version of Mac OS X is best for your hardware depends on several factors.
12″ G4 iBooks and PowerBooks are Mac netbooks: Cheap and powerful enough, Phil Herlihy, The Usefulness Equation, 2009.02.05. Recent tests comparing a 1.33 GHz G4 iBook and a 1.6 GHz Atom-based netbook show the old Mac holds its own. It also has some advantages.
The Future of Up-to-Date Browsers for PowerPC Macs, Charles W Moore, Miscellaneous Ramblings, 2009.08.31. With Intel-only "Snow Leopard" shipping, software support for PPC Macs will continue its decline. Also, a look at SeaMonkey 2 and Camino 1.6.9.
Optimized Software Builds Bring Out the Best in Your Mac, Dan Knight, Low End Mac's Online Tech Journal, 2009.06.30. Applications compiled for your Mac's CPU can load more quickly and run faster than ones compiled for universal use.
Low End Mac's Safe Sleep FAQ, Dan Knight, Online Tech Journal, 2009.06.15. What is Safe Sleep mode? Which Macs support it? How can you enable or disable it? And more.
The Safe Sleep Mailbag, Charles W Moore, Miscellaneous Ramblings, 2009.06.15. Safe Sleep mode is enabled by default on modern MacBooks. How it works, and how to change how it works.
Tips for Installing or Reinstalling Mac OS X 10.4 Tiger, Adam Rosen, Adam's Apple, 2009.06.10. Mac OS X 10.4 uses less memory than Leopard, supports Classic Mode on PowerPC Macs, and, unlike Leopard, is supported on G3 Macs.
MacBook White updated, DIY Mac tablet, danger of 'Safe Sleep', $350 80 GB SSD kit, and more, The 'Book Review, 2009.05.29. Also Apple tablet 'confirmed', 3G and lower cost MacBook Air models rumored, 500 GB bus powered hard drive, Mini DisplayPort adapters, bargain 'Books from $179 to $2,299, and more.
Salvaging parts from a dead iBook, John Hatchett, Recycled Computing, 2009.05.26. With a broken power plug, the iBook was unusable – but the RAM, hard drive, and optical drive can live on.
The iBook Can't Replace the Hard Drive Blues, John Hatchett, Recycled Computing, 2009.04.28. Replacing the hard drive in a Pismo PowerBook or polycarbonate MacBook is easy. But those iBooks are another thing entirely.
Is Leopard Slower than Tiger on G4 Macs?, Simon Royal, Tech Spectrum, 2009.04.17. Truth be told, when you have 1 GB of RAM, Leopard benchmarks an insigificant 4% slower than Tiger.
Is It Worth Maxing the RAM in Old G3 and G4 Macs?, Simon Royal, Tech Spectrum, 2009.04.15. Increasing memory can make your old Mac faster and make you more productive, but it probably won't improve resale value by the amount you spend.
Making the switch from a G4 PowerBook to a Unibody MacBook, Charles W Moore, 'Book Value, 2009.03.17. The transition to an Intel-based Mac hasn't been without its problems – slow dialup performance, incompatibility with Eudora, and no real gain in speed with standby apps.
Is Camino now the best browser for older Macs?, Charles W Moore, Miscellaneous Ramblings, 2009.01.13. Camino 1.6.6 works very will with Mac OS X 10.3 through 10.5 and seems especially well suited for slower PowerPC Macs.
2 compact portable USB 2.0 hubs, Charles W Moore, 'Book Value, 2009.01.12. Compact hubs from Targus and Proporta make a great complement to your notebook computer. Each accepts a third-party AC adapter to provide bus power.
The 'Better Safe Than Sorry' Guide to Installing Mac OS X Updates, Charles W Moore, Miscellaneous Ramblings, 2008.12.16. Most users encounter no problems using Software Update, but some preflight work and using the Combo updater means far less chance of trouble.
Leopard on an 867 MHz G4 trounces Vista on a 2 GHz Core Duo notebook, Simon Royal, Tech Spectrum, 2008.12.16. Apple makes sure that each version of OS X runs well on the minimum supported hardware, while PCs well above minimum spec struggle under Microsoft's latest version of Windows.
Why You Should Partition Your Mac's Hard Drive, Dan Knight, Mac Musings, 2008.12.11. "At the very least, it makes sense to have a second partition with a bootable version of the Mac OS, so if you have problems with your work partition, you can boot from the 'emergency' partition to run Disk Utility and other diagnostics."
Leopard runs very nicely on PowerPC Macs, Simon Royal, Tech Spectrum, 2008.11.19. Some claim that Mac OS X 10.5 is so optimized for Intel Macs that it runs poorly on PowerPC hardware. That's simply not the case.
Every working computer is useful to someone, Allison Payne, The Budget Mac, 2008.11.19. Whether it's a PowerBook 1400, G3 iMac, or Power Mac G4, it could be all the computer someone needs.
The future of PowerPC Macs and software as 'Snow Leopard' approaches, Simon Royal, Tech Spectrum, 2008.11.13. Apple phased out Classic Mode and G3 support with 'Leopard' last year, and next year's OS X 10.6 won't support any PowerPC Macs. Will other developers abandon PowerPC as well?
9 browsers for G3 and older G4 Macs compared, Simon Royal, Tech Spectrum, 2008.09.26. The latest versions of Opera, Safari, Shiira, iCab, Radon, Firefox, Demeter, Sunrise, and Camino that run on Mac OS X 10.4 "Tiger".
Tiger vs. Leopard: Which is best for you?, Simon Royal, Tech Spectrum, 2008.09.22. Two great versions of Mac OS X, but unless your Mac is well above the minimum spec for Leopard and has lots of RAM, stick with Tiger.
Does running OS X system maintenance routines really do any good?, Charles W Moore, Miscellaneous Ramblings, 2008.08.26. Mac OS X is designed to run certain maintenance routines daily, weekly, and monthly – but can't if your Mac is off or asleep.
TruePower AC adapter for iBooks and PowerBooks is rugged, reliable, and affordable, Charles W Moore, 'Book Value, 2008.08.14. Apple's track record with AC adapters is spotty, but the TruePower adapter is tough enough to survive being run over by a truck.
Tricking out your notebook for superior desktop duty, Charles W Moore, 'Book Value, 2008.07.29. For desktop use, you don't need to be limited by the built-in trackpad, keyboard, and display or a notebook's compromised ergonomics.
The Compressed Air Keyboard Repair, Charles W Moore, Miscellaneous Ramblings, 2008.07.24. If your keyboard isn't working as well as it once did, blasting under the keys with compressed air may be the cure.
Leopard best OS for G4 PowerBooks, support expectations from Apple, back to Opera, and more, Charles W Moore, Miscellaneous Ramblings, 2008.07.09. Leopard features worth a little performance compromise, depreciation and the best value Macs, voice dication software for PowerPC Macs, and more.
Can Linux replace OS X on older Macs?, Carl Nygren, Classic Macs in the Intel Age, 2008.06.30. Looking at Ubuntu 8.04 on a 1 GHz PowerBook and Kubuntu 5.04 on a clamshell iBook.
Praise for Opera, low cost iBook mobo replacement, IrDA and IRtalk, WaMCom recommended, and more, Charles W Moore, Miscellaneous Ramblings, 2008.06.18. Also the use of 'compleat', booting from CD, new Toshiba 1.8″ drives too thick for MBA, and PowerPC support and Snow Leopard.
Skip 867 MHz 12″ PowerBook, iBook sleeps when touched, Netscape 7.0.2 keeps crashing, and more, Charles W Moore, Miscellaneous Ramblings, 2008.06.11. Also getting a copy of the Mac OS for a Power Mac ONE, and whether it can run Linux.
WiMax likely, Apple not green enough, next MacBook in Q3, Cool Feet for notebooks, and more, The 'Book Review, 2008.05.23. Also LED backlighting in all MacBooks in 2009, cooling down hot laptops, OLPC plans second generation laptop, universal Apple notebook battery charger, slim external third-party SuperDrive, bargain 'Books from $150 to $2,699, and more.
SheepShaver brings Classic Mac OS to Intel Macs and Leopard, Alan Zisman, Mac2Windows, 2008.05.20. Mac OS X 10.5 doesn't support Classic Mode. Neither does Leopard. But SheepShaver lets you emulate a PowerPC Mac and run the Classic Mac OS.
Leopard is the way to go, even on most old G4 Macs, Carl Nygren, My Turn, 2008.05.14. The useful and just cool features in Mac OS X 10.5 make this the biggest step forward in the history of the Mac OS.
Prosumer Mac suggestions, bring back the 12″ 'Book, Pismo displays, and more, Dan Knight, Low End Mac Mailbag, 2008.05.06. Readers offer more thoughts on a midrange Mac, the need for a new 12″ 'Book, using F-keys as F-keys in OS X, and lid closed video mode for Pismo.
Macintosh peace of mind, PA Semi and the iPhone, $40 802.11g PCI card, and more, Dan Knight, Low End Mac Mailbag, 2008.05.01. Also Power Mac vs. Mac mini, more on DVD User Op Patch, 12″ vs. 14″ iBook, and VGA for a Power Mac 6100.
2.6 GHz MacBook Pro worth it?, iBook video fixed, Compact Flash vs. SSD, and more, Dan Knight, Low End Mac Mailbag, 2008.03.13. Also buying a used Power Mac G4, a Power Mac 7600 still in daily use, OCR software for modern Macs, and Leopard on a Blue and White G3.
MacBook Air and the future of FireWire, crippled by iTunes 7.6, Panther on an 8600, and more, Dan Knight, Low End Mac Mailbag, 2008.01.28. Also problems with GainSaver, who's on first?, inflated Power Mac benchmarks, and Leopard on an 800 MHz iBook G4.
Weak AirPort Extreme, Open Firmware hack, deleting old Systems, and spacing problems in Pages, Dan Knight, Low End Mac Mailbag, 2007.12.07. Fixing a weak signal in AirPort Extreme, thoughts on the Open Firmware Leopard install hack, when it's safe to delete an old System, and line spacing issues in Pages.
Happy with my G3s, plus Leopard on eMacs, G4 iMacs, G4 PowerBooks, and the G4 iBook, Dan Knight, Low End Mac Mailbag, 2007.11.02. A reminder of the happiness found sticking with older versions of the Mac OS on G3 Macs, plus field reports of Leopard running on even more unsupported G4 Macs.
Unsupported Leopard installation and the truth about Leopard DVD Player system requirements, Dan Knight, Low End Mac Mailbag, 2007.10.25. How to create a hacked Leopard installer, and exactly what benefit you gain from a 1.6 GHz CPU with DVD Player under Leopard.
Is a used iBook still a sensible low-end option?, Charles W Moore, Miscellaneous Ramblings, 2007.10.15. From 500 MHz G3s through 1.4 GHz G4s, used iBooks range in price from under $200 to over $700. Are they a good choice, or do reliability issues say otherwise?
The future of G4 iBooks in the Age of Leopard, Dan Knight, Mac Musings, 2007.10.22. Almost all of the G4 iBooks are supported by Mac OS X 10.5, but 4200 rpm drives could be a real bottleneck.
External $100 Sony DVD burner likes Macs, Brian Gray, Fruitful Editing, 2007.10.10. The box and manual say nothing about Mac compatibility, but this 18x USB 2.0 DVD burner is plug-and-play (at least with Tiger).
Danes refunded for defective G4 iBooks, rumored Mac minitablet, handle for MacBooks, and more, The 'Book Review, 2007.10.01. Also software update for MacBook and MacBook Pro, Give 1 Get 1 XO laptop program, CardBus adapter for ExpressCard notebooks, and bargain 'Books from $130 to $2,688.
iBook unreliability, iBook G4 AirPort problems, RAM for a PowerBook 1400, and more, Charles W Moore, Miscellaneous Ramblings, 2007.08.27. Pismo vs. iBook as the more reliable portable, catastrophic iBook failure, and a Pismo that won't recognize new hardware.
Are the white iBooks still a good bet or should you steer clear of them?, Charles W Moore, Miscellaneous Ramblings, 2007.08.20. The dual USB iBooks have the worst repair record in Mac history, yet some are exceptionally reliable. Should you consider buying one or avoid them?
The TiBook marches on: 400 MHz productivity in the 2 GHz era, Neil Hokanson, My Turn, 2007.07.26. "Even though my PowerBook isn't the fastest or latest and greatest, it works, and the low-end marches on."
Operation FlashBook: Running Tiger from flash on a PowerBook G4, John Muir, Mac Daniel, 2007.05.29. With the hard drive failing and Compact Flash prices falling, it was time to consider running the PowerBook G4 from flash. Looking back at 6 months, was it worth it?
Apple on mini CDs, 74 minute CD-Rs more compatible, iBook G4 reliability, and more, Charles W Moore, Miscellaneous Ramblings, 2007.05.14. Also installing OS X using Target Disk Mode, partitioning your hard drive, Google's tool to simplify web pages, Canada and copyright law, and more.
LED backlight coming to MacBooks, Intel's new Centrino CPUs, Danish iBook G4 complaint, and more, The 'Book Review, 2007.05.11. Also different drive sizes, manganese could double battery life, using a MacBook with the display turned off, bargain 'Books from $170 to $2,299, and more.
11 No Cost Tips for Optimizing Mac OS X 10.4 Tiger Performance, Ed Eubanks Jr, The Efficient Mac User, 2007.03.12. If your Mac is getting sluggish, here are 11 tips that can help restore its original performance.
OS 10.4.8 making PowerBook run cooler?, Charles W. Moore, OS X Odyssey, Applelinks, 2006.10.24. "…I haven't restarted, and the 'Book is still running in the high 40°s – low 50°s most of the time. The fan has only activated sporadically while doing heavy multitasking."
Better laptop performance: What's the best upgrade?, Andrew J Fishkin, The Mobile Mac, 2006.10.09. Memory, CPU, bus speed, and hard drives all impact performance and battery life. Which upgrades will give you the most up time in the field?
Region Free DVD Viewing Options for Intel and PowerPC Macs, Andrew J Fishkin, The Mobile Mac, 2006.09.12. Several hardware and software options that will let your view 'wrong region' DVDs on your PowerPC or Intel Mac.
Inside your notebook's battery: Ordinary AA Li-Ion cells, Dan Knight, Mac Musings, 2006.09.08. That expensive battery in your notebook computer probably holds less than $30 worth of off-the-shelf AA Li-Ion batteries.
7 tools for keeping your laptop (uh, notebook) cool, Charles W Moore, Miscellaneous Ramblings, 2006.07.24. A quick look at the Podium CoolPad, ChillMat, ChillHubs, Laptop Desk, Xpad, iLap, and iBreeze – seven stands designed to keep you 'Books running cooler.
Macs take away Microsoft pain, Macs revive James Bond, iMac king of all media, iWoofer, and more, Mac News Review, 2006.06.16. Also Windows users guide to switching to the Mac, Bluetooth firmware update for PPC Macs, universal USB 2.0 drive adapter, waterproof case for video iPod, and more.
Power strategies for using your 'Book in the field: Batteries and AC adapters, Andrew J Fishkin, The Mobile Mac, 2006.06.05. One or two extra batteries and at least one spare AC adapter can be essential when you're traveling and need to get hours and hours of use from your 'Book.
End of G4 models points to unprecedented value for used G4 Macs, Leaman Crews, Plays Well with Others, 2006.06.02. The PowerPC G4 may no longer have a place in Apple's product line, but that's a far cry from saying G4-based Macs are obsolete. If anything, their value is going to increase.
iBook (white) disk upgrade pages, Graham Cox, 2003.02.26. Step-by-step instructions for replacing the hard drive in an iceBook.
iBook Portector, The 'Book Review, 2002.01.04. "The Portector is a custom molded urethane strip that fits snugly over the expansion ports of your Apple iBook protecting it from dirt and dust."
Tote and Tilt Adds Handle to New iBook or TiBook, The 'Book Review, 2001.10.19. $40 and $45 handles make it easy to transport iceBook, TiBook.
SCSI and FireWire Disk Modes, Paulo Rodrigues, Tangerine Fusion, 2000.11.29. How to use SCSI Disk Mode and FireWire Target Disk Mode for ultrafast file transfers.
Cautions
There is an incompatibility between the Kensington Startup ADB extension and the Trackpad control with Mac OS 9.0.4. Symptom: trackpad responds during boot, but not later. Solution: disable Kensington Startup ADB extension. This may also apply to other USB portables and versions of the Mac OS.
Portable Computers: Models Which Do Not Have a Backup Battery notes the iBook has no backup battery to retain time and other settings when the main battery is removed. A small capacitor holds enough energy to maintain PRAM contents for 20 seconds, so switch batteries quickly.
Keywords: #12inibookG4late2003 #12in800mhzibookg4
Short link: http://goo.gl/cIlM7P
searchwords: 12inibookG4late2003, 12in800mhzibookg4