In July 2005, the 14″ iBook got a small speed boost (7% – from 1.33 GHz to 1.42 GHz), twice as much stock memory (512 MB vs. 256 MB), added Bluetooth 2.0 as a standard feature, and received improved video with ATI Radeon 9550 graphics with the same 32 MB of video RAM as the previous 14″ iBook G4. New to the iBook is Apple's scrolling trackpad.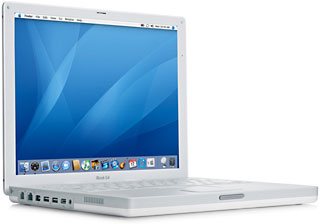 Apple no longer offers a Combo drive with the 14″ iBook. The new iBook includes a single-layer 8x SuperDrive. This model sells for US$200 less than the 1.33 GHz SuperDrive model it replaces at the same price as the previous Combo drive model.
Maximum RAM is now 1.5 GB, and this model has a 1.42 MHz system bus. This is the first iBook to requires OS X 10.4 Tiger or later – and the last iBook generation, as Apple moved to the Intel-based MacBook in Mid 2006.
Details
Online Resources
Cautions
Keyword: #14inibookg4mid2005 #14in1.42ghzibookg4
Short link: http://goo.gl/l5B5am
searchword: 14inibookg4mid2005