2006 – A few weeks ago I received an email from a young family member. It said, "Thomas, do you know of any place where I could get an older laptop computer? Nothing too expensive, just something to play games on and use some old programs."
Well, I figured I'd be able to find something here in Kansas City. We have several computer recycling centers and discount shops. So I sent him a message back saying I'd be at the computer recycler sometime in the next couple of weeks. That Saturday I ended up going there.
It's usually hit-or-miss at these types of places – sometimes they have a whole ton of Apple items, and sometimes none at all. You have to keep in mind that everything there is donated by people because they no longer use it.
When I got there, they didn't have quite what I was looking for in terms of older laptops, just some old Windows ones. They did have a 700 MHz eMac though, which was something very unusual.
I ended up buying a broken WallStreet PowerBook for $5. That wouldn't be suitable for him – it didn't work, and when it does, it's a bit overpowered for the type of things he wants to do.
After I left the recycling center empty-handed, I figured I'd turn to the Low End Mac Swap List. With the amount of people there, I knew I'd find something. I didn't even have to make a post saying what I wanted; I found something in someone's listing that day.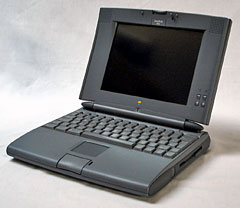 It was a PowerBook 520c for $16 shipped. This was a great deal, and I bought the computer almost immediately. I purchased a power adapter for it and got it up and running. With a 25 MHz '040, 12 MB of RAM, and a 160 MB hard drive running Mac OS 7.6, it makes quite a good computer for a younger person. With built-in ethernet, it also makes a good machine for Web browsing (not too much) and email.
The total amount I spent on the computer was $26, plus some other cash for a new keyboard. I'm sure it will pay for itself with all the usage it will get.