2006 – At our local Mac Users Group in Kansas City, I lead a small class called the New User's SIG. It's basically a big question and answer session about anything Mac-related.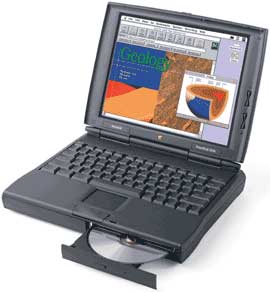 A little while ago someone asked the question, "What's a good older Mac that can run somewhat modern software and is still inexpensive?" After thinking it over a while, my answer is the PowerBook 1400.
The 1400 is a well-designed older laptop that can still do many things newer ones do today. They're really good for things like mobile word processing, and some people even add an ethernet cards and get on the Internet. They also make good computers to run older software that doesn't work on your new Mac.
The 1400 is fairly compact, measuring 9″ deep, 11.5″ wide, and 2″ thick. It's fairly hefty, though, at nearly 7 pounds.
You can get a 1400 pretty cheaply, too. I see them all the time on the Low End Mac Swap List, usually for under $100.
To get the most out of one, you may have to add some memory, because the amount it shipped with was pretty small. The maximum the 1400 supports is 64 MB, and that's about its only drawback.
After you've upgraded the RAM as much as you can, installing a newer operating system is something you'll probably want to do. The PowerBook 1400 can run Mac OS 9, but performance isn't too good with it. You're asking a lot out of an older computer to run an operating system that was released four years after it was created.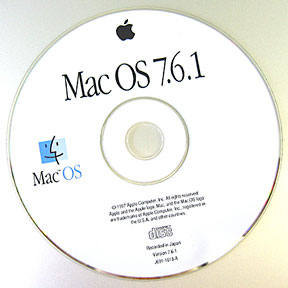 If you want the best and fastest performance from your 1400, stick with Mac OS 7.6.1. And make sure you've upgraded to the latest version.
If you need to run newer software, Mac OS 8.6 is a good choice as long as you have a good amount of memory. Mac OS 8.1 is nice, too, but many newer Classic applications require OS 8.6 or later, particularly printer drivers and browsers, so if you need those, you should really use 8.6.
If you need a good, reliable, well designed laptop that isn't too expensive, you can't go wrong with a PowerBook 1400.
Keywords: #powerbook1400 #macos76
Short link:
searchword: powerbook1400