Cluck-cluck-cluck-cluck . . . Welcome to Apple II!

On this Welcome to Macintosh, there's a different startup sound – not that of a Macintosh, but of a Apple II (an Apple IIe, to be exact).
Readers who have read this column from day one will remember my first article telling how I joined the Mac world. I owe it all to a machine that has captured my awe as well as my imagination from day one. It was on a fateful day in 1987, at the age of five, that I would use my first computer – a platinum Apple IIe. Even though I had never used a computer before, within 10 minutes I knew how to turn it on and load programs.
That's how it all started. For six years I used beige and platinum IIes. The last time I used an Apple IIe was my last year of elementary school in 1993. It wouldn't be my last time using an Apple II, though.
In 1999, my good friend Sean gave me not only a Quadra 650, but also an Apple IIgs. Due to space constraints, I eventually donated it (and now I wish I hadn't). Even though the IIgs was cool in it's own right – and not taking anything away from it – it didn't have quite the same magic the IIe did.
After nearly 15 years of searching for the elusive IIe, my search has come to an end. John, who is co-host of the RetroMacCast, found a beige Apple IIe and sent it to me last week. He even presented it to me on their recent episode (#25), which I was a guest on. (I also guest appeared on episode 11.) Included was the Apple IIe, along with the DuoDisk (dual floppy drives) and cable, along with some of my favorite classic games such as Number and Word Munchers, Odell Lake, and Speedway Math, along with ProDOS. He was even kind enough to throw in a copy of The Dead Mac Scrolls by Larry Pina.
I'd like to take the time to thank him in this article. It's truly a dream come true. Thanks so much, John! I'd also like to plug the RetroMacCast. If you love old Macs and you want to get the perspective that only a couple of old Mac fans can provide, check out the RetroMacCast. They also have a forum where you can participate with other old Mac fans.
I used a spare 13″ TV as a monitor. As I plugged everything in, I anticipated reliving those old memories from my younger days. In went the Number Munchers disk, and the disk lid was closed behind it. Flipping the switch in the back produced a familiar, wonderful sound that was music to my ears – cluck-cluck-cluck-cluck. Yes, friends, the infamous floppy drive reading the disk.
In no more than 30 seconds I was greeted with the Number Munchers main screen. It was just as I remembered it. I would go on to explore the other games of my youth that day. It was a reunion 15 years in the making . . . I even took pictures of the happy event.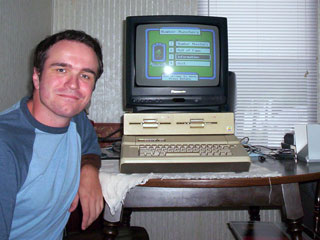 If you crave Apple II goodness in the form of podcasts, be sure to check out the first Apple II podcast, 1MHz with Carrington Vanston. You can also find 1MHz on iTunes. That's not the only Apple II podcast. Check out A2Unplugged with longtime Apple II aficiendo Ryan M. Suenaga. You can find A2Unplugged on iTunes or on its website. And if you prefer reading an actual print magazine, be sure to check out the last remaining Apple II publication still being printed, Juiced.GS. You can also sample Juiced.GS online.
Editor's note: If you want to chat with other Apple II users, Low End Mac's Apple2list provides one such forum, and Apple II Central still publishes The Lamp monthly. dk
Fond memories and special stories – have any to share about the Apple II? Drop me a line at thomas (at) lowendmac (dot) com and tell me what stands out in your mind about the Apple II.
If anyone happens to have an Apple II green screen or color monitor they would be willing to part with, drop me a line and let me know. I'd really appreciate it!
This article copyright ©2007 by Tommy Thomas.
Keywords: #appleiie
Short link: http://goo.gl/fY8mCM
searchword: appleiienostalgia