2007 – Apple announced the system requirements for Mac OS X 10.5 Leopard last week: a drive that can read the DVD install disc, at least 512 MB of memory, and an 867 MHz G4 or better – and there's only on G4 iBook that's not officially supported. For that one, we have lots of tips on installing OS X 10.5 on unsupported Macs in our article on Unsupported Leopard Installation.
First Generation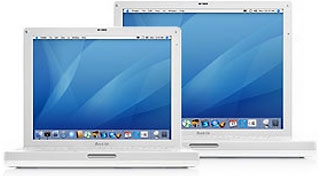 The iBook line was the last to make the transition from G3 to G4; the first generation of G4 iBooks was introduced in October 2003. The 12″ model rums at 800 MHz, just shy of Apple's official requirement for Leopard, and the 14″ model runs at 933 MHz. Like the "dual USB" G3 iBooks, they have the same 1024 x 768 screen resolution – the 14″ iBook just made the pixels larger. Graphics are driven by ATI Mobility Radeon 9200 4x AGP with 32 MB of VRAM.
With the move to the G4 processor, Apple also moved the iBook line to USB 2.0 – over 40 times the bandwidth of USB 1.1 – especially for external drives. All G4 iBooks support the 802.11g AirPort Extreme card.
These iBooks shipped with 128 MB of onboard memory, which can be supplemented by up to 1 GB of additional memory. (A 1 GB PC2100 memory module sells for as little as $65 these days, and a 512 MB upgrade costs just $12.) The hard drives were fairly lackluster affairs, and upgrading to a 5400 rpm drive with an 8-16 MB cache helps unleash the iBook's potential, as will a 1 GB memory upgrade.
These iBooks should run Leopard nicely, even if the 12″ model isn't officially supported.
Second Generation
In April 2004, the iBook reached 1.2 GHz (1 GHz for the 12″ model) and went to 256 MB of onboard RAM. ATI Mobility Radeon 9200 4x AGP with 32 MB of dedicated video memory rounds out the package. The top-end 14″ 1.2 GHz iBook was the first iBook to ship with a SuperDrive.
As before, the 4200 rpm hard drive hobbles performance, and updating to a 5400 rpm drive makes a difference you'll notice right away. Memory can be expanded to 1.25 GB with a 1 GB memory module, which will also help unleash the hardware's full potential under OS X, whether 10.4 Tiger or 10.5 Leopard.
These should make very competent Leopard machines, and we recommend at least a 768 MB memory configuration (base 256 MB plus a 512 MB module) along with a faster hard drive for better performance, 1.25 GB (by adding a 1 GB module) for best performance.
Third Generation
The October 2004 iBook was pretty much just a speed bump. The 12″ model went to 1.2 GHz, and the 14″ to 1.33 GHz. Everything else remained the same.
Fourth Generation
The final revision of the iBook came in July 2005, when Apple bumped the 12″ model to 1.33 GHz and the 14″ to 1.42 GHz. Video was upgraded with ATI Mobility Radeon 9550 4x AGP (still with 32 MB of VRAM), and the new iBooks had 512 MB of onboard memory, allowing a maximum RAM configuration of 1.5 GB. (The 2005 iBooks use PC2700 memory, which currently sells as low as $12 for 512 MB and $65 for a 1 GB module.)
Except for the 12″ 800 MHz G4 iBook, all of these are fully supported for Leopard, and it should run decently with a minimum 512 MB upgrade. For best performance, a 5400 rpm drive with an 8-16 MB cache or a 7200 rpm hard drive will really help, and putting in maximum memory will let each of these iBooks reach its full potential.
Further Reading
Keywords: #osxleopard #ibookg4
Short link: http://goo.gl/vDw8s5
searchword: leopardonibookg4