New Macs are cool. They're shiny, fast, sexy machines that can turbocharge your work and play. Apple is happy to sell you a new one as often as you can afford it! But whether you stay on the cutting edge or live the full Low End Mac philosophy, you will inevitably reach the day when change is necessary.
What to Do with the Old Mac?
Systems only a few years old can usually be sold, but what if your system is longer in the tooth? Perhaps five years old, ten, or truly vintage (but still running). You don't want to just dispose of your old computer; you want it to go to a good home.
Mac friend, I was just about to take a bunch of older Macs to the dumpster or to Goodwill. Are you interested in anything more for your museum? Thanks for what you're doing to keep the antique Macs alive.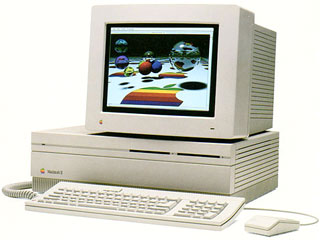 In the Macintosh community, this feeling is magnified. Old Macs are special, personal. There was always something notable about being a Mac user, whether in the 68k Glory Days, the Beleaguered Apple Computer Era, or early in the Second Jobs Dynasty. Our Macs weren't just tools, but visceral parts of our lives. It seems cruel to just dispose of the carcass.
I have the following vintage software that I would like to pass on to someone who can use and/or appreciate it. I would even consider giving it away to someone who will pay shipping. I hate to see them go to waste.

Do you want any of this? Yes, there is a cost to ship, but we can split it, or if that is too much and you really want it, I am happy to foot the shipping to get it to you. I just need to know if I may send all this to you.
Mac users go out of their way, often at their own expense, to help make this happen. Old technology does not necessarily mean obsolete.
Do you know of a good home for this printer? I have the original box and packaging. I will donate it, as I don't think it would be worth a whole lot of money. I just put a new cartridge in it back in the winter. The things we Mac people will do… :)
Here are a few options for what to do with those old treasures or eye sores (depending on your perspective):
Setup the Old Mac as a Server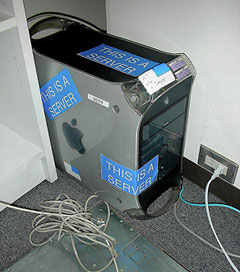 Many Macs find second lives as home or office servers. Typically you don't need a lot of horsepower (relative to newer Macs) for this purpose, just a version of the Mac OS that is current enough to support what you wish to do. It's also easy to add large external USB and FireWire hard drives to post-1998 Macs to increase storage capacity.
File Sharing is a popular option, providing a central storage or backup location for one or more computers. Mac OS X supports AppleShare, FTP, and Windows File Sharing, which you can enable via the Sharing preference pane. You can also enable Web Sharing for a basic Internet or intranet server. If you have access to a version of Mac OS X Server, you can improve performance and add more sophisticated account access and sharing configurations.
Setting up a Media Server is also an option. Load up all your music and enable iTunes Sharing to stream music to any system on your home network, or load up pictures and share them with iPhoto.
Before moving on, let's not forget the classic geek use for any old computer regardless of age or manufacturer: Run Linux on it. Flavors exist for Intel, PowerPC, and even 68k Macs. I don't really know what Linux on a 68k box is practical for nowadays (particularly with Unix being the foundation for OS X), but hey – you can do it!
Family Hand Me Downs
The power user may outgrow his machine every two years, but other family members have more modest requirements. For young children, high performance is not as important as something reliable and easy to use. All-In-One models, such as iMacs and eMacs, make good choices. Older family members are usually using their computers for basic communication and housekeeping: web browsing, email, home finances, iPhoto, etc. Internet access will be the most demanding thing, currently this means a G4-based system running Mac OS X 10.4 Tiger or higher.
Some people like to use much older systems, such as 68k PowerBooks that don't have Internet capability, in order to avoid distractions and get some writing done. That's a great use for an old machine, if you can find a taker.
Sell Your Old Mac on eBay

eBay is always a popular option for disposing of old equipment, with an international market of potential buyers. The question is whether you want to price things to sell quickly or you're trying to maximize your profits. Costs for older Macs vary wildly: I've seen the same model going for $25 and $250 depending on the day and seller. Professional eBay sellers tend to charge the most; check listings for items that have already sold to get a range of what buyers are paying.
It's important to list used equipment accurately, describing working condition, configuration, and appearance. Include photos in the listing. Shipping is a big factor, particularly for large or heavy items. This will affect the cost to the buyer and the ease of the exchange.
Sell or Give Away Your old Mac on Craigslist

Craigslist is a good alternative to eBay: it's free, doesn't require an account, and no shipping needed. I've found and disposed of many system this way, with lots of old Macs changing hands in parking lots. You also have the option of posting your gear to the free section for things you just want to go to a good home.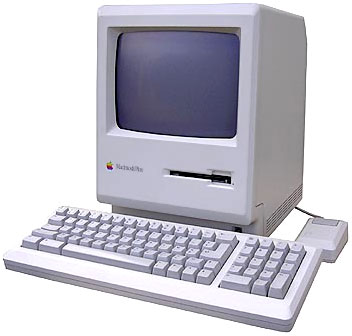 Pricing again is variable, though typically cheaper than eBay. Lots of people are looking for cheap computers in order to do basics like web browsing, email, word processing, etc. Currently that generally means a G4, G5, or Intel-based Mac. G3 systems are still reliable but are best for non-Internet tasks. If it's beige, I wouldn't ask more than $50 unless you have something really unique (that doesn't mean a Mac Plus).
The Low End Mac Swaplist
Still chugging along after all these years, the Low End Mac Swaplist is another option for finding adoptive parents for your old friend. This service is less popular than in its heyday, but still a nice thing to have around. Sign up for the list and leave a good description.
Trade-in Your Old Mac
Many independent Mac resellers, particularly those who've been around for a long time (there was a time before Apple retail sStores) sell both new and used systems. These businesses typically accept working Macs from customers as trades towards newer equipment. The old model needs to have some retail resale value, so as of this writing [2010] you're looking at G5 or early Intel systems as viable contenders.
You can also try a service like Gazelle; this company buys old gear and resells items to secondary markets around the world.
Donate to a School, Charity, or Senior Center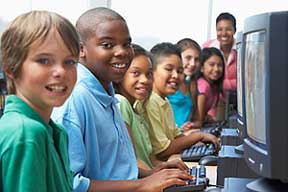 Non-profits, charities, schools, and senior citizen communities are often looking for old equipment and are typically very grateful for the donations. However, donated systems should be able to handle current needs like web browsing and email comfortably, which generally means a G4, G5, or Intel based Mac. You'll need to look elsewhere to dump that pile of SE/30s or the old Performa!
One tip from LEM's Dan Knight: Sometimes the best donation is giving an old Mac directly to a teacher so the school won't dispose of it over summer break.
Donate or Sell to a Mac Collector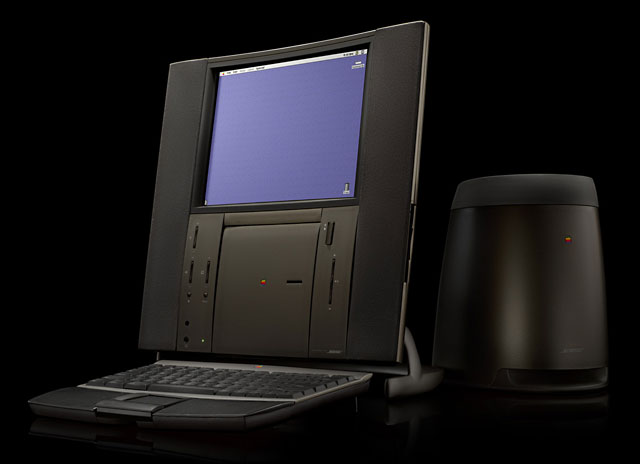 There's a large community of Mac Collectors online, many of whom are looking for models they don't have or rare systems. By definition, collectors have an interest in giving good homes to old Macs, and I've acquired more than half of my systems for my collection in this fashion. With old computers there's also an ongoing need to keep spare parts around for when the inevitable popping sound occurs on startup.
Don't be surprised if interest in your old treasure is muted, however. Most collectors already have many of the machines they want and limited space to store things. Specify if you are looking to donate or sell the system, and what price you're asking if the latter. I personally don't tend to pay much (if anything) for unsolicited items, but I am usually willing to split or cover shipping costs if I can use the gear.
Repurpose Your Old Mac as Home Decor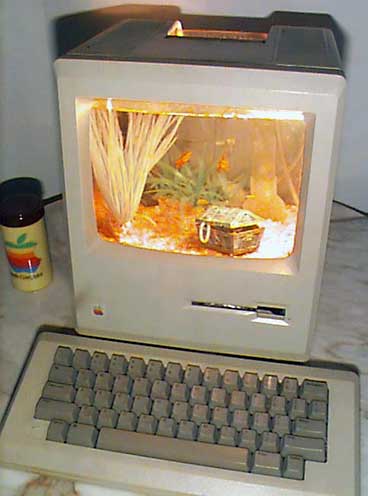 Another perpetual Geek Trend is to repurpose your old Mac (usually a dead one) as some kind of home furnishing: a Lamp, Clock, Macquarium (many choices available), or one of the newest fads, an iPad Stand. These fun hacks keep old computers out of landfills and are a nice way to add some Mac history to your living space.
Be sure to dispose of the guts of the old computer responsibly (see below).
Take Your Old Mac to a Computer or Electronics Recycling Center
If disposal turns out to be your best (or preferred) option, don't use a dumpster and the usual waste stream. The eWaste problem is large and growing; anything we can do individually to help is worthwhile. All the guts of your systems – circuit boards, monitors, peripherals – should be disposed of responsibly.
There are companies that specialize in recycling old computers or electronics; most are legit, but alas not all. Also check to see if your city or town picks up or accepts electronics as part of any hazardous waste collection efforts.
Make Use of 'Urban Recycling'
Sometimes the easiest way to dispose of an old system is the least amount of work – leave it at the curb marked as "free" and wait for scavengers. Assuming you are just planning to throw the system in the trash anyway, you may as well let the neighbors have a go.
This tends to work well in both urban and suburban areas, particularly if the system looks like it's in good condition. I've left empty cases on the curb in front of my house as trash, only to find them gone by dawn. Hopefully whoever grabbed it has some use for it.
Publisher's note: In all cases, and especially for urban recycling, be sure to wipe all personal data from the hard drive.
This article was originally published on Adam's Oakbog website. It has been adapted and reprinted here with his permission.
Short link: http://goo.gl/kESI7Y
searchword: newhomesofroldmacs