Apple took some big steps forward with the refreshed 13.3″ MacBook Pro. The Early 2011 model migrates from the dated Intel Core 2 Duo to Intel's newer Core i5 and i7 CPUs. These dual-core mobile CPUs have a 3-4 MB Level 3 cache shared by both cores and, thanks to Turbo Boost architecture, should be significantly more powerful than the Core 2 Duo processors they replace despite a tiny change in rated CPU speed.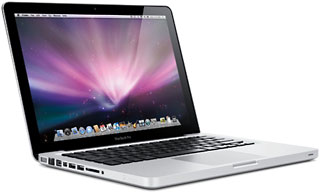 The hot new technology for this generation is Thunderbolt, a 10 Gbps data connection that uses the Mac's Mini DisplayPort. Thunderbolt is 12 times as fast as FireWire 800, over 20 times as fast as USB 2.0, and twice as fast as USB 3.0, which Apple seems in no hurry to adopt. Thunderbolt can be used for video, hard drives, and networking, and adapters let you connect FireWire and USB devices.
Apple has improved AirPort performance by building three WiFi antennas into the Early 2011 MacBook Pros, allowing three channels with 150 Mbps bandwidth for a maximum bandwidth of 450 Mbps.
The 13″ MacBook Pro also takes some steps backward: The Nvidia GeForce 320M graphics give way to integrated Intel HD 3000 graphics, which uses 384 MB of system memory (up from 256 MB in last year's model).
The new models are rated at only 7 hours of battery power, down from 10 for last year's models, due to changes in the way Apple measures battery life. In testing, the Early 2011 models generally match or outperform the 2010 models.
The glass trackpad is the same one found in the previous generation of MacBook Pro models. It supports 1-, 2-, 3-, and 4-finger gestures. The entire trackpad functions as the mouse button.
The 13″ MBP uses the same keyboard as before, complete with backlighting. The black keys look sharp with the aluminum enclosure, and the 13″ MacBook Pro only comes with a glossy screen.
The new model comes in 2.3 GHz i5 and 2.7 GHz i7 versions. 320 and 500 GB hard drives are standard. 4 GB of RAM is standard, and it can be upgraded to 16 GB. 128, 256, and 512 GB SSDs are extra cost options.
Caution: There is an issue with all 2011 and 2012 pre-Retina 13″ MacBook Pros – the hard drive cables are subject to failure due to the way they are routed. If you are replacing your hard drive with another hard drive or an SSD, it might be wise to replace the cable proactively.
Editor's note: The next two paragraphs are from the profile of the previous version of the MacBook Pro. At this time we do not know if they apply to the new Unibody model.
Note that the built-in display is only capable of 18-bit color, not the full 24-bit color you might expect.
Unlike early MacBooks, where every USB port could provide 500 mA of power, only one USB port provides full power – the port closer to the front.
The Apple Remote is a US$20 option.
Battery life is claimed to be 7 hours of wireless productivity.
Closed Lid Mode: All Intel 'Books support "lid closed" (or clamshell) mode, which leaves the built-in display off and dedicates all video RAM to an external display. To used closed lid mode, your 'Book must be plugged into the AC adapter and connected to an external display and a USB or Bluetooth mouse and keyboard (you might also want to consider external speakers). Power up your 'Book until the desktop appears on the external display and then close the lid. Your 'Book will go to sleep, but you can wake it by moving the mouse or using the keyboard. The built-in display will remain off, and the external monitor will become your only display. Since all video RAM is now dedicated to the external monitor, you may have more colors available at higher resolutions.
To resume use of the internal display, you need to disconnect the external display, put the computer to sleep, and then open the lid. This will wake up your 'Book and restore use of the built-in display.
Intel-based Macs use a partitioning scheme known as GPT. Only Macintel models can boot from GPT hard drives. Both PowerPC and Intel Macs can boot from APM (Apple's old partitioning scheme) hard drives, which is the format you must use to create a universal boot drive in Leopard. Power PC Macs running any version of the Mac OS prior to 10.4.2 cannot mount GPT volumes. PowerPC Macs won't let you install OS X to a USB drive or choose it as your startup volume, although there is a work around for that.
Details
introduced 2011.02.24 at US$1,199 (2.3 GHz dual-core i5, 320 GB hard drive, 4 GB RAM) and US$1,499 (2.7 GHz dual-core i7, 500 GB hard drive, 4 GB RAM); replaced by slightly faster model 2011.10.24.
Part no.: MC700 (2.3 GHz), MC724 (2.7 GHz)
Mac OS
requires Mac OS X 10.6.6 Snow Leopard or later. macOS 10.14 Mojave and later are not supported.
Mac OS X 10.6 Snow Leopard compatibility

Grand Central Dispatch is supported.
64-bit operation is supported.
OpenCL is supported.

OS X 10.8 Mountain Lion compatibility

AirPlay Mirroring is supported.
AirDrop is supported.
Power Nap is not supported.
Core System
CPU: 2.3 GHz dual-core Intel Core i5 or 2.7 GHz dual-core Intel Core i7
Level 3 cache: 3 MB shared cache in i5, 4 MB in i7
Bus: 1066 MHz
RAM: 4 GB, expandable to 16 GB using DDR3 SO-DIMMs
Performance (2.3/2.7 GHz)

64-bit Geekbench: 5883/6778
Speedmark 6.5: 140/155
Video
GPU: Intel HD Graphics 3000
VRAM: uses 384 MB of system RAM
Video out: Thunderbolt port, which is backward compatible with Mini DisplayPort (VGA, DVI, HDMI, and DisplayPort supported with optional adapters)
display: 13.3″ glossy 1280 x 800 18-bit 113 ppi color active matrix
supports 1280 x 800, 1152 x 720, 1024 x 640, and 800 x 500 pixels at 16:10 aspect ratio; 1024 x 768, 800 x 600, and 640 x 480 pixels at 4:3 aspect ratio; 1024 x 768, 800 x 600, and 640 x 480 pixels at 4:3 aspect ratio (stretched); 720 x 480 pixels at 3:2 aspect ratio; 720 x 480 pixels at 3:2 aspect ratio (stretched); to 2560 x 1600 on an external display
allows mirroring to external display or extended desktop mode
Drives
Hard drive: 320/500 GB 5400 rpm SATA standard, 750 GB and solid state drive (SSD) options (128, 256, or 512 GB) on 6 Gbps SATA bus
optical drive: 8x dual-layer SuperDrive writes DVD±R and DVD+R at up to 8x, DVD-RW at up to 4x; dual-layer DVD±RW at up to 4x; reads DVDs at 8x (double-layer at 6x), dual-layer and DVD-ROM at 6x; writes CD-R at 24x, writes CD-RW at 16x, reads CDs at 24x on 3 Gbps SATA bus
drive bus: SATA 1 (1.5 Mbps)
Expansion
Thunderbolt: 1 port
USB: 2 USB 2.0 ports
FireWire 400: none
FireWire 800: 1 port, backward compatible with FireWire 400
Ethernet: 10/100/gigabit
WiFi: 802.11n AirPort Extreme built in, three antennas support up to 450 Mbps bandwidth
Modem: No longer offered by Apple
Bluetooth: BT 2.1 built in
ExpressCard/34: none
SD Card Slot: 1
expansion bays: none
Power
battery: 63.5 Watt-hour
AC adapter: 60W MagSafe
Physical
size: 8.94 x 12.78 x 0.95″ (227 x 325 x 24.1 mm)
Weight: 4.5 pounds (2.04 kg)
Online Resources
Keywords: #mbp13early2011 #early2011mbp13
Short link: http://goo.gl/DvHMae
searchwords: mbp13early2011, early2011mbp13