The iPhone 4S looks like the iPhone 4, but there are a lot of differences under the hood. Hardware includes Apple's dual-core A5 processor, superior graphics, and support for both GSM and CDMA networks. And to top it off, there's Siri.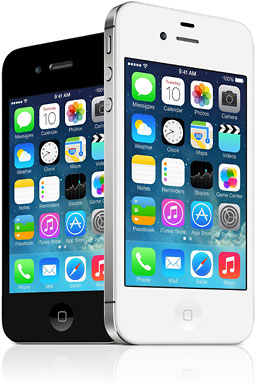 The iPhone 4S also has better cameras: 8 MP on the back and 0.9 MP on the front, up from 5 MP and 0.3 MP respectively. This was the first iPhone to support 1080p video recording and the first with Bluetooth 4.0 support.
Apple took orders for over 1 million units in its first 24 hours of pre-orders and sold 4 million during the first four days of retail sales.
In single-core Geekbench testing, the iPhone 4S benchmarks about 7% ahead of the iPhone 4, but the multicore result for the 4S is nearly twice as high. That second core makes for a much more responsive device.
Over 60 million units were sold.
The iPhone 4S is the oldest model able to use iOS 9.
Is It 4G or Not?
AT&T strongly pushed the iPhone 4S as a 4G device after the introduction of iOS 5.1, which shows its data connection as 4G. Problem is, AT&T was not using true 4G technology on the iPhone 4S but instead HSPA+, which is still a significant 3x faster than its traditional 3G network, which was already over twice as fast as Verizon's CMDA network.
Regardless of what the indicator shows, 4G on the iPhone 4S is nowhere near the speed of 4G LTE networking. It does give the 4S a nice speed advantage over standard 3G devices, but that's all. If you want 4G LTE, you'll need to get something newer.
The iPhone 5 replaced the 4S at the top of the iPhone line in September 2012. The 16 GB 4S remained in the line until September 2013, and the 8 GB version was not discontinued until September 2014.
Hardware Overview
Models
Announced: 2011.10.04, available 2011.10.14 at $199 (16 GB), $299 (32 GB), and $399 (64 GB) with a two-year wireless contract, $649, $749, and $849 respectively without contract. 16 GB model dropped to $99 in September 2012 with introduction of iPhone 5. 8 GB model introduced September 2013 and as the new "free with contract" model (otherwise $450).
Included accessories: earbuds, USB 2.0 30-pin dock cable
Code names: N94
Identifier: iPhone4,1
Model number: A1387 (worldwide), A1431 (China only)
Product numbers: MC318 (16 GB black), MC536 (16 GB white), MC319 (32 GB black), MC537 (32 GB white)
Technology
CPU: 1 GHz dual-core Apple A5 clocked at 800 MHz
RAM: 512 MB
Architecture: 32-bit
Graphics engine: PowerVR SGX543
Display: 3.5″ 640 x 960 pixel 24-bit multitouch screen @ 326 ppi
Cameras

rear: 8.0 MP autofocus with LED flash, 1080p video
front: 0.9 MP FaceTime camera

Sensors: proximity, ambient light, 3-axis gyroscope, accelerometer, assisted GPS, compass, Nike+iPod
Performance
Geekbench, single core: 215
Geekbench, multicore: 405
Connectivity
I/O port: 30-pin dock connector
WiFi: 802.11b/g/n (2.4 GHz only)
Bluetooth: 4.0
Networks:

UMTS/HSDPA (850, 900, 1900, 2100 MHz)
GSM/EDGE (850, 900, 1800, 1900 MHz)
CDMA EV-DO Rev. A (800, 1900 MHz)

Data: up to 14.4 Mbps via HSPA+
GPS: Infineon PMB2525 assisted by EDGE, 3G, and WiFi
Power
Battery: 1430 mAh lithium ion
Charge time: about 4 hours (2 hour fast charge to 80% capacity)
Battery life:

Talk: up to 6 hours on 3G, 14 hours on 2G
Standby: up to 200 hours
Internet: up to 6 hours on 3G, 9 hours on WiFi
Video: up to 10 hours
Audio: up to 40 hours
Compatibility
Original OS: iOS 5
Maximum OS: iOS 9
iTunes Versions: iTunes 10.5 and later.
Mac OS Required: OS X 10.5.8 or later
Windows Versions Supported: 7, Vista, XP Home or Professional SP 3 or later
Dimensions and Weight
Dimensions: 4.5″ x 2.31″ x 0.37″ (115.2 x 58.6 x 9.3 mm)
Weight: 4.9 oz. (140 g)
Further Reading
Keywords: #iphone4s
Short link: http://goo.gl/jTlptq
searchwords: iphone4s