Could Apple TV save you money over Dish Network?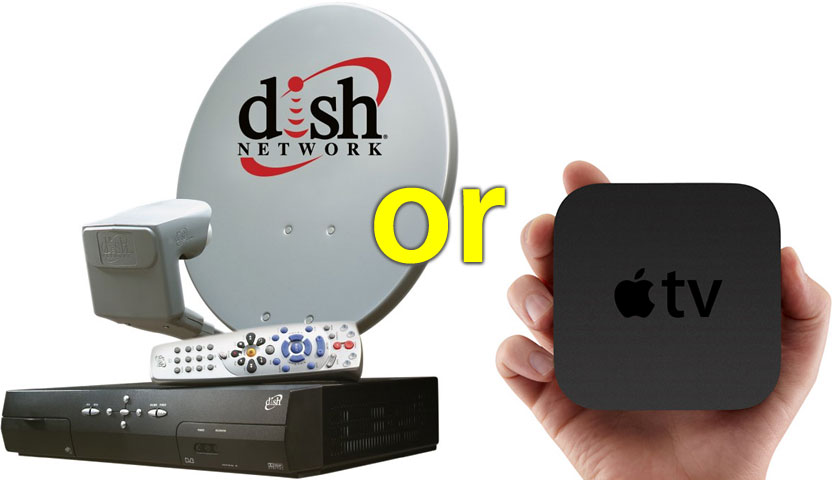 Like many families, ours has shifted away from watching TV to spending time on the computer. I read Apple and other technology-related news, my wife connects with family and friends on Facebook and plays a few games, and my daughter and son watch video clips on YouTube or play the latest Flash game.
Time for watching TV has dropped to low levels.
Dropping Dish Network for Apple TV
With no one watching TV, why did we need Dish Network? We originally signed up for Dish when we got a new TV for the home. As the kids got older, they lost interest in Cartoon Network and Disney Channel. When I became the biggest TV user, I knew it was time for a change.
The first step was to get a powered antenna1 so we could continue watching local networks for the news and weather reports. We've had satellite TV since before the government required the switch to digital TV back in 2009. I knew our TVs were digital ready, but I wasn't sure how good reception would be.
The switch from Dish to over-the-air digital TV actually gained us several new channels that we were not getting on Dish. We could pick up stations from about a 30-mile radius. All the local channels are good, but some of the far away channels drop out in bad weather.
We also got the channels in HD for free, whereas Dish makes you buy a slightly better (and $20 more expensive) package to get "free" HD channels.
Dish Network has several packages listed on its website. If you ignore the limited time introductory rates, the prices are as follows:
$24.99/mo. for 37 channels and Blockbuster @Home
$44.99/mo. for 120 channels, HD Free, and Blockbuster @Home
$59.99/mo. for 220 channels, HD Free, Blockbuster @Home, and Regional Sports Networks
And higher!
Forget about the "free" HBO, Cinemax, etc. that only last three months. But don't forget that local channels cost extra with Dish Network, and you may have to pay for equipment rental and local taxes as well. It adds up fast.
Once I was sure we had good local reception, I was ready to try Apple TV (see our Best Apple TV Prices for current deals). Based on our current monthly Dish payment, we could pay for an Apple TV within the first two months. At this point, we had little to lose by trying it.
Apple TV has several options. Many of these are pay subscriptions. There is the iTunes Store, where you can buy or rent movies and TV shows. You can get movies like The Flowers of War for $4.99 to rent or $19.99 to own. TV shows like Downtown Abbey, Season 2 are $2.99 per episode or $19.99 for a season.
There is iTunes Match to get your music or digitally stored movies from the cloud. If you have WiFi, you can do Home Sharing to stream video and music from your computer. (Your home computer must have iTunes open for this to work.)
The other pay options include:
Hulu Plus is $7.99/month
MLB.TV is $24.99/month or $79.99/year, or you can check game recaps for free
NBA and NHL are currently offering games and seasons through iTunes
Finally there is Netflix – we'll have more on that later
The free stuff includes trailers, YouTube, Vimeo, podcasts, radio, Photo Stream, Flickr, and WSJ Live (it has advertisements).
Since I am trying to save money, I do not watch most of the pay-to-view stuff. If you sign up for all of that, you could just as well pay for Dish Network or cable.
The one exception me is Netflix.
Loving Netflix
Even while we had Dish, we were subscribers to Netflix. We were happy to get the envelopes in the mail and watch all the movies we could handle. (We did this instead of paying for HBO, Cinemax, etc.) With the three movies at a time plan, we could have watched a new movie every night. With Dish, we seldom bothered to stream a movie.
Now that we have an Apple TV, we still get the newest movies mailed to us, but we watch a lot of instant downloads. The choices are more limited with the instant download, but Netflix has a lot of anime and other offbeat stuff that we like to watch. They also have many TV shows. These are last season and older, but for me that is okay.
Connection speed is mostly great for watching movies, but sometimes it just cannot keep up. Usually the video quality drops to a lower resolution.2 The next step is the spinning wheel of death. It happens more during certain times of day, so it may be the fault of my Internet connection and not a problem with Netflix.
Like Using a Big Screen Computer
Most of the free stuff is almost like getting the same thing from a computer, but on a larger screen. It is actually worse, because the search function on Apple TV sucks (the remote is terrible, and it is the only way to do anything), you cannot save favorites or setup preferences, you cannot have music and another function running at the same time, and everything has limits.
The horrible remote almost deserves an entire article to list all of its failings. It is small, does not have a scroll wheel, needs more buttons to help with typing in searches, etc. Using it for onscreen typing is torture.
I might try using my wife's iPhone to control the Apple TV if I get annoyed enough. I am thankful that I mostly ignore trying to do any of these things, so it may be a long while before I try it.
The most glaring option missing from Apple TV is basic web browsing. With the horrible remote and the inability to save any links, web browsing would be painful. The fact that it would be painful shows how little effort Apple has sunk into Apple TV. And to get YouTube but not Safari is a little insulting to this Apple fan.
Am I happy that I got rid of Dish? Yes, I'm saving money, and I still have plenty to watch. Between local channels over the air and Netflix through Apple TV, I am watching as much TV as before. I am also more in control of what I watch. I have my Netflix queue full of movies and TV shows that I watch when and how I want.
Best of all, there are no commercials to watch.
Should you buy an Apple TV? That depends on what you like to watch and how much you like to spend. As a one-time purchase, Apple TV is cheap. If you then pay for a bunch of subscription services or downloads, you may be better off with satellite or cable. Do a little research and run the math.
My advice is for everyone to cancel their satellite or cable service. If nothing else, they may ask why and offer you a special deal if you stay a customer. They offered me some discounts – but nothing good enough to change my mind.
There are a lot of digital antennas on the market, ranging from expensive mast-mount powerhouses to cheapies at Dollar General. Two highly recommended options are the $30 Paper Thin Leaf Indoor HDTV Antenna (4.3 star rating at Amazon.com) and the $89 mast-mount Antennas Direct ClearStream4 HDTV Antenna (4.4 stars).
Netflix recommends at least a 1.5 Mbps Internet connection to stream regular definition video and a minimum 3 Mbps connection for high quality video – you will see the difference. For HDTV quality, you'll want no less than 5 Mbps, so depending on your Internet connection, you might need to add the cost of faster service to the equation.
Keywords: #appletv #dishnetwork #directv
Short link: http://goo.gl/MOQDoD
searchwords: appletv, directv, dishnetwork