Google Maps Impact
News, Reviews, & Opinion
Apps & Services
Accessories
iPod Deals
These price trackers are updated every month.
Best iPad deals
Best iPod nano deals
Best iPod shuffle deals
Best iPhone deals
Mac notebook and other portable computing is covered in The 'Book Review, and general Mac news is in Mac News Review. Older Macs are covered in Vintage Mac News. All prices are in US dollars unless otherwise noted.
Purchases made through links to Amazon.com and Apple's iTunes/iBook/App/Mac App Store support Low End Mac.
Google Maps Impact
Google Maps Immediately Became the App Store's #1 App
The Register's Iain Thomson reports that less than a day after its release, Google Maps became the most popular download in the App Store.
Last Thursday, Google got its iOS mapping app cleared for posting on the App Store (see last week's iNews Review for more), three months after being unceremoniously dumped by Cupertino with the release of iOS 6.
Thompson notes that the new Google application is markedly better than its previous iOS Maps application – but still not as wide-ranging as the one available to Android users.
Turn-by-turn navigation is included, along with traffic data, public transit times, and Street View images, which makes it considerably more complete than Apple's offering.
Link: Google Maps Becomes Apple's Most Popular App
More Than 10 Million Google Maps Downloads in First 48 Hours
Last Monday, Google's Jeff Huber reports that more than 10 million copies of the free Google Maps app for iOS were downloaded within than 48 hours of the app's release.
Link: More than 10 Million Downloads in Less Than 48 Hours After Release!
5 Ways Google Maps Beats Apple Maps
InformationWeek's Eric Zeman says Google Maps' triumphant return to the iPhone exposes just how bad Apple's app really is.
He highlights five features of the new Google mapping application that trounce what Apple offers.
Speed
Mass Transit
Details
Street View
Desktop Map Syncing
Link: 5 Ways Google Maps Beats Apple Maps
Apple Maps vs. Google Maps
Pixobebo's Kate MacKenzie observes that Apple has taken an amazing amount of negative press over the new Maps app in iOS 6 for iPhone and iPad.
Now that Google Maps is available for free on the App Store (and its very good), how does it stack up to Apple Maps? MacKenzie stages a shootout comparing:
Map Data Quality
Speed And Caching
Details
Mass Transit
Desktop Map Syncing
Turn-by-Turn Directions
Traffic
Integration Into iOS Apps
User Interface (ease of use)
Street View & 3D
iPad Version & Mac Version
Privacy
Google Maps wins, but not by as much as you might imagine given the bad press iOS Maps has received.
Link: Shootout: Apple Maps vs. Google Maps for iPhone
iOS 6 User Base Grows 29% as Users Update After Google Maps Arrives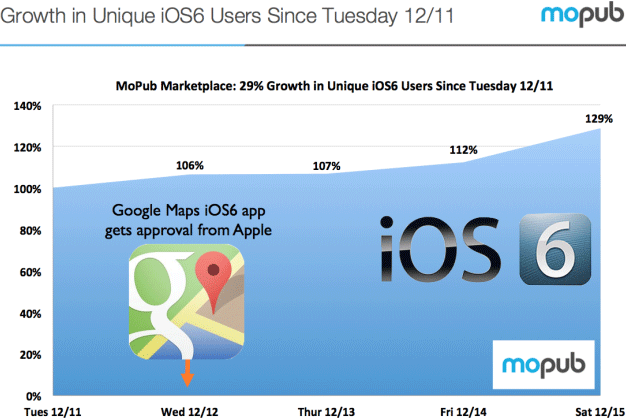 Tech Crunch's Josh Constine observes that Apple Maps was so bad, many users refused to upgrade to iOS 6 until they could get Google Maps, according to data from mobile ad exchange MoPub. The 12,000 apps MoPub supports saw a 29% increase in unique iOS 6 users in the five days after Google Maps for iOS was released. Constine notes that Chitika reported just 0.2% growth immediately after the launch but it seems people waited for the weekend to do the long install.
Link: iOS 6 Adoption Grows 29% Over the Weekend as People Finally Update After Google Maps Arrives
News, Reviews, & Opinion
Walmart Rolls Back Pre-Christmas iPad and iPhone Prices
PR: Walmart is rolling back prices on select Apple products to help shoppers get their hands on some the most-wanted tech gifts this holiday season, including an iPad 3 for an iPad 2 price.
Walmart is offering the new fourth-generation 16 GB Apple iPad (iPad 4) with Retina display and WiFi for $399, bundled with a $30 iTunes card from Monday, Dec. 17. The new fourth generation iPad features a redesigned 9.7″ display, new Apple-designed A6X chip, FaceTime HD camera, and ultrafast wireless performance.
Walmart also is rolling back the price on the 16 GB Apple iPhone 5 to $127 (original price $189.97), and the 16 GB Apple iPhone 4S to $47 (original price $89.97). Rollback prices are available beginning immediately and are valid for all carriers with a two-year contract.
Special rollback prices are only available in store.
Barnes & Noble and Walmart have also announced that the NOOK HD and NOOK HD+, and related accessories, are now available at all Walmart stores nationwide and online at Walmart.com. Starting at $199 for the 7″ NOOK HD and $269 for NOOK HD+.
iPad Shipments to Reach 100 Million in 2013?
In his recent blog post, David Hsieh, Vice President at NPD DisplaySearch, addresses the iPad mini's supply shortages, as well as the possibility that Apple will ship more than 100 million iPads in 2013.
Hsieh notes that according to NPD DisplaySearch's Quarterly Large Area TFT Panel Shipment Report, panel makers including Samsung, LG Display, Sharp, and Innolux will ship 70 million 9.7″ iPad panels in
2012. Of those, 23 million will be iPad 2 XGA panels and 47 million will be new iPad QXGA ("Retina") panels, using both a-Si and oxide TFT technologies. While the new iPad was originally planned to replace the iPad 2, strong sales of the legacy model have continued, and panel makers have adjusted new iPad panel production downward while maintaining production of iPad 2 panels.
When Apple unveiled the iPad mini in October, Hsieh observes that many criticized its $329 price as too expensive for a 7″ segment tablet PC, given competition from other 7″ tablet PCs, including Amazon Kindle Fire, Google Nexus, ASUS, and many private labels. However, there is always a strong base of customers who only want Apple products; recently, the iPad mini was voted one of the hottest consumer products of 2012 in Japan. Consequently the iPad mini immediately faced supply shortages for its 7.85″ XGA display, supplied by AUO and LG Display. Originally, Apple planned to sell 6 million units in 2012; according to the Quarterly Small/Medium Shipment and Forecast Report, only 1.6 million panels shipped in Q312, but Apple is asking panel makers to ship more than 12 million in Q412 to fulfill the strong demand.
Hess notes that panels for iPads are known to be hard to make, not only because of the high resolution and low power consumption requirements, but also because the wide viewing angle and high color saturation specifications require additional photomask steps in the manufacturing process. Technically speaking, standard a-Si TFT backplanes require four or five photomask steps, but the iPad and iPad mini panels require six to seven, and for panel makers with limited experience in IPS or FFS production, as many as eight mask steps may be used. Increased mask steps means longer production times and lower yield rates.
In 2013, Hess projects that its likely Apple will adjust its product portfolio to meet strong demand for the iPad mini, and that NPD DisplaySearch believes Apple is targeting total iPad shipments of 100 million in 2013, half accounted for by the iPad mini, and 40 million new iPad and 10 million iPad 2, the latter whose production he expects to continue at least until the middle of 2013. He cites NPD DisplaySearch's Quarterly Mobile PC Shipment and Forecast Report forecast that the 2013 tablet PC market will be over 170 million, and that if Apple hits its targets, it will continue its domination at approximately 60% market share.
However, if iPad mini volume is anything near 50 million units, Apple will need to find other panel suppliers in addition to AUO and LG Display, just as it always has three suppliers for the iPad panels. Leading candidates include Century in China, Innolux in Taiwan, as well as Panasonic LCD in Japan, which are all experienced at IPS technologies. At the same time, Apple will need to manage its iPad panel supply in the event that it parts ways with Samsung.
Link: Apple iPad Shipments to Reach 100 Million in 2013?
Velti Report Shows Android Market Share Fell Dramatically in 2012
PR: Velti, a global provider of mobile marketing and advertising technology, has released its "State of Mobile Advertising 2012: Year in Review" data report. The report highlights key mobile trends in 2012, including insight into iOS market dominance and the growing international opportunity in developing markets.
Velti's report shows Apple regained market dominance after falling behind to Android in 2011. This year, Android's market share closed at 37%, compared to 61% in 2011. Contributing factors include the popularity of the iPad mini and iPhone 5, as well as increasing affordability of the iPod Touch and iPhone 4S. In fact, new iOS devices released in 2012 had the strongest influence on changes in mobile use and impressions:
The iPad mini saw more total impressions at the end of November 2012 than the Samsung Galaxy Tab 10.1 did in the entire year. By the end of the year, the iPad mini averaged 20 times more impressions than Samsung Galaxy Tab 10.1 (42.4 billion vs. 2.1 billion impressions).
Although the Samsung Galaxy S3 was released at the end of May 2012, the iPhone 5, released in mid-September 2012, has already caught up to the Samsung Galaxy S3 in impression share. The iPhone 5 and Samsung Galaxy S3 each held 50% of impression share, respectively, by the end of November.
Despite having the largest mobile carrier share in China, China Mobile has a much smaller share of impressions than China Unicom (5% and 11%, respectively). This is most likely due to the fact that China Mobile does not carry the iPhone.
"Looking back at 2012, we really see Apple's power over the mobile landscape," says Krishna Subramanian, CMO of Velti. "A great example: despite the fact that China Mobile is the biggest carrier in China, it has low overall mobile impressions, without the iPhone, and advertisers in this market just aren't reaching consumers in the volume they could. This is incredibly valuable insight for marketers and brands. At the end of 2012, iOS devices held a 63% share of the market – so we know that Apple holds the key to reaching consumers."
Velti's report also reveals that international growth is booming, offering a huge value to mobile marketers to reach consumers around the globe. Key international markets surface as mobile hotbeds in 2012:
In Brazil, smartphone sales were predicted to increase 77% in 2012 according to IDC. The country now leads in click through rates (CTR) with an average CTR of 2.575%. China trailed close behind at 2.403%, followed by Italy and Russia (2.184% and 1.879%, respectively).
Smartphone users in developed mobile markets were less likely to click on ads: the UK placed eighth at 1.667%, while Australia (1.623%), the United States (1.558%), Japan (1.457%), and Canada (1.429%) trailed.
In Europe, Spain saw a 1,020.7% growth in mobile impressions in 2012, which is significantly higher than its second and third place contenders, Russia (726.7%) and Italy (671.3%). According to comScore, Spain sees higher smartphone consumption than the whole of Europe, on average.
The US and Western Europe have been mobile leaders for quite some time, but that landscape is clearly changing, said Subramanian. Often in developed countries, mobile devices are the way consumers communicate and access the Internet, do their banking, play games, and stream TV. With developing markets around the world now embracing mobile and supporting its infrastructure, we have immense growth opportunities in front of us for 2013 and beyond. Its time for the industry to look beyond the usual mobile suspects.
Other notable data from the report includes:
Impressions served on photography apps grew 389.7% between January and the end of November. Likely contributing factors: better camera hardware on the devices themselves, and the availability of Instagram to Android users in April of 2012.
On Android phones, consumers love productivity apps. The category's impression share on Android (5.7%) dwarfs other platforms (1.4% on Android Tablets, .6% on iPhone and .7% on iPad).
AT&T holds 45% of impression shares in the US, almost twice the share of Verizon (25%) and more than four times the share of T-Mobile (10%).
Six months out of ten, ads served through real-time bidding (RTB) saw higher click-through rates than ads served in the rest of Velti's Mobclix Exchange, effectively showing that RTB is a valuable and cost-effective targeting mechanism for publishers and advertisers.
Data for this report is taken from the Mobclix Exchange, which sits at the intersection of 33,500+ apps and 45+ ad networks.
Apps & Services
Free Easilydo: Life Assistant for iPhone & iPod touch
PR: Easilydo: Life Assistant, a free social productivity app that gets things done on the spot, launched for iPhone and iPod touch. The average person makes 35,000 decisions per day, but the difficulty of juggling multiple apps to help you act on those decisions are finally over.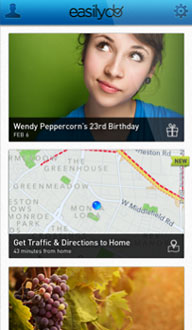 By handling dozens of tasks ranging from checking directions to cleaning up your contact list, Easilydo makes life simpler, alleviates everyday stress, and makes you feel like a better person.
Users need to download the app and then have the option to connect to Facebook, Calendar, Gmail, Yahoo, and LinkedIn accounts to pull in the information and tasks that are important to them. User data is always protected. Easilydo will then offer to complete your daily tasks with a simple tap of the Do It button.
Examples of tasks that Easilydo can help you with:
Never miss life's important moments. Get birthday reminders, event invites, and important social updates shared by your friends; sends your wishes, e-gifts, RSVPs, congratulations. and support messages – be there for your friends.
Navigate your busy day easily. Get time to leave alerts and directions to your home, work, or next appointment; autodial into calls; text to say you're on the way or running late; track packages what you need when you need it.
Keep organized with zero effort. Merge duplicates in your address book, add contacts from emails, clean old deal emails, and file receipts into an email folder automatically taking care of the niggling things that you always mean to get to and don't.
"All of us are overwhelmed by the daunting number of apps that we have on our phones to keep up with our work and social lives. To solve this, Easilydo simplifies life by finding what you care about and offering to get it done for you," says Mikael Berner, Founder and CEO, Easilydo. "People who use Easilydo rave about how much time they save and how the app helps them be a better friend and family member. Our aim is to make people feel good about taking control of their day, having less email to deal with, and eliminating the guilt of forgetting something."
Easilydo is also announcing that it has raised $4.3 million in funding from USVP and Mayfield Fund, with additional investments from individual funds.
"Easilydo has built a disruptive new application that will reshape the way people get things done, which will be essential in our mobile-driven world," says Robin Vasan, Managing Director at Mayfield Fund. "Our investment in the Easilydo team underscores our belief in the talent and determination that have always brought their ideas to fruition."
The Easilydo App is available for free from the App Store on iPhone and iPod touch.
Publisher's note: Installed on my iPhone 3GS, and it just told me about a free iTunes track. Nice! Going to give this app a try. dk
Link: Easilydo: Life Assistant
Steampunk Inspired Vintage Gadget: The Only Utility App You Will Ever Need?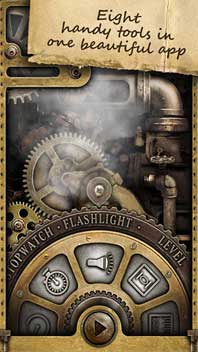 PR: HolosOne has announced the immediate availability of Vintage Gadget, an exciting new utility app for iPhone offering eight tools for the price of one. Vintage Gadget, the Swiss Army Knife of utility apps, combines useful tools with classic, steampunk-inspired design.
With eight unique utilities and a steampunk-inspired mechanical design, Vintage Gadget offers the features of multiple tools in one beautifully designed interface, complete with moving parts and intuitive controls. Users can quickly select a tool by rotating Vintage Gadget's control wheel and watch in amazement as their chosen utility slides into view, amid clouds of steam and whirring cogs, with clockwork precision.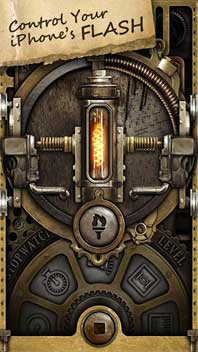 Following the success of HolosOne's Vintage Times app, Vintage Gadget includes unique interfaces for each tool, including a ruler, protractor, timer, stopwatch, flashlight, compass, counter, and spirit level.
"Vintage Gadget is not only the most beautiful app we've ever created, it's also the most useful," says Jerko Latkovi, cofounder and CEO of HolosOne. "With eight amazing tools, users will find a use for Vintage Gadget every day."
Each of Vintage Gadget's eight tools provide accurate numerical and visual results by taking advantage of the iPhone's built-in gyroscope and compass, as well as the Retina Display. This level of quality and reliability make it the ideal app for DIY enthusiasts who want maximum functionality without having to search their iPhone for multiple apps.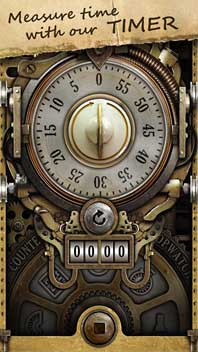 Whether a user is putting up a shelf, boiling an egg, hanging a picture, counting or trying to find their way, Vintage Gadget offers the tools they need in an interface that is as beautiful as it is functional. Complete with audio and visual feedback for each action performed, users can quickly calculate, measure, locate, and illuminate in style.
Why buy eight individual tools when you can get them all in one beautifully designed app?
Vintage Gadget's Tools in Detail
Protractor – Users simply drag the protractor needle with a finger to pinpoint precise angles. They can then lock the needle in place with a simple tap.
Ruler – Using the edges of their iPhone, users can quickly take measurements in centimeters or inches.
Compass – Using the iPhone's built-in digital compass, Vintage Gadget provides a sumptuous compass face as well as a numerical readout for location precision.
Counter – Each tap of the plus button adds to the large Counter display. Users can also reset and remove counts with a single tap.
Timer – By sliding a finger across the Timer interface, users can set a countdown from one minute to one hour and be alerted with a sound and message when the defined period of time has elapsed.
Stopwatch – Minutes, Seconds and Milliseconds are displayed in vintage style from the Stopwatch interface with both visual and numerical readouts.
Flashlight – Harnessing the iPhone's built-in LED Flash, Vintage Gadget's Flashlight allows the user to turn the light off and on at will.
Level – With classic spirit level bubbles as well as a numerical readout that rotates with the device (using the iPhone's inbuilt gyroscope), Vintage Gadget's Level is not only accurate but beautiful to boot.
Device Requirements:
iPhone 3GS/4/4S/5, iPod touch (3rd/4th/5th generation), and iPad
Requires iOS 5.0 or later
36.5 MB
Vintage Gadget 1.0 is $1.99 (or equivalent amount in other currencies) and available worldwide exclusively through the App Store in the utilities category. All press enquiries, including interview requests, reviews, images and quotes should be directed to HolosOne.
Link: Vintage Gadget
Free Scanner Mini Aims to Make iOS Devices the World's Most Popular Scanners
PR: Readdle has released Scanner Mini, the first free application of its kind that allows anyone to scan anything they need, anywhere with their iPhone or iPad. Scanner Mini uses the iPhone or iPad camera to take an image of a document, then it improves the quality of the image and makes it readable, using special algorithms to remove shadows and correct perspective.
"Common wisdom says that the best scanner is the one that is always with you," says Igor Zhadanov, Readdle CEO. "And by that definition we are going to make Scanner Mini the best scanner in the world"
With Scanner Mini people can go paperless by scanning papers, receipts, whiteboards, and even multipage business reports. Automatic edge detection and advanced image processing makes scanning blazingly fast and accurate. iTunes File Sharing offers a simple way to transfer scans to any Mac or PC.
Scanner Mini provides great value for iOS users with its zero price tag and rich feature set. It keeps scans safe even in case the iPhone or iPad is lost or broken. Everything is automatically backed up to iCloud for secure cloud storage that every Apple customer (using supported systems) can use for free.
"You can get perfect scans in seconds, without any ads or watermarks," says Igor. "I think that every iPhone or iPad owner should install Scanner Mini, because you never know when you will need it. It is always nice to have a scanner in your pocket."
For those who need to do more with their scans, Readdle offers an upgrade to Scanner Pro. This allows people to share their scans via email; upload to Dropbox, Evernote, and Google Drive; print via AirPrint; and even fax.
Language Support: English, French, German, Italian, Japanese, Spanish, Turkish
Device Requirements:
iPhone 3GS, iPhone 4, iPhone 4S, iPhone 5, iPod touch (5th generation), iPad (3rd generation), iPad WiFi + 4G, iPad (4th generation), iPad WiFi + Cellular (4th generation), iPad mini and iPad mini WiFi + Cellular
Requires iOS 5.0 or later
Universal app optimized for display on all iOS devices
10.8 MB
Scanner Mini 1.0 is completely free, and available on the App Store in the Productivity category.
Link: Scanner Mini
Heliog: A New Way of Managing Your Photos on Dropbox
PR: Did you ever feel that the official Dropbox app, even after it's update recently, doesn't meet your needs when it comes to photography? How about having all of your photos stored on your Dropbox accessed instantly and with a great and elegant look added to it?
Marcel Schmitz has introduced Heliog 1.0 for iOS. All images are downloaded in their original resolution, so you can zoom in and show the details. You can mark folders as favorites and have them downloaded.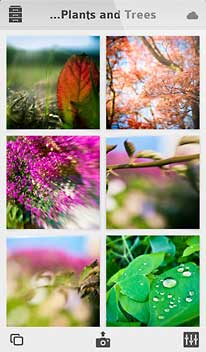 Heliog is the missing app for managing your photos on Dropbox. If you work in a team and use Dropbox for syncing your photography artwork or want to have your photos all the time with you without carrying about syncing your device, then Heliog is for you. It instantly detects new photos and displays them in a cool way, even if you share folders with other Dropbox users. Every change to the shared folder is instantly updated and you can show the results instantly.
Using Dropbox' new sharing capability, you can share a photo or a folder with selected photos on Facebook, Twitter, per email, or by copying it's link and using it as you like. Options are limitless.
If you're a photographer and want to show your portfolio to your client, you can previously download and store all photos in any folder into your device and browse them offline using Heliog. All images are downloaded in their original resolution, so you can zoom in and show the details. You can mark folders as favorites and have them downloaded to your device for quicker access.
You can use your device's camera to upload photos to a folder while you're shooting. And if you share that folder's link with your audience, you can let them follow your shooting session live. You can also browse your device's albums and upload multiple photos at the same time to Dropbox. If you use an iPad and the camera connection kit, Heliog is going to be your best companion, uploading and sharing your artwork instantly.
Heliog works on the iPhone, the iPad or iPod touch. It supports all iOS 6 devices natively and explores all their capabilities the right way.
Device Requirements:
iOS 6.0 or later
iPhone 3GS/4/4S/5, iPod touch (3rd/4th/5th generation), and iPad
1.7 MB
Pricing and Availability:
Heliog 1.0 is $1.99 (or equivalent amount in other currencies) and available worldwide exclusively through the App Store in the Photo & Video category.
Link: Heliog
The Lens: A New Guide for Creative Photographers
PR: The Lens: a Practical Guide for the Creative Photographer is a new ebook from publisher Rocky Nook, fully enhanced for the iPad, that answers questions photographers actually ask about lenses. By demystifying optics, decoding arcane terminology, and providing practical tips, The Lens helps amateur and professional photographers make smart purchasing choices and build the perfect lens collection.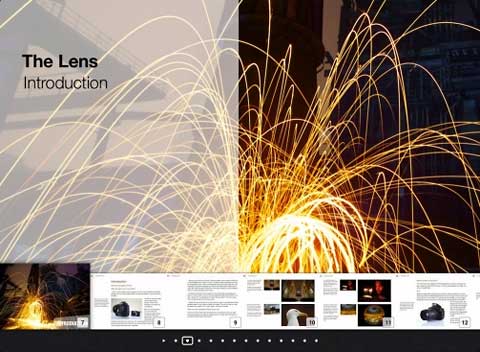 "Choosing the right lens is one of the most important photographic decisions you can make," says author NK Guy, "Nothing affects the quality of a photo more than the lens. It's no longer just about the megapixels – it's the glass that makes all the difference."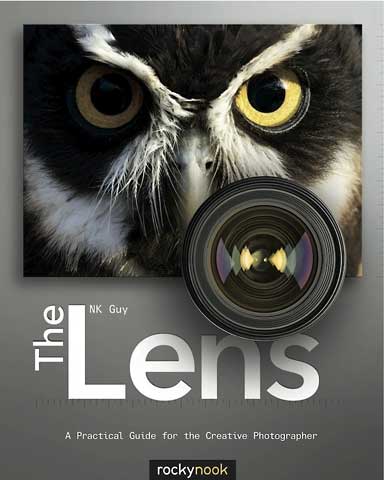 Yet many photographers starting out with interchangeable lens cameras don't venture past the basic lens included in the box. Some are reluctant to spend more money, are confused by the buzzwords, or are overwhelmed by all the choices that are available. This new book takes the guesswork out of the process so everyone can get the best out of their gear.
For advanced photographers, NK Guy covers the foundations of lens design, the optical and mechanical properties of photographic lenses, and describes every major category of lens on the market today, from tilt-shift to manual focus. The popular field of adapting old lenses to modern digital cameras is detailed as well.
The $19.99 book is now available as an enhanced iBook from Apple's iBookstore. The book is richly illustrated with Retina-quality photography, interactive sections, and a high resolution slideshow. Available now from the US, UK, and Canadian iBookstores. (other regions to follow) The book is also available worldwide in print form, distributed by O'Reilly and Associates.
Link: The Lens
Accessories
Waterproof Protective Case Shell for iPhone 5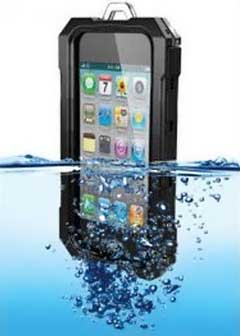 PR: This product is suitable for the iPhone 5, offering good protective and waterproof efficacy. The phone can be directly manipulated after installation. Flexible silicone as the operator interface let it become good touch feeling and durable. The case allows you to unrestricted use the phone in the rain and snow or other similar circumstances.
This product is suitable for the IP67 degree of protection that can be isolated from dirt, dust, dust storms, and withstand dirt impurities and construction dust. It makes the phone isolated from the snow, ice and water.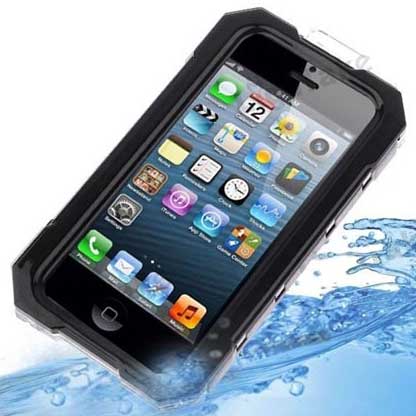 Therefore, the case make the phone can be used rest assured in snowboarding, rafting or other environment.
Features:
Great for camping, boating, fishing, tubing, swimming, or any other water sports
Comes with a strap for more convenience to carry
This accessory is suitable for Apple iPhone 5
Manufacturer information:
Manufacturer: iPega
Model: PG-i5005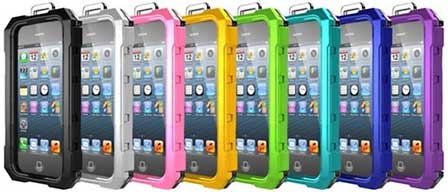 Colors Available:
Notes:
Do not use chemical agents to clean this product. Wipe with a damp cloth gently to clean.
Do not expose your product to high temperature areas or products in a fire.
Do not throw, pound or damage the product intentionally.
Proper use of the products and appropriate maintenance can prolong its life.
Install according to the user manual and do waterproof test before use
$19.99
Link: PG-i5005 iPega Waterproof Protective Case Shell for iPhone 5
Grantwood Technology Releases the SmartBack for iPad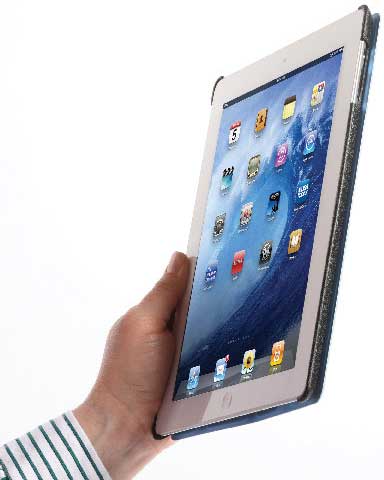 PR: Grantwood Technology recently introduced the SmartBack for iPad, a protective cover that serves as a companion to the Smart Cover from Apple. The SmartBack preserves all of the functionality of the Smart Cover, while also protecting the back of the iPad from scratches that can occur with normal use, and holding the Smart Cover in place when folded back. The SmartBack allows access to all ports, buttons, and cameras, and is made from a Polycarbonate/ABS blend (PC/ABS), which makes it lightweight yet extremely durable.
"We like the Smart Cover from Apple," says Michael Banks, cofounder of Grantwood Technology, "It just needs a little help. First of all, it offers no protection for the back of the iPad. Secondly, it is rather annoying when the Smart Cover fails to stick to the iPad when folded back.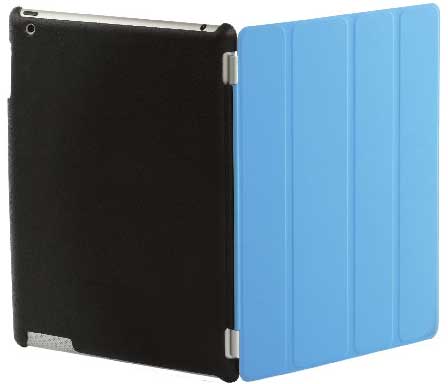 Finally, we want the Smart Cover to stay on the iPad with a more secure attachment as it simply pops off too easily. Our SmartBack for iPad solves all of these issues."
The SmartBack for iPad currently comes in black, with a silver version due in January, 2013, and is compatible with the iPad 2, iPad 3 (the new iPad), and the newly released iPad 4 (the iPad HD). It is available on both the company website and through Amazon. The Apple Smart Cover is sold separately. For more information and upcoming product releases, visit Grantwood Technology, follow them on Twitter, or like them on Facebook.
Link: SmartBack for
iPad ($24.99 from Amazon.com
and eligible for Super Saver shipping as part of $25 order)