In early 2004, I bought an eMac G4. It was a 1 GHz model and my first brand new Mac. It wasn't until 2008 that I picked up a 1.25 GHz model, and I also bought two 800 MHz models (ATI ones).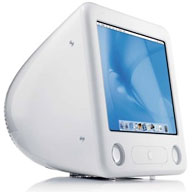 The 1.25 GHz eMac was for me; it was a replacement for the Sawtooth Power Mac G4 tower I had been using. The two 800 MHz models were for my two sons. I bought the eMacs because my earlier one had been such a faithful work horse and was only replaced by an upgrade and sold on to someone else.
For anyone who has used an eMac you know they were beautiful machines, and the 1.25 GHz model was the second highest model (only topped by the 1.42 GHz model). They were like G3 iMacs on steroids.
They carried the same form factor as the G3 iMac, only slightly larger, only available in white, with a more sophisticated look – and at a 50 lb. (22.7 kg) weight that would stop any burglar from stealing it.
The annoying bulging cramped screen of the G3 iMac was replaced by a completely flat and very crisp 17″ display with resolutions to 1280 x 960.
The 1.25 GHz model was a big step up not only in terms of processing power, but it moved from 133 MHz system bus and PC133 RAM of the 1 GHz model to a 167 MHz system bus and DDR RAM, as well as doubling the RAM limit from 1 GB to 2 GB.
A much welcomed inclusion was USB 2.0 replacing the much slower USB 1.1 of earlier models. All these features combined made the eMac a very compelling budget Mac, even for those who already had an eMac.
Compared to the 1.0 GHz 12″ iBook G4 released around the same time at $1,099, the 1.33 GHz 12″ PowerBook G4 at $1,599, or the 1.25 GHz Power Mac G4 (released in in June 2003) at $1,299, the eMac was a powerful G4 for a mere snip of $799, a serious bargain for any budget conscious Mac owner.
The eMac was originally designed for the educational market (hence the e in the name), but it was later released for the general public, and despite being an all-in-one consumer-aimed Mac, eMacs were very powerful machines and very reliable.
Their reliability was about to be shaken though – some of the 1.25 GHz and 1.42 GHz models suffered from faulty capacitors on the logic board, which over time would bulge and pop, causing kernel panics and then the machine to fail altogether. While reports of this affecting some earlier models, the majority were on the later two models – and mine suffered it too. (Publisher's note: Ditto for one of the two we used at Low End Mac headquarters – see 1 Working eMac from 2 Broken Ones. dk) This was not directly an Apple fault; it seemed to be a dodgy batch of capacitors around at the time that affect some Windows machines too.


Two different 1.25 GHz eMac logic boards with leaky capacitors.
With a high-end G4 processor, fast system bus, slightly faster drive architecture, and packed with 2 GB of RAM, these eMacs made running Mac OS X 10.5 Leopard a dream. Compared to Leopard running on a 1 GHz G4 eMac with 1 GB of RAM, the experience is totally different.
Today, eMacs look very bulky – especially compared to the slim G5 and Intel iMacs – but back then we were used to big CRT monitors, and the space saved from not having a tower next to a big monitor was great, nothing new to the eMac of course, with the G3 iMac, LC 500- and 5000-series, and compact Macs prior to it.
I will always have a fondness for the eMac range: Great design and great power.
---
Follow Simon Royal on Twitter or send him an Email.
Like what you have read? Send Simon a donation via Tip Jar.
---
keywords: #emac #powerpc #g4 #techspectrum #simonroyal
short link: http://goo.gl/fptHSV

searchword: emacg4