The 12″ PowerBook G4 was discontinued in mid-2006 with the introduction of the 13.3″ MacBook, yet it remains a popular choice as the smallest portable Mac with a built-in optical drive. It is available in speeds from 867 MHz to 1.5 GHz. 
The 13.3″ MacBook Air (MBA) weighs just 3 lb. and is only 3/4″ thick, but many don't consider it a full replacement for the 12″ PowerBook G4. The 13″ Air has a larger footprint, no internal optical drive, and has a built-in battery, meaning you can't carry a spare.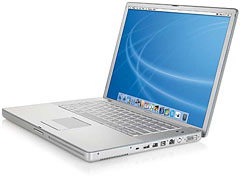 The biggest drawback to the 12″ PowerBook: It's a bear to upgrade anything except for memory.
12″ PowerBooks support FireWire 400, 10/100 ethernet, and have no CardBus slot. If you need FireWire 800, gigabit ethernet, or CardBus support, look at the 15″ and 17″ PowerBooks.
Except for the 867 MHz model, which has 128 MB of onboard RAM, 12″ PowerBooks have 256 MB on the motherboard, and there is only a single memory expansion slot.We recommend no less than 384 MB total RAM for good OS X 10.2 and 10.3 performance and 512 MB for 10.4 Tiger. OS X 10.5 Leopard is supported on all 12″ G4 PowerBooks with at least 512 MB of RAM, and we strongly recommend adding a 1 GB module if you plan to use Leopard.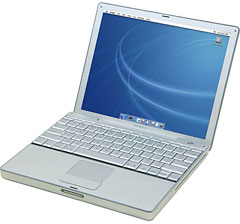 See Low End Mac's Compleat Guide to the 12″ PowerBook for a comprehensive overview of the most compact PowerBook ever.
Batteries tend to lose capacity over time, so you may want to buy a new battery – we have prices for two listed below.
Prices are for used PowerBooks. Listings note RAM/hard drive size. Be sure to factor in shipping costs and possible sales tax. Your best value depends on whether you need/want a color printer, extra RAM, etc. The best deals are marked in bold type in the full listings below. Used Macs usually have a 90 day warranty.
Best 12″ PowerBook Prices
1.5 GHz SD, $275, DV Warehouse
Recent Prices for RAM
High Capacity Batteries
Mac OS Prices
Unless otherwise noted, there is no surcharge for credit card purchases, and shipping is not included. Vendors are listed in alphabetical order. Be sure to visit their sites for full details.
Prices may be limited to quantity on hand. Not responsible for typos. Please email any corrections or additional sources with competitive prices to .
Buying through some of these links benefits Low End Mac. Buying at these prices benefits you.
Profiles
All models have 2 USB ports and accept a 1 GB memory upgrade.
Prices
Models are sorted by CPU speed, then price.
Ground shipping can add $25 or more. Mac OS X 10.4 installed.
1.5 GHz Combo, 512/60, $275
When ordering from Operator Headgap, please let them know you heard about them on Low End Mac when entering your shipping information. Thanks!
867 MHz Combo, 640/40, $299.77 shipped
PowerMax
Ground shipping may add $20 or more. Most have Mac OS X 10.4.11 Tiger installed. PowerMax has the broadest selection of used 'Books among dealers we track.
Ground shipping may add $26 or more. 60 day warranty.
PowerBook  Accessories
When ordering from Operator Headgap, please let them know you heardabout them on Low End Mac when entering your shipping information. Thanks!
60W power adapter, $39.77 shipped
80 GB 5400 rpm ATA-6 hard drive, 8 MB buffer, $79.77 shipped
160 GB 5400 rpm ATA-100 hard drive, 8 MB buffer, $109.77 shipped

8x SuperDrive, $139.77 shipped
Can't afford a 12″ PowerBook G4 but need portability? Check out our PowerBook G3 Deals, iBook G4 Deals, iBook G3 Deals, and Titanium PowerBook G4 Deals. Need more power? See our 13″ MacBook Deals.
Keywords: #lemdeals #powerbookdeals #ppcdeals
Short link: http://goo.gl/SZptoi
searchword: albook12deals