News, Reviews, & Opinion
Rumor Roundup
Health Issues
The Competition
Apps & Services
Accessories
Presentation & Protection
iPod Deals
These price trackers are updated every month.
Best iPad deals
Best classic iPod deals
Best iPod nano deals
Best iPhone deals
Mac notebook and other portable computing is covered in The 'Book Review, and general Mac news is in Mac News Review. Older Macs are covered in Vintage Mac News. All prices are in US dollars unless otherwise noted.
Purchases made through links to Amazon.com and Apple's iTunes/iBook/App/Mac App Storesupport Low End Mac.
News, Reviews, & Opinion
10 Tips on Using Google Maps on Your iPhone
Google has posted some suggestions to make your Google Maps for iPhone experience even better.
Place Pin on the Map
Street View
Shake to Send Feedback
Swipe to See More
Access Views
Preview steps in Navigation (Beta)
1 Finger Zoom
Work & Home
Compass Mode
Save a Place
Link: Quick Tips on Using Google Maps for iPhone
Stop Multitasking and Put Your Phone in the Trunk
Do you think you're being efficient when you check your email while writing a report about a meeting you attended? How about checking email on your cellphone while listening to your child describe an incident at school?
Multitasking Is Telling Someone 'I Haven't Heard a Word You've Said'
PR: Hard work is the classic characteristic of the American psyche. Whether driven by guilt, ambition. or just a type A personality, many of us feel compelled to work as hard as we can and as long as we can. And, if you can work on more than one thing at a time so much the better, right?
Wrong.
Business coach Dale Crenshaw, author of "The Myth Of Multitasking: How Doing It All Gets Nothing Done," debunks the value of multitasking, which he calls "switchtasking". He also points out that, in some circumstances, it could send the wrong message.
"Multitasking is a polite way of telling someone I haven't heard a word you've said," says Crenshaw.
In a recent edition of AWARE, the Minnesota Life Group Insurance newsletter, Crenshaw and others who have explored the usefulness of multitasking are quoted about their research and experiences with multitasking. A management consultant tried for one week to give up multitasking and went so far as to put his cellphone in the trunk of his car to avoid driving and talking at the same time.
Do you think you could force yourself to work through your to-do list one task at a time? Read the article, "Why Multitasking Doesn't Work" to learn more about Crenshaw and his research, plus some tips for converting to singletasking.
Link: Stop Multitasking and Put Your Phone in the Trunk
Apple's Forgotten eMate 300
Macworld's Benj Edwards notes that 15 years ago, Apple released its first and only touchscreen laptop (so far), the often forgotteneMate 300, an oddly-styled translucent green clamshell portable that ran Apple's Newton PDA operating system and was something of a forerunner for Apple's iOS iDevice revolution.
Launching it in March 1997, Apple offered the eMate for sale only through education channels. Powered by a 25 MHz ARM CPU with 1 MB of RAM and 2 MB of flash memory for document storage, a 480 x 320 backlit grayscale LCD, a PC Card expansion slot, and selling for $799, the eMate was marketed by Apple as a low-cost educational computer for children at a time when the entry-level PowerBook 3400c sold for a whopping $4,500 1997 dollars.
Link: The Forgotten eMate 300 – 15 Years Later
25% of American Adults Own Tablet Computers
PR: Pew Internet's Lee Rainie says one-quarter of American adults now own tablet computers, a major increase from the first measurement of tablet ownership by the Pew Research Centers Internet & American Life Project in the late summer of 2010. In September 2010, 4% of American adults owned tablets, and now 25% do, according to a survey the Project conducted from July 16 to August 7, 2012.
A demographic breakdown of tablet owners shows that nearly half of those living in households earning $75,000 or more – 47% – own tablets.
Link: 25% of American Adults Own Tablet Computers
iPad mini Wins Because It's Expensive
The Street's Rocco Pendola says people are willing to pay for something of quality that they know will give them a lot in return, and in a race to the bottom to create the cheapest and most easily-produced product, savvy consumers realize that you frequently get what you pay for. Consider, for example, Amazon's Kindle Fire tablet vs. the iPad mini….
Link: Apple: iPad mini Wins Because It's Expensive
iPhone Tops Americans' 2013 Consumer Technology Wish List
PR: US consumers are more likely to buy an iPhone during the next 12 months than any other of 22 key consumer electronics products, according to the latest ConsumerMetrix survey fromStrategy Analytics. 23.5% of 2,285 US consumers say they are somewhat or very likely to buy an iPhone. The next most popular products are the Android smartphone (21.6%), the portable PC (17.4%) and Apple's iPad (15.3%). Smart TVs feature next on the list, followed by digital cameras, Blu-ray disc players and desktop PCs. Products appearing towards the bottom of the wish list include Apple TV, Internet radios and multi-room music systems.
"Americans show no signs of falling out of love with the iPhone," says Jia Wu, Director, Connected Home Devices. "But interest in Android smartphones as well as other personal computing devices remains strong, highlighting the leading role of these smart technologies in today's technology lifestyles."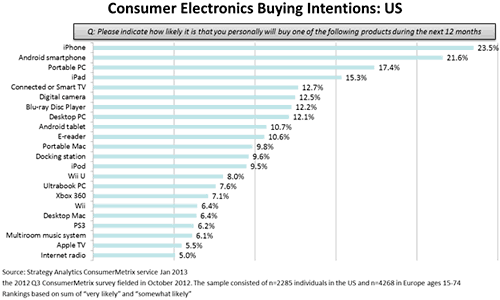 The study also identified changes in buying intentions over the past six months, noting that there has been a strong increase in interest in mobile phones in general, and intention to buy TVs has also risen strongly. Interest in buying Blu-ray disc players, however, has fallen, and there has also been a notable decline in intention to buy portable PCs and portable Mac computers.
'Steve Jobs Wasn't Malicious, He Was Just Trying to Get Things Done'
Macworld UK's Ashleigh Allsopp reports that the founder of design firm IDEO David Kelley commented on his friendship with the late Steve Jobs in an interview with CBS 60 Minutes' Charlie Rose about the philosophy behind 'design thinking,' noting that Kelley was part of the team that helped design Apple's first mouse, the Apple III, and the Apple Lisa, and was close friends with Jobs for more than 30 years. Jobs also introduced Kelley to his current wife and counseled him to go straight to Western treatment and focus on spending time with his family rather than seek alternative cures (as Jobs had done with his own cancer) when Kelley was suffering from a life-threatening throat cancer.
Kelley is cited saying that despite being famously picky, Jobs was not malicious, maintaining that the biggest misconception about Apple's cofounder was that he was deliberately mean to people. "He wasn't," Kelley said. "He was just trying to get things done."
Link: 'Steve Jobs Wasn't Malicious, He Was Just Trying to Get Things Done', Says IDEO's David Kelley
Frustrating iPad mini Apple Support Saga Chronicled
Gear Diary's Michael Anderson reports that just before Christmas he posted a rant about the support he was getting from Apple regarding an iPad mini WiFi issue when using the phone and Apple's online support systems – a problem that had lingered more than 2.5 weeks and was getting more frustrating by the day. Unhappily, after returning the iPad to Apple for service over Christmas, it was returned still not working on 2.4 GHz WiFi (it would work on 5 GHz).
After a torturous process of negotiation, Apple finally did replace Michael's Mini with a new machine that worked on his WiFi without issue and has continued to do so, proving that the problem was in fact a product defect and not a problem with his home network, which had been insinuated. He contends that non-retail customers are treated as second-class by AppleSupport, resulting in this particular issue taking four weeks to resolve, involving four shipments back and forth, and the only reason it got resolved was that Michael himself did the troubleshooting that Apple either would not or could not do on an issue that is apparently not uncommon, resulting in his being sent back the exact same defective iPad mini which was given minimal (and ineffective) testing without any repair three times before getting satisfaction, and that simply should never have happened. He observes that had the (very polite) Apple support people taken the time to Listen for and resolve any issues or concerns, they would've understood the situation, and a timely resolution could've been enabled.
Link: The Outcome of My iPad Mini Apple Support Saga
Office for iOS: Largely Irrelevant
Macworld's John Moltz turns turn back the clock to Macworld Expo Boston 1997 and the now-infamous Steve Jobs keynote in which Steve Jobs talked about how great it was that Apple and Microsoft had just committed to cross-licensing their patents and announced Microsoft's investment of $150 million in Apple and – a bigger deal for Mac users – Microsoft had committed to shipping Office for the Mac for five years. Moltz observes that lack of Office would have killed the Mac back in 1997, but that was then.
In 2013, by most accounts, Apple has more than half of the tablet market locked up, with most of the rest is occupied by Android or Android derivatives, and Office isn't available on either platform. Microsoft's Surface, the only tablet that carries a native version of Office, is selling sluggishly.
Moltz contends that in the last 15 years, Microsoft Office has gone from a must-have product to largely irrelevant to the success of the biggest product category in technology, mobile computing.
Link: Office for iOS May Be Coming, but Does It Really Matter?
How Chinese Users Charge Their iPads in Cold Weather
M.I.C. Gadget's Star Chang reports that China is experiencing unusually cold weather this winter, with the national average temperature hitting the lowest point in 28 years. The national average temperature had been 25¡F since late November, the coldest in nearly three decades. Consequently, Chang says Chinese Apple users find that they are having trouble charging their new iPads.
While staying indoors at a room temperature of 3-5¡C (37-41¡F), the cold weather will temporarily prevent the iPad's battery from holding a charge. Once you move the iPad to a warmer area, its battery will hold its charge normally. Chinese users are therefore trying out some unforeseen methods to add juice to their iPad, with the battery needing to be brought into moderate temperature conditions before charging. Chang says many Chinese Apple users are finding their new iPads are afraid of cold air and refuse to be charged, with the most common method to solve the problem being to put their iPads inside a warm bedsheet while charging, and some even using a hot water bottle to warm the back cover as well as using heaters, hair dryers and even their body heat to make their iPad stay warm.
Link: This Is How Chinese Charging Their New iPads in Extreme Cold Weather
Rumors of Books' Demise Greatly Exaggerated – Print Here to Stay
The Wall Street Journal's Nicholas Carr, author of "The Shallows: What the Internet Is Doing to Our Brains," maintains that traditional ink and paper book fans can take heart, because reports of the death of printed books may be exaggerated.
Carr points out that a 2012 survey found that just 16% of Americans had actually purchased an ebook, and that now half a decade into the purported ebook revolution, the outlook for traditional books is suddenly looking brighter with growth in ebook sales slowing significantly and e-reader purchases shrinking, as consumers opt instead for multipurpose tablets.
Carr suggests that rather than replacing printed books, ebooks will ultimately evolve into a role similar to that of audio books as a complement to traditional reading and not a substitute, citing a Pew Research Center survey released in December showing that while the percentage of adults who've read an ebook rose modestly from 16% to 23% during 2012, it also found that that fully 89% of regular book readers said that they'd read at least one printed book during the preceding 12 months, while just 30% reported reading even a single ebook in the past year.
How come? Carr fingers increasing popularity of iPads and other tablet computers that he notes offer a panoply of distractions from reading that weren't available with dedicated e-reader devices, and the fact that ebooks can't be sold or given away after they're read which may also be turning consumers off.
Link: Don't Burn Your Books – Print Is Here to Stay
Rumor Roundup
Apple Reportedly Planning to Shift Mac mini Production Line to the US
DigiTimes' Aaron Lee and Joseph Tsai say that Apple is reportedly set to move its Mac mini production lines back to the US with Foxconn Electronics (Hon Hai Precision Industry) to be responsible for handling establishment of the new domestic production facility, according to sources from the upstream supply chain.
Lee and Tsai note that Foxconn has about 15 operating bases in the US, and the company reportedly plans to start recruiting workers in 2013 for new automated production lines.
Link: Apple Reportedly Planning to Shift Mac mini Production Line to the US (subscription required)
Health Issues
Is Using an iPhone or iPad Causing You Physical Pain?
Macworld UK's Paola Bassanese, a massage therapist and wellness writer, notes that our increasingly symbiotic relationship with iPhones, iPads, and mobile texting and browsing can wreak havoc with our health, advising that if you've ever experienced pain, tension, pins and needles, and stiffness in your wrists, arms, shoulders, and neck, it's time to take action and rethink your relationship with your device.
Bassanese offers seven specific tips to help prevent pain while using your iPad or iPhone.
Link: How to Stop iPhone Neck and iPad Shoulder
The Hidden Health Hazards of Touchscreens
InfoWorld's Franklin Tessler, M.D., C.M, says distracted driving and walking aren't the only perils lurking behind touchscreen devices like iPads, iPhones, BlackBerrys, Windows Phones, and Androids.
Tessler observes that although they're not quite as dramatic, other touchscreen-oriented health hazards are even more insidious because most people aren't even aware they exist. He notes that ergonomic risks are nothing new to computer users, with laptops and netbooks presenting their own health-related problems, but the ascendency of the touchscreen brings with it new kinds of health hazards and more usage in risky scenarios.
Editor's note: There's a ton of interesting information about computer ergonomics and health risks in this article, which is probably the best and most comprehensive I've encountered on the topic. cm
Link: The Hidden Danger of Touchscreens
Tablet-Related Injuries on the Rise
Tablet computers were one of this year's top Christmas presents, but physiotherapists warn long hours touchscreening pose posture and stress dangers. For example, office workers in Wales are putting their mental and physical health at risk by working more than two hours extra each night at home, a new survey for the Chartered Society of Physiotherapy (CSP) reveals.
Nearly two thirds (64%) of office workers polled in Wales for the CSP said they continued working on smartphones and other devices after they left the office, and spent an average of two hours 42 minutes doing so.
The main reasons cited for doing extra work were to 'ease the pressure of the working day' (32%) and 'want to keep up to date 24/7' (32%), and 'too much work to do' (33%). An alarming 66% of those surveyed reported suffering job-related ill health such as headaches and back pain, and the CSP warns that poor posture when using smartphones and other mobile devices – which many people do their additional work on – can lead to back and neck pain, with fewer than one in four people telling the researchers that they considered their posture when looking at screens outside of work. Long hours can also contribute to stress-related illness.
Link: Shock Poll Results Show 'Screen Slaving' Workers in Wales Putting Their Health at Risk
The Competition
iPad Left Behind as Rival Tablets Get Multiuser Support
Want to loan your tablet to a child or friend but don't want to provide access to all your data? Cnet's Danny Sullivan reports that Windows, Android, and even Amazon tablets make it easy, but Apple's iPad has some catching up to do.
Link: iPad Is Left Behind as Rival Tablets Get Multiuser Support
NPD DisplaySearch: Tablet Market Forecast to Surpass Notebooks in 2013
PR: Tablet PC shipments are expected to reach more than 240 million units worldwide in 2013, easily exceeding the 207 million notebook PCs that are projected to ship, according to NPD DisplaySearch's Quarterly Mobile PC Shipment and Forecast Report. In a market that has been dominated by one major player, Apple, shifting market dynamics are creating the opportunity for a greater variety of choices, which NPD predicts will drive shipment growth in 2013 to 64% Y/Y.
The report notes that rapid development and adoption of new screen sizes is allowing both large and small brands to gain market traction in all regions and create new demand for tablet PCs. The tablet market has been led by Apple's 9.7″ iPad, but in 2013 a new class of small tablets will take over the market. Tablet PCs with 7″-8″ screen sizes are expected to account for 45%, or 108 million units of the market in 2013, overtaking the 9.7″ size which will account for 17% share, or about 41 million units.
As the variety and demand for new screen sizes increases, and so will market growth in emerging markets. Having passed EMEA in 2012 to become the second-largest market for tablet PC shipments, China is projected to have 27% of the global tablet market in 2013 with shipments of 65 million units, driven by small local brands. However, North America will remain the largest market with a 35% share (85 million units) in 2013. In both China and North America, tablet PC shipments surpassed notebook PC shipments in 2012.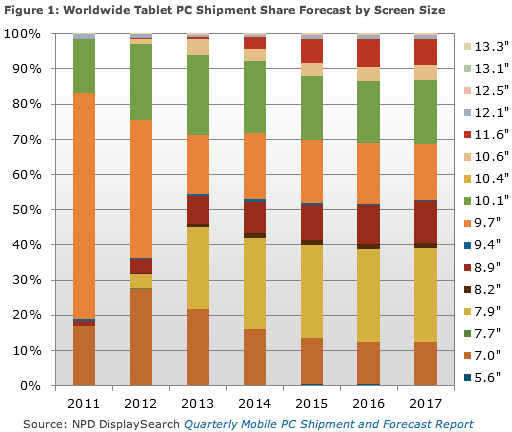 Notebook PC shipments have been slowed by declining demand worldwide, reaching even emerging markets where low penetration rates could have stimulated demand. However, increasing tablet PC adoption is stymieing notebook PC growth NPD says. The second half of 2013 may provide a respite as new processors aim to bring more tablet PC-like features, such as instant on, all-day battery life, and sleek form factors, to notebook PCs.
"The tablet PC market saw increasing investments in North America in the second half of 2012, from major brands that tested not only new screen sizes and price points, but also unconventional business models to support their efforts. The subsequent increase in shipments and demand underscored the benefits of segmentation in the market as it drove rapid market expansion," says Richard Shim, senior analyst with NPD DisplaySearch. "In 2013, further investments are expected worldwide, stoking demand to the point that tablet PC shipments will exceed those of notebook PCs."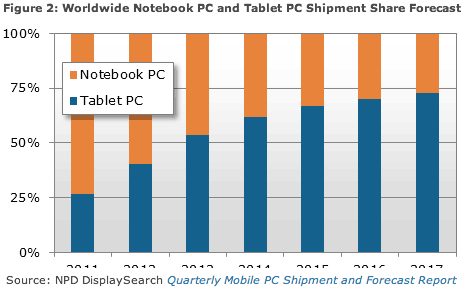 The DisplaySearch Quarterly Mobile PC Shipment and Forecast Report covers the entire range of mobile PC products shipped worldwide and regionally. With analysis of global and regional brands, the Quarterly Mobile PC Shipment and Forecast Report provides an objective, expert view of the market with insight into historical shipments, revenues, forecasts and more. For more information about the report, contact Charles Camaroto at 1.888.436.7673 or 1.516.625.2452, e-mail contact@displaysearch.com or contact your regional DisplaySearch office in China, Japan, Korea or Taiwan.
For more information on The NPD Group's latest market research, including its recent press release on the company's Consumer Electronics Holiday Sales Report, visit: http://goo.gl/LBkzO
Link: Tablet PC Market Forecast to Surpass Notebooks in 2013, NPD DisplaySearch Reports
First African-Designed Tablet and Smartphone Released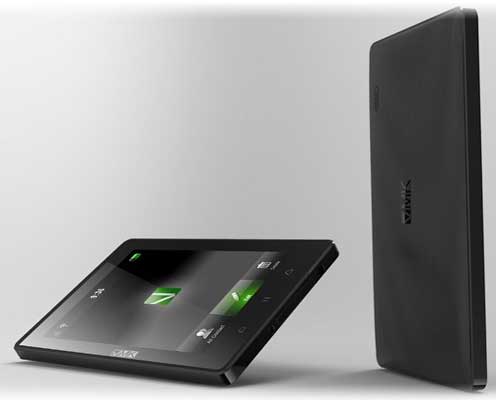 SmartPlanet's Dave Mayers reports that VMK, based in the African Republic of Congo, is offering the world's first African designed mobile consumer electronics products, its Way-C tablet and Elikia smartphone.
The Way-C is roughly the size of Samsung's Galaxy Tab, measuring measures 7.4″ x 6.7″ x 0.5″ and weighing 13.4 ounces. WiFi connectivity and 4 GB of internal memory come standard, and selling for $300, it's cheaper than the iPad mini.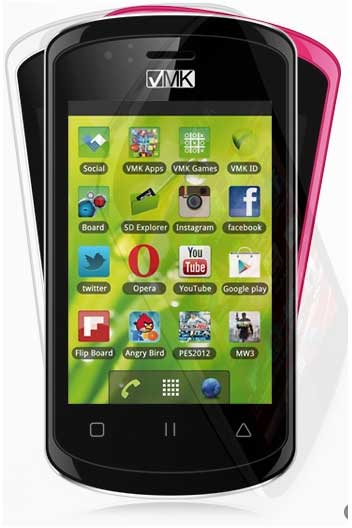 The Android-based Elikia has a 3.5″ display, rear and forward facing cameras, 512 MB of RAM, a 650 MHz processor, and retails for $170 without a contract.
Both products are manufactured in China, and Coleman observes that much of the marketing behind the Elikia and the Way-C appear to flatter Apple's marketing of its counterpart products.
Link: First African-designed Smartphone and Tablet Hit Market
A Tablet Computer, from Congo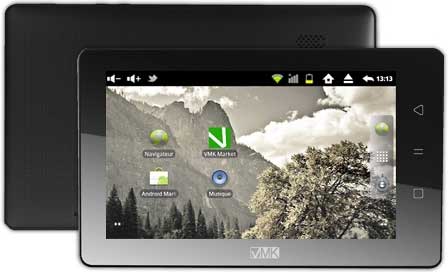 The South African TechCentral site notes that Congo-Brazzaville – based VMK's Android tablet is the first tablet computer designed and engineered on the African continent, with a 1.2 GHz processor, 512 MB of RAM, 4 GB of internal memory, and WiFi support, and running version 2.3.3 of Google's Android operating system with a distinct user interface called Kongo.
According to VMK CEO Vrone Mankou, who is cited explaining that while VMK tried to keep its tablet as African as possible, it couldn't be assembled there, so that part of the process has been outsourced to China, and that while the VMK tablet is designed for emerging markets, it will be available globally.
Link: A Tablet Computer, from Congo
Microsoft Surface vs. iPad: Which Is Winning?
Fairer Platform notes that with Christmas behind us, only the final tallies are left to ponder, and in the competition between Microsoft Surface and Apple's iPad, the winner isn't in question – only the iPad's margin of victory, leaving little question that the first round of the Microsoft Surface vs. iPad battle clearly goes to Apple.
Link: Microsoft Surface vs. iPad: Winning?
Lenovo Pioneers 'Interpersonal Computing' with Company's First Table PC
PR: Lenovo has announced the IdeaCentre Horizon Table PC, the company's first "interpersonal PC," a multi-user, multitouch, multimode device for the home that allows users to turn their personal computing experience into a shared computing experience.
As a Table PC, Horizon can lie flat on any surface, lets two or more people use the screen at the same time, supports interactive physical gaming accessories and is designed for touch screen game-play among several players. Horizon takes advantage of Windows 8 touch functionality to bring customized games from Electronic Arts and Ubisoft to life in a way players have never seen before. Horizon can also easily transform into a 27″ high-performance desktop to handle whatever productivity tasks users need to do.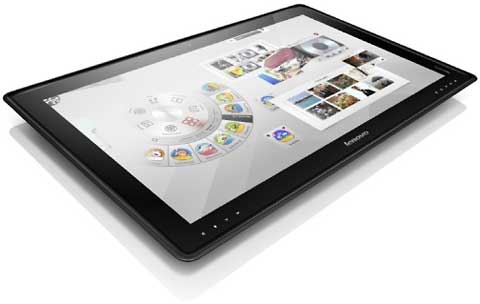 At the 2013 International Consumer Electronics Show this week, Lenovo is demonstrating a large 39″ widescreen Table PC, code-named "Gamma." While still an early concept, Gamma illustrates the outstanding multi-user entertainment experiences such a large screen can provide and is indicative of Lenovo's future direction in Table PC computing.
We've seen technology shifts across the four screens, from the desktop to the laptop, tablet and smartphone, and yet, while people have more computing power than ever before, there is still room for technologies like Horizon that bring people together. Horizon makes personal computing interpersonal computing with shared, collaborative experiences among several people, said Peter Hortensius, president, Product Group, Lenovo. Now many people can enjoy different photos, music and video on the same screen, and they can play games with our special accessories that blend physical and digital interaction. Horizon reflects our commitment to delivering the innovative products that define the PC Plus era.
A Table PC for the Home
Horizon unleashes the power of Windows 8 and brings multiplayer games to life with its gigantic screen, dynamic graphics and 10-finger touch. It comes with a special set of accessories including an e-dice and four joysticks and strikers to offer a completely new digital gaming experience that combines the physical gaming accessory with the onscreen action. For the player, the action is part physical, part digital – an activity that Lenovo refers to as "phygital."
The Horizon Table PC includes Lenovo App Shop, a dedicated apps store powered by Intel AppUp giving users access to 5,000+ multi-user entertainment apps. Horizon also comes with exclusive access or package of preloaded gaming and educational apps from industry leading vendors including Electronic Arts, FableVision, Open Labs, Ubisoft, FilmOn TV and hundreds of top games and apps from BlueStacks so players of all ages can:
Become a real estate tycoon in a modern take on the classic MONOPOLY
Maneuver the Lenovo joystick uniquely customized for FishingJoy and Raiding Company
Discover, download and run chart-topping phone and tablet apps on the Horizon Table PC powered by BlueStacks
Challenge friends and family to race their way to the finish line in Draw Race 2 HD
Vie to grab the spotlight and be crowned King of the Opera
Create music and songs like Grammy-award winning artists do with Stagelight
Access more than 120 streaming TV channels on FilmOn TV
Enjoy painting and coloring in the Paint, Color Corner app or play contest games in Lenovo Best Guess
With Horizon's smart hinge system, users can easily lay it flat and in so doing, the Lenovo Aura multi-user, multitouch interface (UI) will automatically activate. This simple UI lets families play, learn or enjoy multimedia content together on one screen. Aura also serves as a great way to launch preloaded gaming and educational apps or download new ones from the online app store.
In addition, Horizon performs beautifully as a family's main all-in-one desktop for work and play. Its impressive large backlit screen can be seen from virtually any angle and its NVIDIA GeForce graphics make content look gorgeous with smooth and seamless video playback, eye-popping graphics and heart-pounding Dolby Home Theatre v4 audio. To support such a command performance, Horizon is powered by Intel Core i7 processors.
As an option, Horizon offers a moveable and space-saving Horizon Multimode Table. This adjustable table allows users to change the angle and height position of the Table PC, from lying flat to a straight-up, 'wall-like mount' at 90 degrees. Lenovo offers an array of protection services for the Horizon Table PC, including In-Home Warranty upgrades for service at the owners home or business and up to three years of warranty coverage. Additionally, Lenovo Premium Supports expert technicians are available when needed with convenient over the phone or remote session support from the comfort of home.
The IdeaCentre Horizon Table PC will be available beginning in early summer through Lenovo business partners and lenovo.com. Prices start at approximately $1,699.
Apps & Services
Keep Your iPhone or iPad Running Efficiently with SYSTEM UTIL Dashboard
PR: AppHome has announced SYSTEM UTIL Dashboard 1.0 for the iPhone and iPad. SYSTEM UTIL Dashboard is a new system monitoring tool that lets users see how they're utilizing device disk space, device CPU, data connections, and battery from a single intuitive hub. Its dedicated usage monitoring modules make everything available to users for review at a glance, and with six uniquely categorized modules: Battery, Memory, CPU & Processes, Disk, Network, and General.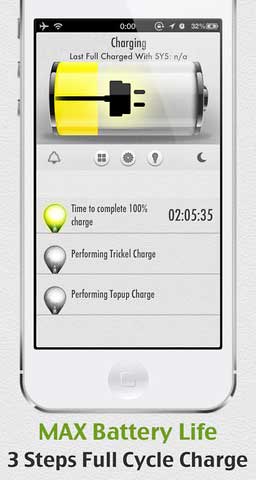 Compatible with all iPhone and iPad models, this intuitive system monitoring tool gives users the power to see how they're utilizing disk space, device CPU, data connections, and battery from a single easily navigable hub. To celebrate its live rollout, AppHome has also announced a limited time promotion on SYSTEM UTIL Dashboard that will see the app's price drop from $1.99 to $0.99 for a limited time. SYSTEM UTIL Dashboard is currently available for download in the App Store's Paid Utilities category.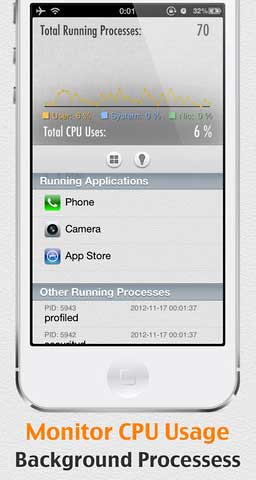 Knowledge is power, and this mobile tool gives users just that. Knowledge of how their iOS device is running, how it's utilizing its power and computing capabilities, in turn giving them the power to adapt and use it in ways geared to unlock its full potential. SYSTEM UTIL Dashboard's dedicated usage monitoring modules make everything available to users for review at a glance, and with 6 uniquely categorized modules included – Battery, Memory, CPU & Processes, Disk, Network, and General – every component of their iOS device is covered.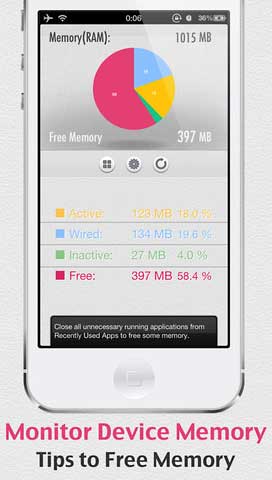 Unlike intrusive "performance boosting" apps that interfere with and wantonly augment how users' phones and tablets run, SYSTEM UTIL Dashboard is designed to give users a window into their devices inner workings. Every module can be opened to reveal specific statistics, battery life, which apps are running and which ones are eating up memory, which files are cluttering up disc space, how fast Internet connectivity is, and more. It's all presented via an interface that takes seconds to breeze through, complete with graphs to help it all sink in seamlessly. Don't let your iPhone or iPad get cumbersome, get yourself back in the driver's seat with the help of SYSTEM UTIL Dashboard for iOS.
Device Requirements:
iPhone 3GS, 4, 4S, iPhone 5, iPod touch (3/4/5 gen) and iPad
Requires iOS 5.0 or later
12.5 MB
For a limited time, SYSTEM UTIL Dashboard 1.0 is 99¢ (or equivalent amount in other currencies) and available worldwide exclusively through the App Store in the Utilities category.
Link: SYSTEM UTIL Dashboard
Car Town Streets: Find, Build, and Race With All Your Favorite Cars
PR: In Cie Games' Car Town Streets, players find, build, and race with all their favorite cars, joining the game's virtual host Roxy in her quest to restore Car Town to its former glory when autos ruled the streets. Players can also form teams and compete in head-to-head race battles for ultimate victory.
Car Town Streets Features:
Explore and find over 60 of your favorite cars.
Tune up your fleet of cars and form the best teams to defend against rivals.
Restore cars in your garage.
Design your town with a variety of roads, businesses, and shops.
Visit and send gifts to Game Center and Facebook friends.
Upgrade your cars with a wide selection of parts.
Make your cars work for you doing fun stuff like delivering pizza.
Name your cars with custom license plates.
Watch movies at the drive-in theater.
Service your cars at your own tire shops, gas stations, and car washes.
Special Content:
Build out tracks for a Hot Wheels loop-de-loop and live out daredevil thrills
Take a ride in the Ecto-1 vehicle and visit the Ghostbusters headquarters.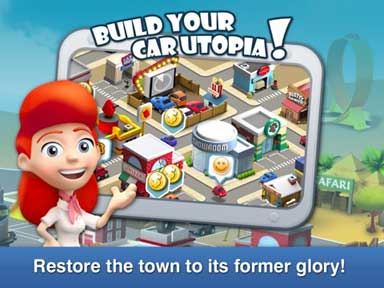 Car Town Streets features cars by over 35 licensed manufacturers, including: Acura, Alfa Romeo, AMC, Aston Martin, BMW, Buick, Chevrolet, DMC, Dodge, Dodge Ram, Fiat, Ford, Honda, Jeep, Lamborghini, Lancia, Land Rover, Mazda, McLaren, Mitsubishi, Nissan, Opel, Pagani, RAM, smart-for-two, Subaru, Toyota, Volkswagen, as well as discontinued marques Plymouth, Pontiac, Hummer, Humvee, and Willys.
Car Town Streets is completely free-to-play, but some game items can also be purchased for real money. If you don't want to use this feature, simply disable in-app purchases.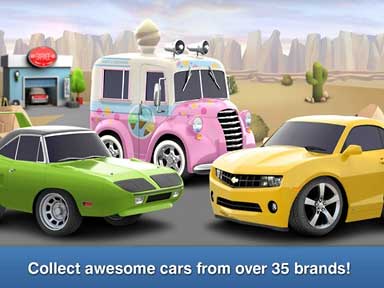 Car Town web players should also note that this game does not connect to your existing web city. Car Town Streets is an all new mobile game.
New in Version 1.1.4
The new build includes loading time optimization and resolves several memory-related crash issues.
There are additional minor tweaks and updates for improved overall performance.
System requirements:
Requires an Internet connection to play and is compatible with iPhone, iPod touch, and iPad.
Requires iOS 4.3 or later.
Link: Car Town Streets
Convert Your Discs to Digital with Walmart Entertainment's Disc-to-Digital Program

PR: With Walmart Entertainment's Disc-to-Digital program, you can now store your Blu-ray discs and DVDs in the Cloud, and enjoy the convenience of watching your movies without your discs. You'll get to:
Stream directly to your VUDU-enabled devices such as iPad, computer, Xbox 360, PlayStation 3, Blu-ray player, and HDTV
Upgrade your DVD titles to HDX(*) and enjoy the best cinema experience
Safeguard your movies by storing them in the cloud forever and future-proof your collection
As an added benefit, the VUDU service is now UltraViolet compliant. UltraViolet is a new industry standard for storing your movies in the cloud. All Disc-to-Digital titles and movies(*) you own on VUDU will now be UltraViolet compatible.
How much does it cost to convert a DVD or Blu-ray disc to digital and add it to my UltraViolet and VUDU account?
$2 per DVD to convert to Standard Definition (SD)
$2 per Blu-ray disc to convert to High Definition with Dolby Digital Plus Surround Sound (HDX)
$5 per DVD to convert and upgrade to HDX
UltraViolet is a new industry standard that allows you to store your movies securely in the cloud. It keeps a permanent record of all your movie purchases so you can build your digital movie collection safely and securely. With UltraViolet, you can now easily access your movies any time, any place on your favorite connected devices, including your TV. VUDU is the first and only company to offer thousands of titles in UltraViolet accessible across millions of VUDU-enabled devices.
Disc to Digital is an UltraViolet program backed by many of the world's leading entertainment and technology companies and offered by Walmart. Creating a free UltraViolet account is a necessary step to initiate the Disc-to-Digital program. Once you create your UltraViolet account, any movies from participating studios that you purchase electronically on VUDU, including any past purchases, will be automatically registered within your UltraViolet account at no extra charge to you. You will also be able to redeem UltraViolet e-copies offered with select DVDs and Blu-ray discs offered by participating studios.
You can stream and download any UltraViolet movies using VUDU, at no extra charge to you, regardless of where they were purchased, provided that: 1) you have registered those movies in your UltraViolet account and 2) VUDU has a licensing relationship with the participating studio or distributor.
Why aren't all of my movies available for Disc-to-Digital conversion?
The list of movies available for Disc-to-Digital conversion is comprised of titles that have been legally cleared for digital distribution from studios participating in the UltraViolet program. We expect the number of titles available for Disc-to-Digital conversion to grow over time.
If you purchase a movie to own on VUDU, as long as the movie is available for UltraViolet redemption and your VUDU and UltraViolet accounts are linked together, the title should be added and accessible through both your UltraViolet and VUDU account. Look for the UltraViolet logo to see if a movie is UltraViolet-compatible. There is no cost for watching your UltraViolet movies using VUDU.
Studios supporting UltraViolet include Paramount Home Media Distribution, Sony Pictures Home Entertainment, Twentieth Century Fox Home Entertainment, Universal Studios Home Entertainment and Warner Bros. Home Entertainment.
Link: Walmart Entertainment's Disc-to-Digital
Accessories
Smartphone Controlled Bluetooth Smart Wireless Intelligent LED Light Bulb
PR: Smart Home Labs has introduced the RoboSmart wireless LED lighting system that enables smart lighting control via your smartphone, tablet. or computer over Bluetooth Smart wireless. The wireless LED light bulb is available for preorders on the world's largest open-funding platform IndieGoGo.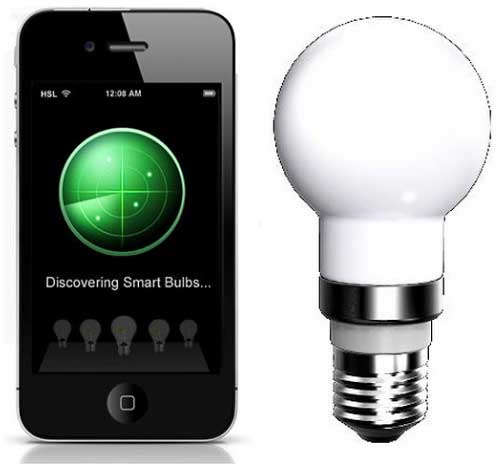 RoboSmart Light Bulb is an energy efficient Bluetooth Smart enabled LED light bulb, which can be simply controlled from any Bluetooth Smart enabled Mobile device, with customizable apps for both iOS and Android.
The unique combination of energy efficient LED design and Bluetooth communications allows anyone the freedom to fully customize control of their home lighting, not previously possible with standard LED bulbs.
Harnessing the company's RoboSmart technology allows for total control over the brightness, timer functionality and proximity modes. The key to this unique control is the marriage of smart electronics within the LED light bulb.
Every RoboSmart Light Bulb utilizes Bluetooth Low Energy (Bluetooth 4.0) as the wireless connection to the on board processor, real time clocks and memory.
Installing the RoboSmart Light Bulb is as easy as screwing in a light bulb and installing the Smart Lights App on your smartphone.
Control of the RoboSmart Light Bulb can be as easy as programming a timer and letting the processor do the rest (leave it and forget it) for fully automatic time based on and off times, scene lighting and proximity detection.
Each mode lends the RoboSmart Light Bulb to multiple locations within your home. Control options can be enabled, such as having your lights slowly turn off after departing the garage, to unique proximity lighting where the Smart Lights App can tell when you're nearby and turn on and off one or more RoboSmart Light Bulb as you move within range, a typical scenario for your porch or driveway light. Users can utilize their standard light switches to turn on the RoboSmart Light Bulb with a preset brightness settings. The RoboSmart Light Bulb can also be controlled from multiple Bluetooth enabled smartphones, providing custom features to each user.
The highly energy efficient Robolight is claimed to easily pay for itself many times over in energy savings, looks just like a traditional incandescent bulb, provides high power LED illumination, along with the flexibility of wireless home automation from your smart phone.
Additional features and capabilities include:
Each RoboSmart Light Bulb can be assigned a unique light, group and room name by the free Smart Lights App for easy identification.
Warm white light 2700K or 3000K at 480 and 800 Lumens
Fully dimmable attractive design with omni-direction light dispersion.
Full Automation: RoboSmart Light Bulb has 100 levels of brightness, can turn on or off, or run programs at set dates and times based on your scheduling preferences.
Proximity and Indoor Location: RoboSmart Light Bulb can tell when you arrive and when you leave. They can follow you around the house, automatically turning on and off as they sense you approach or depart.
Lighting for information at a glance
RoboSmart Light Bulb can alert you to important information, such as important emails or social media messages.
The Smart Lights App allows multiple RoboSmart Light Bulb to be grouped together for simultaneous control, allowing the production of any light scene combination.
Power Monitoring
RoboSmart Light Bulb reports power consumption for periodic reporting
Federal legislation is mandating a phasing out incandescent bulbs by 2014, both business and consumers will require an equivalent replacement bulb. Smart Home Labs is proud to offer our retail and business customers the best intelligent LED light bulb on the market.
Publisher's note: RoboSmart Light Bulbs sell for $49 each or four for $160.
Link: RoboSmart Light Bulb
1 TB Seagate Wireless Plus Mobile Storage: Now You Really Can Take It All with You
PR: Seagate Technology plc has announced the next evolution of the company's wireless storage category, Seagate Wireless Plus mobile device storage, at the 2013 Consumer Electronics Show. Designed to wirelessly stream content for up to eight smartphones or tablets with enough space for up to 500 high-definition movies, this new wireless hard drive will extend the limits of today's mobile lifestyle.

The new Seagate Wireless Plus now also includes a 10-hour battery life to match that of most tablets and smartphones. With the integrated 1 TB drive, you'll have all you need to be entertained anywhere including long road trips or flights without an Internet connection.
Seagate Wireless Plus mobile device storage is accessed through the mobile Seagate Media app for Apple iOS, Android, and Kindle Fire HD devices. The Seagate Media app has been developed for all major mobile devices, including Android, Kindle Fire HD, Apple iOS, and will also work with just about any device that can connect to a WiFi network. Additionally, you can use Wireless Plus to enjoy video, photos, music, and even documents on the big screen via Apple Airplay, DLNA, or an app designed specifically for Samsung Smart TVs and Blu-ray players.
Seagate created this new category of wireless storage devices in 2011 to address consumers desire to enjoy more content than tablets and smartphones can hold with their limited storage. A CES 2013 Best of Innovations Award Winner, the new Seagate Wireless Plus includes a new option to save content and files to the drive wirelessly through the new Seagate Media app. For the first time, consumers will be able to enjoy capturing a great HD video on their iPhone and then wirelessly uploading it, in full resolution, to Wireless Plus with its 1 TB of storage.
"Smartphones and tablets offer amazing new opportunities for Seagate to provide new consumer storage solutions in an increasingly mobile world," says Scott Horn, vice president of marketing at Seagate. "Seagate developed the concept of wireless storage to consumers with the freedom to enjoy their documents, movies, photos, and music anywhere in the world, especially when they can't connect to the Internet. Seagate Wireless Plus builds on the success of our first-generation product and takes it even further."
The new 1 TB wireless drive comes with a removable SuperSpeed USB 3.0 adapter for quick loading of photos, video, music, and even documents. Fill it up and go for true anywhere access of all your favorite entertainment or much needed work-related files anywhere. Because the Wireless Plus creates its own WiFi network, there is no need to stream or download your content from the Internet or to spend money on a data plan. Everything is with you, where you want it, when you need it with a secure and wireless connection.
"Less than half of US mobile phone users are highly satisfied with the storage of their mobile phone, and almost 20% are dissatisfied with their mobile storage capacity," observes Brett Sappington, Director of Research at Parks Associates. "As consumption of video on smartphones and tablets continues to grow, consumers will seek the best ways to get content to their mobile device without eating up all of the data in their monthly service plan."
Seagate Wireless Plus mobile storage is currently available from Amazon and BestBuy.com, for an MSRP of $199.99.
Link: Seagate Wireless Plus (preorder for $199.99 from Amazon.com)
Belkin FastFit and Convertible Keyboard Cases for iPad
PR: Belkin is showcasing the newest additions to its award-winning lineup of iPad keyboard cases, the FastFit and Convertible Keyboard Cases for iPad, at the 2013 International CES in Las Vegas.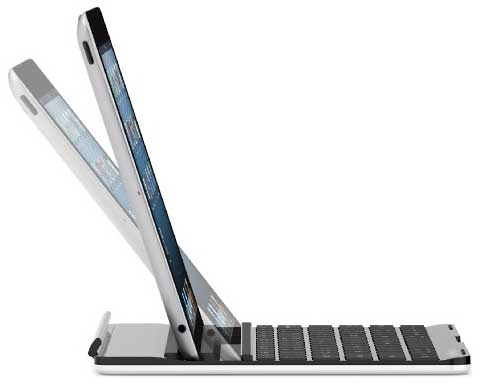 The new cases – along with Belkin's Ultimate Keyboard Case and full line of iPad and iPad mini accessories – are on display at Belkin's booth in the South Hall of the Las Vegas Convention Center until January 11.
Belkin's new FastFit keyboard is a compact and affordable all-in-one keyboard solution. Featuring the Belkin's TruType keys and two viewing angles for optimal comfort, the laptop-style keyboard allows you to type fast with fewer errors. It also converts into a cover, snapping securely to your iPad's frame to protect the screen from scratches and scuffs.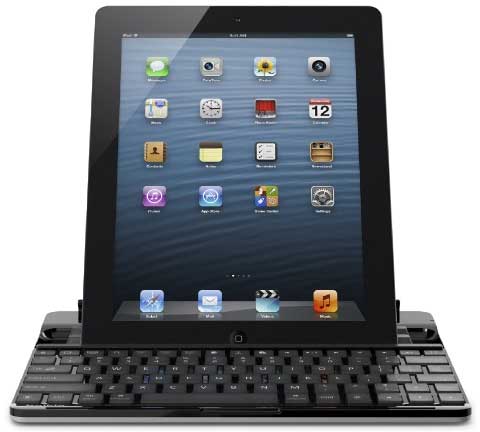 The Belkin FastFit Keyboard (F5L141) – $79.99
Well-spaced, TruType keys for comfortable, laptop-like typing experience
Integrated Keyboard Cover and screen protection
Auto-awake magnets wakes up your iPad when opened
2 Viewing Angles for optimal comfort, each with portrait and landscape viewing modes
60 hours active battery life, 2,000 hours standby battery life
Rechargeable using micro USB cable
Durable construction protects your iPad
Sleek design to minimize bulk
Compatible with iPad 2, 3rd and 4th Generation iPads
The Belkin Convertible Case for Apple Keyboard is claimed to be the only case specifically designed to hold both your iPad and Apple wireless keyboard. It folds into a stand for ergonomic typing and viewing and its strong, adhesive pads keep both the iPad and keyboard secure in one sleek case for protection and portability.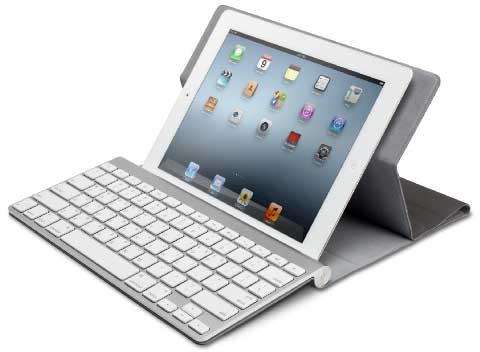 Convertible Case for Apple Keyboard (F7N045) – $49.99
Slim, lightweight and portable
Comfortable viewing angle
Super-strength adhesive pads
Aluminum smart clip snaps on to keep everything in place
Durable fabric construction in three colors, black, gray and red
Sleek design to minimize bulk
The Belkin FastFit Case and Convertible Case will be available in January 2013 at Belkin.com and select retailers nationwide.
Impecca Eco-friendly Bamboo Bluetooth Keyboard for iPads, Android Tablets, and Smartphones
PR: Impecca has launched their new Bluetooth Bamboo Keyboard for tablets, iPhones, and other Bluetooth devices. The newest addition to Impecca's elegant environmentally sustainable green line of bamboo computer accessories – and claimed to be the first bamboo computer products available in the market. The Impecca Bluetooth Bamboo Keyboard is created for eco-conscious consumers. Inlaid with bamboo, the keyboard will harmonize nicely with professional offices, at home, school, or anywhere a natural looking work environment will be appreciated.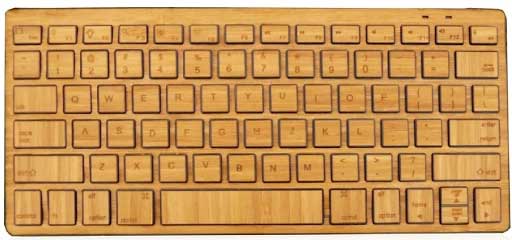 The Bamboo Keyboard includes a fixed bamboo panel on its bottom rear that automatically positions it in the forward raked orientation many users prefer, and conforms to standard QWERTY keymapping plus an assortment of special hot keys. It is compatible with iPads, Android tablets, netbooks and other Bluetooth-enabled mobile devices.
Impecca Bluetooth Bamboo Keyboard Features:
Lightweight wood-themed keyboard.
Available in natural bamboo color.
Green product – environmentally friendly.
Wireless through long-range Bluetooth up to 33 feet (10 meter).
Bamboo covered with solid metal construction.
Compatible with platforms including Android, Surface, Kindle, Nexus, iPad, Android tablets, smartphones and other Bluetooth-enabled mobile devices.
Designed for ergonomic comfort.
"Impecca believes its important to incorporate environmentally sustainable elements in our products," says Impecca president John Bock. "We believe consumers also like buying environmentally friendly products, especially when they are unique and aesthetically appealing."
The Bluetooth Bamboo Keyboard will be exhibited for the first time at the Consumer Electronics Show (CES), held January 8-11, 2013 in Las Vegas, Impecca Booth #30935, South Hall.
The Impecca Bluetooth Bamboo Keyboard is priced at $99 MSRP, and will be available February 2013 at impeccausa.com and major retailers.
Presentation & Protection
Incipio Unveils iPhone 5 Atlas Waterproof Ultra-Rugged Waterproof, Dustproof, Drop and Shockproof Case
PR: Incipio has unveiled the highly anticipated iPhone 5 Atlas Waterproof Ultra-Rugged Case for launch at AT&T stores nationwide and online next month. The first of its kind for the brand, Incipio's innovative Atlas case is waterproof, dustproof, drop and shockproof, and includes a simple to use App and water damage warranty.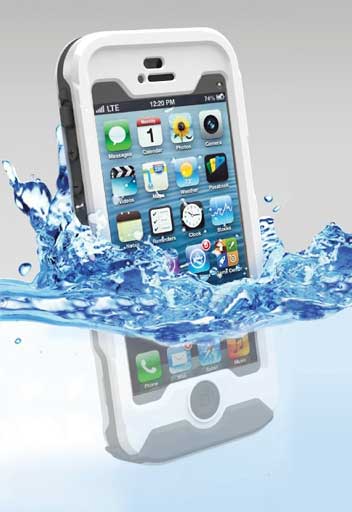 Precision engineered with a co-molded Plextonium ergonomic space frame design, impact resistant Flex2O soft shell detailing and complete waterproof enclosures, the Atlas case provides the utmost protection for the mobile device while maintaining complete access to all ports, buttons and controls. The cases tempered glass covers the iPhone 5 screen to provide optical clarity and protection against harsh conditions and rough environments. Ergonomically designed sidewalls for added grip, the Atlas case is amazingly slim and sleek despite its added layers of defense.
Incipio's ruggedized case is perfect for adventure anytime, anywhere, with waterproof gaskets for your charging port and headphone jack. The Atlas case is waterproof up to 2 meters (6.56 feet) for 1 hour, meets USA Military standards of protection, and has a full IP-68 rating against water and dust.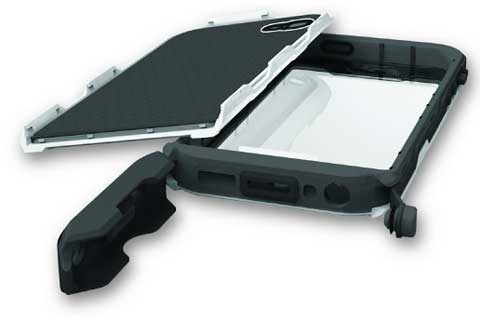 "We have been delivering dependable protection for mobile devices for over 13 years and are thrilled to announce this revolutionary, multifunctional case for AT&T customers," says Andy Fathollahi, Chief Executive Officer of Incipio. "It was important for us to develop a case that users can enjoy even in the most rugged conditions."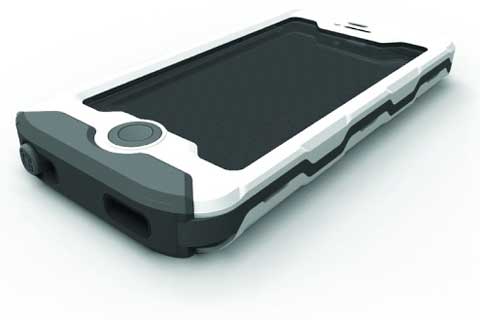 iPhone 5 Atlas Waterproof Ultra-Rugged Case includes user-friendly instructions and a simple to use App that allows users to complete warranty registration in a matter of minutes and store a copy of their receipt for convenient future access. The Atlas case comes with the Incipio Atlas One Year Limited Warranty against water damage.
The Atlas case launches next month at AT&T stores nationwide and in a variety of color combinations, including Black/Grey, White/Grey, and Pink/Grey.