Although the iPhone 5 had been a runaway success, there were some problems with the case bending, as well as battery issues with units built through January 2013 (see the iPhone 5 page for more details). The iPhone 5C was designed to address bending with its thicker plastic polycarbonate enclosure.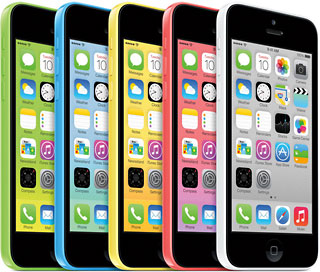 The 5C was essentially the iPhone 5 in a new enclosure, with five color options: white, pink, yellow, blue, and green. The 5C is slightly larger, so iPhone 5 cases will not work with it, and about 2/3 ounce heavier. It also has a higher capacity battery.
When the iPhone 6 and 6 Plus were introduced, Apple discontinued the higher capacity 5C models and released an 8 GB version as the "free with contract" iPhone.
Over 9 million iPhone 5S and 5C units were sold over their first weekend on the market.
Apple decided to have some fun with the new colors and produced six different "cutout" cases using the five iPhone 5C colors plus black. The cases have round cutouts to show the color of the phone contrasted against the color of the case, which can look quite good at first glance. But at second glance, you see the writing on the back of the iPhone poking through some of those holes.
The 16 and 32 GB versions of the iPhone 5C were discontinued in September 2014, and a new 8 GB 5C was introduced as the new entry-level iPhone. It was discontinued in September 2015, when the iPhone 5S became Apple's low-end smartphone.
Hardware Overview
Models
Announced: 2013.09.10 and available 2013.09.20 at $199 (16 GB) and $299 (32 GB) with a two-year wireless contract. ($549 and $649 respectively without contract.) 8 GB model added 2014.03.18 in select markets, later became entry-level iPhone.
Included accessories: earbuds, lightning cable
Code names: N48, N49
Identifier: iPhone5,3 (GSM/CDMA), iPhone 5,4 (CDMA)
Model number: A1532 (North America), A1456 (US & Japan), A1507 (UK & Europe), A1529 (Asia & Oceania)
Product numbers

GSM NA: MD634 (16 GB black), MD635 (16 GB white), MD636 (32 GB black), MD637 (32 GB white), MD644 (64 GB black), MD645 (64 GB white)
GSM Int'l:
GSM & CDMA, Sprint: MD656 (16 GB black), MD657 (16 GB white), MD660 (32 GB black), MD661 (32 GB white), MD667 (64 GB black), MD668 (64 GB white)
GSM & CDMA, Verizon: MD654 (16 GB black), MD655 (16 GB white), MD658 (32 GB black), MD659 (32 GB white), MD664 (64 GB black), MD665 (64 GB white)
Technology
CPU: 1.3 GHz dual-core Apple A6
RAM: 1 GB
Architecture: 32-bit
Graphics engine: 3-core PowerVR SGX543MP3
Display: 4.0″ 640 x 1136 pixel 24-bit multitouch screen @ 326 ppi
Cameras

rear: 8.0 MP autofocus with LED flash, 1080p video
front: 1.2 MP FaceTime camera

Sensors: proximity, ambient light, 3-axis gyroscope, accelerometer, assisted GPS, compass, Nike+iPod
Performance
Geekbench, single core: 708
Geekbench, multicore: 1272
Connectivity
I/O port: Lightning
WiFi: 802.11b/g/n (2.4 GHz and 5.0 GHz)
Bluetooth: 4.0
Networks:

GSM NA: UMTS/HSDPA+/CD-HSDPA (850, 900, 1900, 2100 MHz or 850, 900, 1700, 1900, 2100 MHz), GSM/EDGE (850, 900, 1800, 1900 MHz), LTE (Bands 4 and 17)
GSM Int'l: UMTS/HSDPA+/CD-HSDPA (850, 900, 1900, 2100 MHz, GSM/EDGE (850, 900, 1800, 1900 MHz), LTE (Bands 1, 3, and 5)
GSM & CDMA: CDMA EV-DO Rev. A and B (800, 1900, 2100 MHz), UMTS/HSDPA+/CD-HSDPA (850, 900, 1900, 2100 MHz, GSM/EDGE (850, 900, 1800, 1900 MHz), LTE (Bands 1, 3, 5, 13, and 25)

Data:
GPS: Infineon PMB2525 assisted by EDGE, 3G, and WiFi
Power
Battery: 1507 mAh lithium ion
Charge time: about 4 hours (2 hour fast charge to 80% capacity)
Battery life:

Talk: up to 8 hours
Standby: up to 225 hours
Internet: up to 8 hours on 3G, 10 hours on WiFi
Video: up to 10 hours
Audio: up to 40 hours
Compatibility
Original OS: iOS 6
Maximum OS: current
iTunes Versions: iTunes 11.1 and later.
Mac OS Required: OS X 10.6.8 or later
Windows Versions Supported: 7, Vista, XP Home or Professional SP 3 or later
Dimensions and Weight
Dimensions: 4.90″ x 2.33″ x 0.35″ (124.4 x 59.2 x 8.97 mm)
Weight: 4.65 oz. (132 g)
Further Reading
Keywords: #iphone5c
Short link: http://goo.gl/nHcxEf
searchwords: iphone5c