The iPhone grew out of the iPod, Apple's first digital music player launched well over a decade ago. Listening to music was the reason the iPod existed, and Apple wanted to make sure that its iPhone (and later iPod touch and iPad) did it well.
iPods, iPhones, and iPod touches are great for listening with a pair of headphones but not so good using their internal speakers. iPads are pretty decent in that respect. But what if you want enough volume to fill a room?
There are plenty of options: Boomboxes and clock radios and sound bars and stereo systems with dock connectors, Bluetooth sound systems, AirPort Express and Apple TV for routing sound through your stereo, powered speakers with stereo audio plugs, and cables to connect your iDevice to the audio input on your stereo. You get the idea: There are a lot of options.
Music and Podcasts at Work
I have an old boombox from the early days of the dock connector, one that will charge iPods that can charge over FireWire, but not the USB-only ones, let alone my iPhones. With a $5 adapter, I've managed to work around that issue, but for use in the factory where I assemble high pressure air hoses five days a week, there just isn't enough volume to always hear things over the machinery, especially with the sound system over 20′ from our work area.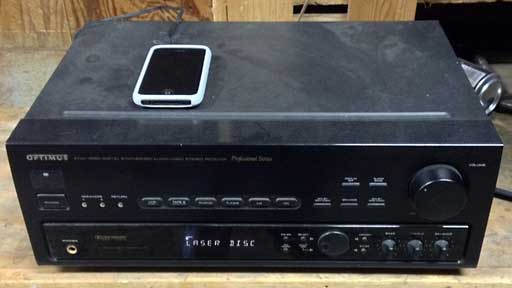 I had an old 100 Watt surround sound thrift store stereo in the basement that had been sitting unused for years, so I brought it to work, only to discover that one channel had failed, so it will only power a single speaker. But with the right cable (see Connecting Your Mac to Your Stereo for more on that), it works well enough. Besides, we don't need stereo sound for background music.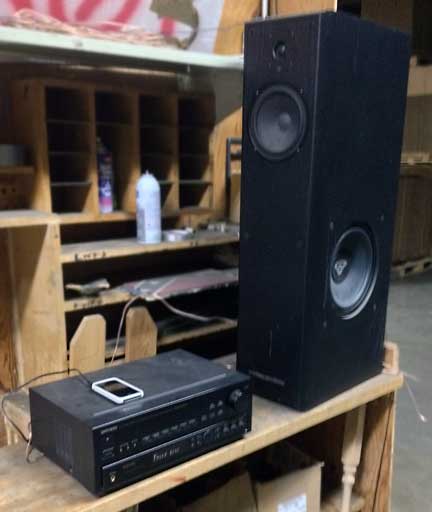 I found an old AV cable that must have been used with my iPod photo once upon a time. Stereo audio input plus composite video, but only one channel of audio output along with video. I connected that between my old iPhone 3GS and the receiver. Now we can jam to some tunes at work – or listen to podcasts.
One early Spring day I saw a big old Cerwin Vega speaker out for the trash man. I put it in the trunk, brought it to work, connected it to the stereo, and it works. It's a big old beast, and it can really put out some bass. It now stands on the shelf next to the receiver.
The only issue we ran into, whether hooked up to my old iPhone, an Android, an iPad, or my MacBook, is that listening to one stereo channel isn't the same as listening to mono. Listening to Sweet Caroline, for instance, you don't get the "bom bom bom" trumpets in our setup.
It was time to dig into iOS and see if there was a way to listen to mono instead of half-stereo – and there is. Go to Settings > General > Accessibility and then turn on Mono Audio in the Hearing section (images from iOS 7).
What We Listen To
When I started here over a year ago, they had a cheapo yard sale stereo with a built-in record player. That's what my stereo replaced.
Radio
We usually start the day listening to the Free Beer and Hot Wings Show. The guys cover a wide range of topics in their own inimitable style, which definitely isn't for everyone, but we enjoy most of their topic. We especially love Thursday morning when they do "Dumber Than Zane Trivia". That gets us to the 10 a.m. break, and then the station goes alternative rock for the rest of the day. Not our cup of tea.
We also sometimes listen to a local country station, a contemporary Christian station, and an oldies station (this one only via streaming, since AM radio is not of high quality).
Podcasts
The other guys had been listening to podcasts for a long time before I started, and I hadn't done much with podcasts. I'd listened to RetroMacCast a few times, but that's it. I can't listen to a podcast and write or edit at the same time, but listening while assembling air hoses – that's a different story.
Our favorites include Radiolab, Freakonomics, The Moth, Stuff You Should Know, Common Sense with Dan Carlin, Bible Answer Man, The Reality Check, Snap Judgment, Hardcore History, Stuff You Missed in History Class, This American Life, Car Talk, and Grammar Girl. We may also listen to a sermon or YouTube video from time to time.
iTunes Music
According to iTunes, I have 12 GB of music that would take 8 days to play straight through. It includes 1950s rock and roll, 1960s and 1970s rock (Beatles 1 plus Neil Diamond and others), country music (mostly circa 2000 and later), a smattering of Christmas music, some Mannheim Steamroller and Canadian Brass, and a wide range of contemporary Christian music (CCM) ranging from its beginnings (Larry Norman's Upon This Rock, Capitol Records, 1969) to the present. This includes the entire corpus of Wow Hits 1999 through 2013, two-CD sets containing at least 30 of the most popular CCM tracks of the previous year.
The most used playlist combines all those Wow collections and goes on shuffle. And then there's Friday, which has its own playlist (links are to YouTube, where available):
Friday, Rebecca Black
Working for the Weekend, Loverboy
Dancing in the Street, Martha and the Vandellas
Good Vibrations, The Beach Boys
Sweet Caroline, Neil Diamond
Shanty, Jonathan Edwards
This Is the Stuff, Francesca Battistelli
Great Big Stupid World, Randy Stonehill
Cartoons, Chris Rice
Shut de Do, Randy Stonehill
The Devil Is Bad, The Ws
Shine, Newsboys
Barbie Nation, Randy Stonehill
Lucas McGraw, Petra
Jonah's Song, Mark Heard
It's Five O'clock Somewhere, Alan Jackson with Jimmy Buffett
The Saints, Mark Heard
I try to cue up the list about 4 p.m. Friday so it will finish right about 5 p.m. – time to go home. It's a work in progress. I can't say I'm a fan of Rebecca Black's Friday, but I can handle it once a week when there's just one hour left before the weekend. The collection is meant to keep us going during that last hour of the workweek.
I have also downloaded an app, Tango Remote, that lets me control the music on the iPhone 3GS connected to the stereo from my iPhone 4S across the room. This avoids a lot of steps to adjust volume or change playlists. Too bad it can't remotely control more than iTunes, but that's a deliberate limitation imposed by Apple. [Update: There are two versions of Tango. Tango Remote Control Media Player HD supports iOS 3-6, while Tango Remote Control for iOS 6-7 supports iOS 6.1 and later with additional functions. More details when I have a chance to review it.]
Virtual Radio
The final category is personalized virtual radio stations, which you might create using Pandora, iHeartRadio, or iTunes Radio. We've used Pandora and iHeartRadio quite a bit at work, seeding with different artists, and I'll be publishing separate reviews of their apps and services in coming days. iTunes Radio will have to wait, since I've barely tried it yet – and can't run it on my iPhone 3GS, since it requires iOS 7 (or OS X 10.7 Lion or later with up-to-date iTunes).
We use a wide variety of artists to create our stations: Johnny Cash, Elvis Presley, The Who, Randy Stonehill, Queen, Devo, and Francesca Battistelli among them. Oh, and Weird Al, which doesn't usually work out so well. Over several months, we've learned which ones create better playlists and which ones are less than good, how to tweak each program, and which services will give you the same song twice almost back-to-back, one live version and one from the studio.
This has become the primary way we use my iPhone 3GS at work.
Short link: http://goo.gl/41YMql
searchword: idevicestereo