News & Opinion
Rumor Roundup
Apple Updates
Tech Trends
Products & Services
Software
Mac notebook and other portable computing is covered in The 'Book Review. iPad, iPod, iPhone, and Apple TV news is covered in iNews Review. Older Macs are covered in Vintage Mac News. All prices are in US dollars unless otherwise noted.
Purchases made through links to Amazon.com and Apple's iTunes/iBook/App/Mac App Storesupport Low End Mac.
News & Opinion
Use Non-Apple Keyboards and Mice with Your Mac
MacTuts+'s Jordan Merrick has posted an excellent tutorial on using non-Apple input devices with your Mac – and why you might want to.
Apple currently makes a pretty good keyboard, and I think I could be happy using it, but I don't have one, and I can't think of an Apple mouse that I ever liked. Except for my very first Macs, and the built-in keyboards on my laptops, I've relatively rarely used Apple input devices, and the newest Apple keyboard I own is a long-retired Blueberry iMac USB keyboard, while my only use of Apple mice is a collection of iMac era "hockey puck" units that I've found make great foot-clickers with the ball removed and the ball aperture taped over (see My Favorite Mac Mouse for more details).
I have chronic polyneuritis and fibromyalgia, and I have to be very picky about input devices, finding that offerings from Logitech and Kensington seem to work best for me. My current keyboard favorites are the Logitech K-750 Solar Wireless Keyboard, and a Logitech wireless laptop mouse with a lovely, weighted, freewheeling scroll wheel, although my primary workstation point/click/drag device is a Contour rollerbar. I also have one of the Logitech K570 thumb-actuated trackballs Merrick prefers, but while it's good, I like the rollerbar/mouse tandem better.
As Merrick observes, there is no such thing as a keyboard or mouse that everyone can use comfortably, so it's not a question of "better" or right and wrong choices. If you suffer from Repetitive Strain Injury (RSI), what you find works for you will be right for you, and happily, most USB and Bluetooth input devices work just fine on the Mac.
Publisher's note: Macs have natively supports 3-button USB mice since Mac OS X first shipped, and since OS X 10.4 Tiger, Apple has included a System Preference that allows you to reconfigure the Control, Alt, and Option/Windows keyboards to match the standard Mac layout. I have a couple of those, but my current favorite is the Macally iKeySlim, which has great feel and USB 2.0. dk
Link: Using Third Party Keyboards and Mice with Your Mac
Create a Keyboard Shortcut for Menu Items Anywhere
MacTuts+'s Jacob Penderworth says keyboard shortcuts are an awesome way to improve your productivity and the swiftness with which you move through certain tasks. They are a valuable asset to quick navigation by default, but isn't it disappointing when a menu item doesn't have a shortcut?
This tutorial explains how to add one.
Link: How to Create a Keyboard Shortcut for Menu Items Everywhere
Why Dropbox Is Taking Over the World
The Economist notes that before Apple launched iCloud in 2011, Steve Jobs reportedly offered to buy Dropbox, a file-sharing service founded in 2007, for $800m, but Dropbox founder Drew Houston turned him down. His Dropbox overture spurned, Jobs somewhat peevishly disparaged the service as "a feature, not a company," but The Economist notes that in December, Dropbox wound up a promotional campaign that had added 2 million new users in just a few weeks, bringing the total of Dropboxers to over 100 million, roughly twice the number there were when Jobs made his comment.
If it's just a feature, it's one desired by an awful lot of users.
The article notes that Dropbox data transfers account for 20% of total bandwidth consumed globally by browser-based file-sharing services, and that Dropbox users, most of whom use the free version of the service, save more than 1 billion files daily.
Dropbox's key to success, The Economist observes, is that it's "platform neutral," supporting a wide variety of different devices and operating systems, allowing for easy, hassle-free file-sharing in an increasingly connected world where few people adhere devoutly to a single device-maker.
Publisher's note: I couldn't agree more. Dropbox not only lets you backup files in the cloud; it also lets you sync them between multiple local devices via ethernet and/or WiFi. We use Dropbox here at Low End Mac headquarters to sync the contents of LEM to a Mac mini runningOS X 10.6 Snow Leopard, a Power Mac G4 running OS X 10.4 Tiger, and a 12″ PowerBook G4 also running Tiger. (Of the many competing services, Dropbox supports more platforms and more versions of OS X than any other.) Highly recommended! dk
Link: A Company Called 'Dropbox' Is Taking Over the World
How to Disable the Dashboard in OS X
Fairer Platform's Ron Carlson notes that whether you have an older Mac that's getting slow or a brand new Christmas Mac, if you don't use Dashboard, there's no reason to let it live. "Kill it, now," Carlson advises, since disabling Dashboard will reduce RAM, battery, and system resource usage, and it's surprisingly easy to do. Carlson explains how to do so in OS X 10.8 Mountain Lion, and the technique works for OS X 10.7 Lion too.
Carlson also suggests a Dashboard disable method for users running OS X Snow Leopard.
Publisher's note: Apple introduced Dashboard with OS X 10.4 Tiger, and I've been disabling it ever since, whether on a low-end iMac or iBook or on the 2.0 GHz Core 2 Duo Mac mini we use here. I've never found a Dashboard widget I wanted to use more than once or twice, so why waste the system memory and CPU resources? This is especially true if your Mac doesn't have an abundance of system memory. Onyx is a great little free app that can turn of Dashboard and let you tweak lots of other OS X settings. dk
Link: How To: Disable Dashboard in OS X Mountain Lion
Is Your Mac AirDrop Compatible?
Fairer Platform says that since Apple introduced AirDrop with OS X 10.7 Lion in July 2011, thead hoc file sharing service hasn't gotten a lot of attention. However, this handy service was updated in OS X 10.8.1 Mountain Lion, making it even easier to use. Find out if your Mac is AirDrop compatible and what the secret new feature is.
What is AirDrop? The article explains that if you're on the same network, WiFi or wired, as another compatible Mac running OS X 10.7 or later, you can share files without any setup or configuration.
Compatible Mac models include:
Link: Is My Mac AirDrop Compatible? Find Out
DisplayLink Announces New USB 3.0 Mac Driver and Showcases at CES 2013
PR: DisplayLink has announced new USB 3.0 Mac Drivers and is showcasing the latest USB 3.0 Docking Stations at CES 2013, enabling users of Mac products to benefit from DisplayLink's award-winning chip and software technology.
DisplayLink-enabled docking stations, coupled with a MacBook, enables up to four additional displays, keyboard, mouse, audio, and ethernet connectivity for a full desktop/workstation productivity environment. The company says there is strong demand from the Mac community wishing to benefit from the productivity enhancements offered with a single cable USB docking station.
"Due to high demand from the Mac community adding Mac support to our operating system lineup was high on DisplayLink's priority list," says John Cummins, Vice President Sales and Marketing for the company. "We see Mac usage increasing in both consumer and enterprise markets globally since we released our previous USB 2.0 products. We've invested heavily to add support for the entire DisplayLink Chipset family, and are truly excited to announce this ahead of schedule here at CES."
The new Mac driver is available as a software upgrade and completely backward compatible with DisplayLink's previous silicon solutions, allowing existing users to reap the productivity and connectivity benefits of USB Graphics over both USB 2.0 and USB 3.0 connections.
Rumor Roundup
Apple on the Cusp of an Enormous Product Upgrade Cycle According to Experts
Wall Street Pit says 2013 will be a very important and eventful one for Apple, with the company "on the cusp of an enormous product upgrade cycle" and expected to move from an annual product upgrade cycle to a six-monthly one, which a panel of market experts told CNBC's Squawk on the Street on Monday should Apple's stock a big boost.
Ironfire Capital LLC founder Eric Jackson is cited speculating that Apple will introduce some entirely new products in 2013, projecting a long-rumored iTV for November rollout, and "possibly even an iCar system, which would control navigation and entertainment in automobiles," projecting another major Apple stock price run up when people realize that the current product portfolio is going to be much bigger than expected.
Link: Apple (AAPL) on the Cusp of an Enormous Product Upgrade Cycle – Experts
Apple Updates
Apple's Drops 2m Thunderbolt Cable to $39, Adds Shorter $29 Version
Cnet's Josh Lowensohn reports that one of Apple's priciest peripheral cables is now slightly less expensive, and it has a stubbier sibling.
Apple has quietly dropped the price of its Thunderbolt cables, and released a shorter, cheaper model.
The previously $49, 2 meter (6.6′) Thunderbolt cable now sells for for $39, and a new 0.5 meter version (1.6′) goes for $29.
Link: Apple's Thunderbolt Cable Gets a Price Drop, Shorter Version
Tech Trends
10 Gbps SuperSpeed USB 3 Coming This Year
PR: The USB 3.0 Promoter Group has announced development of a SuperSpeed USB (USB 3.0) enhancement that will add a much higher data rate, delivering up to twice the data throughput performance of existing SuperSpeed USB over enhanced, fully backward compatible USB connectors and cables. This supplement to the USB 3.0 specification is anticipated to be completed by the middle of this year.
This enhancement builds on the success of USB and expands its capability by doubling the data rate.
Key characteristics of the higher-rate SuperSpeed USB solution include:
New 10 Gbps USB data rate
Compatibility with existing cables and connectors
Improved data encoding for more efficient data transfer leading to higher throughput and improved I/O power efficiency
Compatible with existing USB 3.0 software stacks and device class protocols
Compatible with both existing 5 Gbps and new 10 Gbps USB 3.0 hubs and devices, as well as USB 2.0 products
"With USB technology continuing to be the data and power delivery path of choice across personal computing and consumer electronics, we are always looking ahead to how to best improve user experience and connectivity performance," says Brad Saunders, USB 3.0 Promoter Group Chairman. "Doubling SuperSpeed USB performance will be especially beneficial for emerging USB docking and storage applications."
"For our customers, 10 Gbps USB represents an important evolution in this ubiquitous I/O standard," comments Mark VandenBrink, Vice President and Chief Technology Officer, PC Global Business Unit, HP. "By doubling the bandwidth while maintaining full backwards compatibility with the broad ecosystem of USB peripherals and software, we will be able to better meet the needs of our customers with this high-speed technology."
"We recognize that more mainstream client computing applications are going to need higher throughput to user-connected peripherals and devices," says Alex Peleg, Vice President, Intel Architecture Group. "Intel is fully committed to delivering 10 Gbps USB performance to these platforms while retaining compatibility with the existing USB ecosystem to help to satisfy user demand for low-cost, higher-performance solutions."
"Microsoft has been a strong supporter of the USB community where we have advocated balancing innovation and compatibility. The planned updates to USB 3.0 are consistent with our views," affirms Dennis Flanagan, General Manager, Windows Ecosystem Engagement. "These updates will enable higher data rates and allow combining of disk, high-definition audio/video and networking traffic on a single cable all while maintaining compatibility with billions of existing devices."
The 10 Gbps SuperSpeed USB update is targeted for industry review during the first quarter of this year. Further information regarding the specification and plans for prerelease industry reviews will be provided via the USB Implementers Forum (USB-IF) website.
Publisher's note: This will put USB 3.0 head-to-head with the 10 Gbps Thunderbolt technology Apple and Intel have been pushing for two years now, at least as far as hard drives, flash drives, printers, and other peripherals are concerned. The more costly Thunderbolt does a lot more than USB 3.0, supporting video output to displays and encompassing the PCI Express bus as well, but for the kind of products generally attached via USB or FireWire, 10 Gbps USB 3.0 is going to be a real contender. dk
Link: USB Future Specifications Industry Reviews (PDF)
Products & Services
FirmTek Debuts Screaming Fast USB 3.0 Trayless Enclosure for 2.5″ SSD and Hard Drives
PR: FirmTek has announced the miniSwap/U3. An industry first and perfect for 2.5″ solid state (SSD) and hard disk drives (HDD), the miniSwap/U3 enclosure provides trayless, hot-swap, USB 3.0 external enclosure support for Mac and PC computers.
Performance Up to 440 MB/s with a Single SSD
The miniSwap/U3 was created to provide 2.5″ storage devices with blazing fast 5 Gbps bandwidth, amazingly simple disk mounting and ultra-quiet operation. The small, yet rugged, miniSwap/U3 can be integrated as a portable on-the-go 2.5″ enclosure, or as a space saving high performance trayless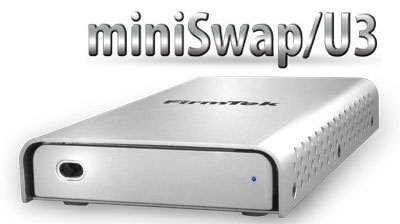 2.5″ desktop drive mounting station. Multiple miniSwap/U3 enclosures can be connected to provide advanced RAID performance, expanded capacity, and simple or complex storage configurations. The unique miniSwap/U3 trayless bay design supports standard 2.5″ Serial ATA SSD or HDD 9.5mm height devices along with 7mm, 12.5mm and even larger disks up to 14.9mm.
Do Away with the Tray
The miniSwap/U3 silver aluminum chassis features an attractive design made from aluminum to keep weight at a minimum while maintaining firm structural rigidity. "Loading a 2.5″ hard disk or SSD is as easy as inserting a bare drive into the miniSwap/U3 and closing the bay door. That's it! No tray, no screws and no tools required to gain incredible performance," said Chi Kim Stanford, Vice President of Business Development. The high quality, detailed construction of the miniSwap/U3 allows each 2.5″ drive to connect with the FirmTek direct-connect backplane and instantly communicate with the computer. Each miniSwap/U3 bay is tied to the computer with its own dedicated USB 3.0 data cable. This connection method maximizes performance while providing superior compatibility.
Instant Data Access
The miniSwap/U3 is compatible with virtually every USB 3.0 or USB 2.0 port. In addition, the miniSwap/U3 enclosure supports transfer rates of 500 Mbytes/sec or 5.0 Gbits/sec.

The trayless, direct-connect miniSwap/U3 enclosure is designed to excel with audio/video editing, computer animation, digital photography, portable computing, storage expansion, backup and any application where external, flexible, trayless, hot-swap, high performance data storage is desirable. FirmTek customers who appreciate the power of SSD and the portability and quiet operation of 2.5″ storage devices will love the miniSwap/U3.
Bus Powered, Trayless, Hot-Swap, 2.5″ USB 3.0 Enclosure for Mac and PC
Instantly Mount SSD or 2.5″ SATA HDD
No tray required, just insert a bare SSD or 2.5″ SATA hard drive and close the bay door
Portability and High Performance
The miniSwap/U3 is a revolutionary new product designed to meet the needs of computer professionals on the go. This new, bus-powered, data storage device offers performance as high as 440 MB/s, which is more than twice the speed of typical USB 3.0 enclosures. The miniSwap/U3 is compatible with the new 5 Gbit/s USB 3.0 ports found on 2012 MacBook Pro, MacBook Air, Mac mini and iMac while also backward compatible with legacy USB 2.0 ports. The small size of the miniSwap/U3 allows it to be held in the palm of your hand or transported easily in a small computer case. At less than one pound, the miniSwap/U3 offers more performance power for its size than any other FirmTek product. FirmTek customers who enjoy the power of SSD and the portability and quiet operation of 2.5″ storage devices will appreciate the miniSwap/U3.
While the miniSwap supports many different 2.5″ disk capacities, with a single 1 TB SATA HDD installed, the miniSwap can hold up to 84 hours of HDV 1080i, 17 hours of DVCPRO HD 1080/60i or 10 hours of ProRes 422 HQ. Huge storage capacity plus an ultra small footprint makes the miniSwap a great travel companion for photographers and video professionals. The durable silver aluminum miniSwap/U3 looks great with the Apple computers and excels with audio/video editing, computer animation, digital photography, portable computing, storage expansion, backup and any application where external, trayless, hot swap, high performance data storage is desirable.
Low Noise, Energy Efficient Design
The air-cooled miniSwap design is able to protect the disk using a built-in enhanced airflow system. Heat generated around the bottom and sides of the drive dissipates through the well-vented aluminum enclosure. This process offers the ultimate in quiet operation. Just slide in the drive, close the bay door and your data is ready to be accessed. This simple, yet robust mounting feature allows photographers and audio-video professionals to mount drives even in low light conditions, whether in the field or in the office, without the need for tools. The miniSwap trayless design offers support for 2.5″ disk heights of 7mm, 9.5mm and even larger disks up to 14.9mm.
Quality Craftsmanship
FirmTek is known for innovative backplane designs with no internal SATA cabling. The miniSwap is no exception. This feature maximizes signal strength and enhances EMI protection, which increases reliability. The miniSwap product line is built from the ground up, using only our very best storage ideas.
Amazing Performance and Virtually Unlimited Capacity
The new circuitry built into every miniSwap/U3 supports ultra high bandwidth applications. Customers have reported performance results as high as 443 MB/s read and 433 MB/s write with a single 6G SSD configuration and 636 MB/s read and 788 MB/s write with two miniSwap/U3 enclosures setup in a RAID 0 configuration on the 2012 MacBook Pro and iMac. The ability to effortlessly insert or eject the drive mounted in the miniSwap enclosure makes it a favorite among photographers and video professionals who use different drives for different customer projects. This advanced feature provides virtually unlimited data storage capacity.
miniSwap/U3 Key Features and Benefits
Attractive, durable, bus-powered, portable trayless enclosure supports 2.5″ SATA SSD or HDD
Ultra quiet, fan free, aluminum heat dissipation cooling system
Easy to set up: No screws, no drive tray required, swap drives in seconds
Easy to operate: Simply open the door to insert or remove the storage device for virtually unlimited capacity
Supports 7mm, 9.5mm, 12.5mm and 14.9mm drive heights
High performance design – Integrated Direct Connect SATA backplane; no internal cabling
Ultra high 5 Gbit/s bandwidth design with Power and Activity LED
Supports SATA 1.5G, 3G or 6G HDD or SSD 2.5″ form factor with any capacity
Can be configured as RAID when used with multiple miniSwap/U3 enclosures – Mac OS X
Aluminum case for maximum durability and heat dissipation
High performance can handle multiple projects simultaneously
Perfect for both storage-hungry and speed-sensitive applications
Cross-platform, PC and Macintosh compatible, operating system independent
Works with Macintosh or PC with shielded USB 3.0 or 2.0 ports running Mac OS X, Windows or Linux
Kensington Security Slot
The FirmTek miniSwap/U3 will be available soon from FirmTek authorized resellers (Part# MS-U3). Specially priced build-to-order miniSwap/U3 bundles with custom preinstalled SATA hard disks or SSD configurations will also be available at the FirmTek Store.
Link: miniSwap/U3
Software
XtraFinder Adds Tabs and Features to Finder in Snow Leopard, Lion, and Mountain Lion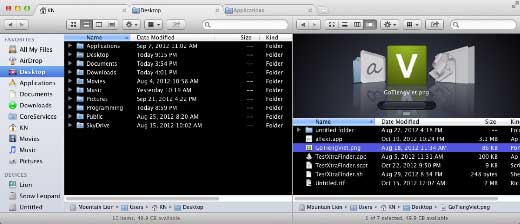 PR: XtraFinder OS X utility features include:
Tabs.
Dual Panel & Dual Window.
Arrange folders on top.
Cut & Paste.
Global hotkeys.
"Copy Path", "Show Hidden Items", "Refresh", "New File", "Copy to", "Move to", "New Terminal Here", "Contents", "Select…".
Light text on dark background.
Colorful icons in Sidebar.
More
System requirements: Mac OS X 10.6.8 to 10.8.2
Link: XtraFinder
Two Free OS X Utilities That Add Apple Menu Features to the Dock
Hypnotize
PR: Have you ever fallen asleep on the movie, TV series or, even worse, the streaming webcast you were watching on your Mac, only to have the sound and light arouse you from sleep throughout the entire night? Have you ever wondered why every TV since the late eighties has had a timed off-function, while your state-of-the-art Mac still can't pull off this simple trick? Well, wonder no more…

Hypnotize for Mac OS X is a collection of timers for your Dock telling the movie to shut up and your Mac to shut down when time is up.
Simply add the Hypnotize folder as a stack to the Dock for easy access. Whenever needed, simply fan out the stack, run the timer with the interval of choice, and your computer will shut down once time has run out. Was the movie interesting? Press 'Reset Timer', and the countdown starts all over again.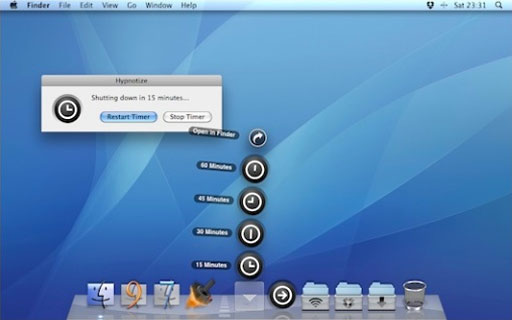 Hypnotize only force quits Safari, and will halt the shutdown if any other applications with unsaved documents are running. This way Hypnotize is completely safe, preventing you from losing any unsaved data during the shutdown process. By default, Hypnotize is set to shut down the computer after 15, 30, 45 or 60 minutes, but these intervals can easily be changed in Script Editor if needed.
Hypnotize 1.1 is a Universal Binary and is compatible with Mac OS X 10.3 Panther or newer.Mac OS X 10.5 Leopard or newer recommended. Hypnotize is open-source and is published under a 'Creative Commons Attribution Non-Commercial License'.
Link: Hypnotize
Functional

Functional for Mac OS X is a collection of utilities bringing the basic Mac OS X functions from the Apple menu to your Dock. It is the spiritual companion of 'Hypnotize'.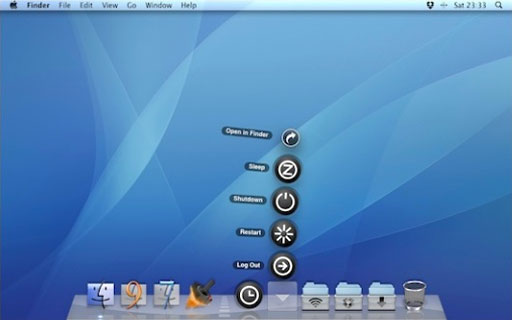 Add the Functional folder as a stack to the Dock, and Logging Out, Restarting, Shutting Down or Sleeping your Mac will be just a mouse-click away. As with 'Hypnotize', Functional only force quits Safari preventing the loss of your valuable work in other applications.
Functional 1.1 is a Universal Binary, and is compatible with Mac OS X 10.3 Panther or newer. Mac OS X 10.5 Leopard or newer recommended. Functional is open-source and is published under a 'Creative Commons Attribution Non-Commercial License'.
Link: Functional
Ctrl Alt Delete Comes to OS X
PR: Mike Fullerton's Ctrl Alt Delete 1.0.2 is a free OS X utility for dealing with system and application software misbehaves. Named for a familiar hotkey combination that has saved billions of Windows PC users around the world, the Ctrl Alt Delete app brings a quick fix for many computer troubles to the Mac.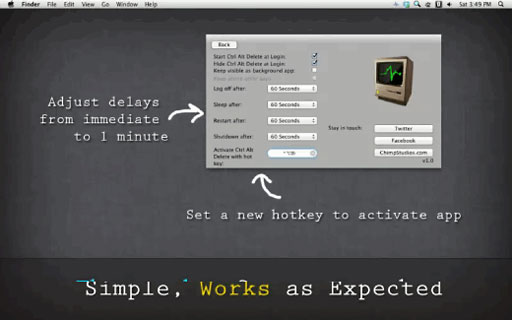 Examples of when Ctrl Alt Delete can help:
When an app freezes up or stops responding
You need to quickly see a list of all running programs
You need to sign out, restart, sleep, or shut down your computer after a delay that you specify?
Ctrl Alt Delete features:
Menubar applet that doesn't clutter your dock.
Customizable hot key to complement your preferences.
Adjustable delays for system functions (sleep, restart, shutdown, and log out).
Simple to use app list that displays relevant app details.
Start at login option so Ctrl Alt Delete will be there when you need it.
Ctrl Alt Delete Support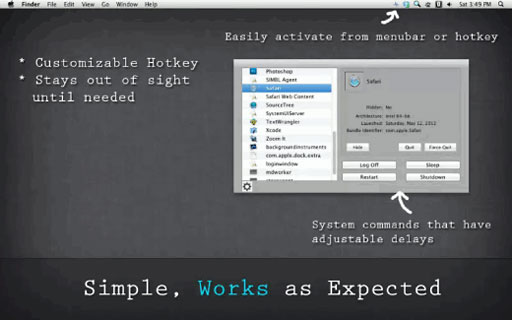 New in Version 1.0.2
Attention Users: If you are asked about contact info access when you launch the app see the help center for details of why and what is going on (http://help.chimpstudios.com/)
Tested and ready for Mountain Lion
Bug Fixes
System requirements:
OS X 10.6 or later
64-bit processor
Freeware
Publisher's note: As long as the keyboard isn't locked up, you can usually use Cmd-Opt-Esc to force quit troublesome apps. Not nearly as powerful as Ctrl Alt Delete, but it's built into OS X, so it's always there. dk
Link: Ctrl Alt Delete
Appriority Makes Your Apps Run Faster by Optimizing the CPU Load
PR: Appriority is an easy to use tool for OS X that simply makes the app you're working in go faster by allowing you to optimize the CPU load on your computer. Once fully configured, Appriority works by suspending and resuming applications as you switch among them. Inactive applications can be set for suspension, which will eliminate their CPU usage until you switch back to them. The benefits of this are improved performance in the application you currently have active, less battery power used while mobile, and less heat produced by your computer.
Before you can benefit from using Appriority, you must tell Appriority which applications you will want to suspend. You do this by selecting Preferences from the Appriority menu. You will see a box that lists the top 10 CPU load applications currently active on your computer. Use this to guide you in deciding which applications you wish to suspend, and add them to your list with the Add button. Once an app is added, the next time you use it and switch out of it, Appriority will automatically suspend it. Switching back to a suspended application will automatically resume it. You may remove any application from the list by selecting it and clicking the Delete button.
Appriority will automatically do this as long as it is running. When you quit Appriority, all of your open applications will be returned to their normal state.
The Free Market edition of Appriority also uses the renice command to put the highest priority on the active application you are currently working in. Open applications that are inactive will automatically be reniced to a lower priority. Renicing is done automatically as you switch among your open applications. (This feature is not available in the Mac App Store edition).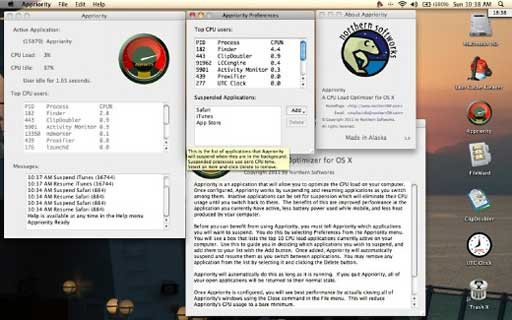 Appriority tells you what applications are using the most CPU resources and makes it easy to bring their usage to a halt. It reports your average CPU load and more.
Appriority is designed to be easy to use and makes no permanent changes to your system. Simply launch it to turn it on, and quit it to return all of your applications to normal.
Features
Reports the top 10 CPU users.
Reports CPU load.
Reports idle time.
Reports currently suspended apps.
Dock icon displays count of suspended apps.
Automatically suspend inactive applications as you switch between apps.
Manually suspend apps if desired.
Manually resume apps if desired.
Features Only in Free Market Edition
Automatically shift CPU priority of open applications.
Optimize free memory.
Available in menu bar.
Manual process manager.
Universal Binary for PPC or Intel Macs.
These features are not available in the Mac App Store edition.
System Requirements (Free Market Version)
Universal Binary
Requires OS X 10.4 – 10.8
$9.98
System Requirements (App Store Version)
OS X 10.6.6 or later
$2.99
Publisher's note: I just had to try this on my Dual Processor Power Mac G4 running Classic Mode in OS X 10.4 Tiger, and it seems to work just fine. I've set Appriority to not suspend Claris Home Page, since I often have it do uploads in the background. Switching apps seems a bit slower, and it does pop up a shareware reminder, but all in all, a very interesting app that even works with PowerPC Macs and OS X 10.4 Tiger. dk
Link: Appriority (Free Market Version)
Link: Appriority (App Store Version)
PaintSupreme 1.5 Image Editor on Sale for Half Price
PR: After six months of development, BrainDistrict Software has released v1.5 of its PaintSupreme image editing app for Windows, Mac OS X and Linux, already one of the fastest photo editors and paint programs in its class and now faster than previous releases and including a number of user enhancements and new features, like the integration of IFX-Supreme effects and filters, enhanced the overall speed and workflow as well as fixing bugs, and is on sale at the friendly introductory price of $9.99 till the end of January. That's a 50% discount.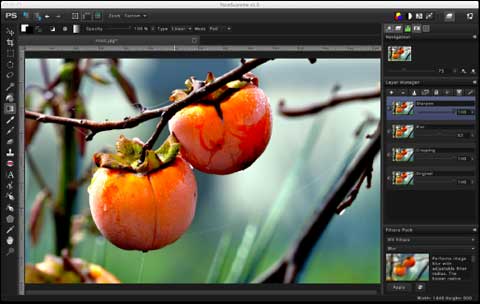 PaintSupreme product highlights:
Fast – one of the fastest image editing products in the App Store
Stable – 10,000+ users and not a single major bug
Easy-to-use – intuitive with comprehensive user documentation
Multiplatform – available for Windows, Mac and Linux
Companion filter creation product – IFX-Supreme lets you create your own filters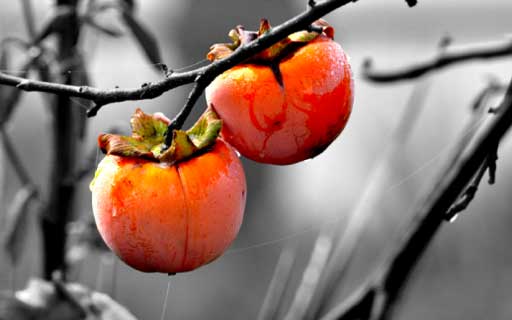 PaintSupreme lets you add interest and excitement to your photos by applying effects and filters to create a new look. Change the entire image or just parts. Add textures, remove unwanted elements, change colors, transform into black & white, all with a few clicks. You can also create your own image from scratch in a variety of styles. A whole set of tools like rulers, guides, and pre-drawn shapes make it easy to create. Sketch, paint, and airbrush to your heart's content.
PaintSupreme is claimed to offer best-in-class photo editing and image creation in one package that is one of the fastest image editing products on the market
BrainDistrict claims that with 10,000+ users and not a single major bug has been reported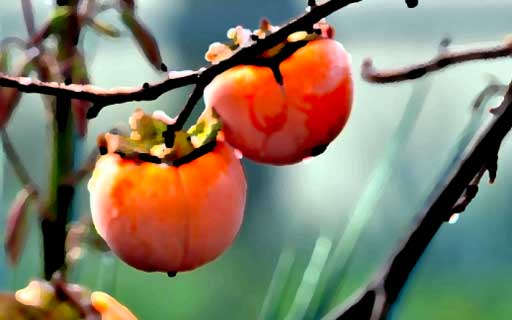 The program is designed to be intuitive with comprehensive user documentation Easy-to-use tools take the complication and work out of photo editing freeing you to focus on your imagination. And because PaintSupreme works with both pixel and vector images, your creativity is limitless.
Selection tools to choose your work style All or part of an image. Rectangular curved, or any freeform shape. Connect selected areas to operate on different parts simultaneously.
There are editing tools to easily: Remove blemishes, unwanted elements like shadows or a fence, and other flaws, Balance or skew color, lighten or darken, sharpen or blur, Create a gradation of color across an area or the entire image. Multiply elements in your photo turn one star into 20, or one flower into a bouquet. Change colors turn a green shirt to red or blue house to yellow. Pull an element from one photo and insert it into another add your dog to a picture of your car, or put yourself on the beach.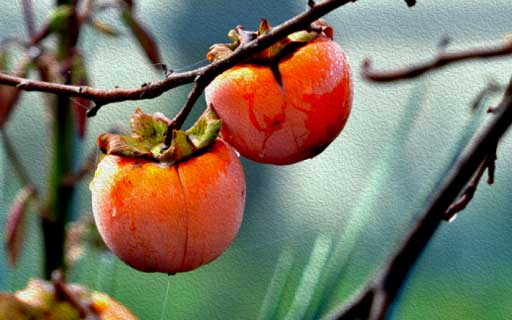 Filters to transform all or part of a photo Transform a photo into a painting with brushstrokes. Liquefy an image so it seems to flow. Create ripples, pinch, pull, polarize, and dozens of other effects
Text tools to add words and phrases so you can Title photos, label people, streets, buildings, and other elements. Create documents like greeting cards, posters, invitations, and brochures. Advanced tools to do more complex transformations as you build your skills Layers let you build up effects and create multiple versions of the same original image. Selection addition and subtraction functions let you operate on specific areas of your image by joining or removing sections. Mix tools and filters together to create an unlimited range of effects Create original images limited only by your imagination.
PaintSupreme's easy-to-use drawing and painting tools give you the power to easily design beautiful images in a wide variety of styles. Drawing tools to design a simple element or a complex image. Guides and rulers make it easy to layout your project and keep elements aligned. Preset shapes let you quickly add squares, circles, triangles, rectangles, ovals, and many other standard geometric patterns. Create and print a drawing to color with crayons or watercolors. Add shadowing to highlight an element or create a dramatic effect. Painting tools create eye-catching images. Apply color in any style from painterly to pallet knife. Blend edges or keep them hard. Airbrush in gradual tones and highlights. Blend and mix colors to suit Saving & Sharing. Save your edited photos, drawings and paintings in a variety of standard formats and share them with friends and family. Use your images with iPhoto, Photoshop, Facebook, Flickr, Pinterest. Your website. Email to friends and family.
New in Version 1.5:
Seamless integration of filters and effects created in IFX-Supreme. Users can now download new filters and effects from the IFX-Supreme library directly into PaintSupreme for free and immediately drag-and-drop them onto their photos or create cool effects with the press of a button.
Even faster performance doing transformations and using the drawing tools.
Faster switching between layers so changes appear instantly as you move from one layer to another.
User interface has been enhanced with a brighter text and a cleaner layout.
Red Eye removal tool which removes the redeye effect caused by flash photography with a click.
Shortcuts for the Vector tool making vector image manipulation quicker and easier. Increased sensitivity for the Bucket tool.
Improvements to the operation of the Crop and Clone Stamp tools that make them easier to use.
Many smaller enhancements, speedups and bug fixes.
PaintSupreme Tools: Move, Crop, Rectangular Selection, Elliptical Selection, LassoMagic Wand, Paint Bucket, GradientBrush. Pen, Eraser, Clone, Text, Arrow, PolylineCurve, Polygon (shape), Color Picker, HandZoom, Transform, Rulers, Guides, PaintSupreme Filters, Auto Contrast, Logarithmic Correction, Normalize, Equalize, Auto Levels, Enhance Detail, Enhance Focus, Focus Restoration, Edge Detection, LightEdge Detection, Medium Edge Detection, HeavyEmboss, Emboss More, Reduce Noise, AverageBlur, Gaussian Blur, PaintSupreme Layers, Add New, Remove, Group/UngroupLock/UnlockMergeCloneRasterizeHide/Show Selected LayersHide/Show VectorPaintSupreme Color Adjusting ToolsColor BalanceHue, Saturation, Levels, Curves, To Grayscale, Histogram, Invert Image, PaintSupreme Files & ImagesImport/Export, Saving, Opening, Undo & Redo
PaintSupreme v1.5 is available now in native 64-bit versions for Mac OS X, Windows 7/8, and Linux.
$9.99 demoware
Trial versions are fully functional, except that you cannot save your results. When you're ready to buy, return to the PaintSupreme page, click on "Online Shop", and you will be given a serial number that unlocks your trial version. Or you can buy in the Mac App Store by clicking on the "AppStore" link.
Link: PaintSupreme (App Store)
Desktop Mac Deals
Low End Mac updates the following price trackers monthly:
For deals on current and discontinued 'Books, see our 13″ MacBook and MacBook Pro, MacBook Air, 13″ MacBook Pro, 15″ MacBook Pro, 17″ MacBook Pro, 12″ PowerBook G4, 15″ PowerBook G4, 17″ PowerBook G4, titanium PowerBook G4, iBook G4, PowerBook G3, and iBook G3 deals.
We also track iPad, iPhone, iPod touch, iPod classic, iPod nano, and iPod shuffle deals.