One of the new additions in iOS 8 is the ability to turn the screen colours off and make the iDevice run in monochrome. I check it out.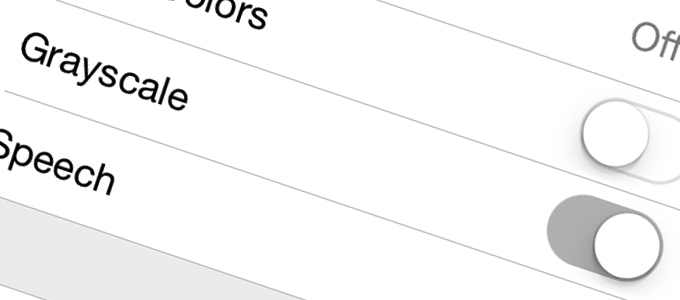 iOS 8 dropped some new features in the lap of iDevice owners – some are great additions, some are a little more odd. Over the last few days I have been getting used to them.
Now under General > Accessibility in Settings there is an option to put the phone in Grayscale mode. Yes, shun all those beautiful colours for a monochrome display – but what is it's purpose.
Android recently introduced it into some devices as a battery saving measure, so I was eager to see if living a whole day staring at a screen with no colour made any difference.
Here We Go
Over the past few days, iOS 8 on my iPhone 4s has lasted from 7 AM to around 8 PM on heavy use – luckily my Mophie was on standby to pick up the slack. Note: This isn't a new thing in iOS 8, it faired about the same under iOS 7 too. I don't think my battery is at its best.
I put my phone on charge overnight in its Mophie so both are fully charged by the morning.
How Does It Look?
It took a little getting used to having a phone with no colour. The homescreen looked very murky and obviously isn't designed to run in this was as the range of greys were too much. Settings, Facebook, and Twitter looked fine; however, taking pictures or flicking through the Camera Roll felt very odd.
Battery Life
But how did it affect the battery? I read a few reviews claiming the grayscale mode wasn't intended for current screens – even the recently released iPhone 6 or 6 Plus – but it is for future use.
So, I took my phone off charge at 7 AM. I used it for Facebook, Twitter, and messaging as well as emails. I had a couple of lengthy calls, listened to music for over an hour, and used the camera quite a bit. That is quite a heavy day for me.
It reached to 11 PM with 6% battery left. I had been out and about during the day, so I spent quite a lot of time over 3G, which is heavier on battery than WiFi and also fell into some no signal areas at times.
This gave me an extra three hours battery life with some still left. I was impressed with this.
Conclusion
The extra battery life is welcomed, but at the expense of the gorgeous looks of iOS. It isn't something that is going to replace my Mophie – but I can see it being handy.
---
Follow Simon Royal on Twitter or send him an Email.
Like what you have read? Send Simon a donation via Tip Jar.
---
keywords: #ios8 #iphone4s #grayscale #techspectrum #simonroyal
short link: http://goo.gl/S5Vp0E
searchword: ios8grayscale