The "power user" second generation PowerPC (PPC) CPU was the 604, unveiled in December 1994 along with the 603. Containing 3.6 million transistors, drawing twice the power of the 601, and with a dual L1 cache (16 KB for instructions, 16 KB for data), this workhorse could deal with four instructions per cycle. The 604 started at 100 MHz and went as high as 180 MHz, running at 2x to 4x bus speed. It was first used in the Power Mac 7600, 8500, and 9500.
With its larger L1 cache, the 604 didn't suffer the same kind of performance issues as the PPC 603 did when running 680×0 software in emulation.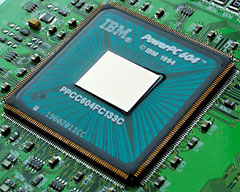 The 604 was designed to work in tandem with other 604s, making it possible to design computers with two or more CPUs. Daystar was the first to do this. Seeing Daystar's success, Apple licensed the multiprocessor technology and incorporated it into the Mac OS. Maximum bus speed supported by the CPU is 50 MHz.
The 604 has six independent executions units: two single-cycle integer units, a multi-cycle integer unit, a floating point unit, a branch prediction unit, and a load/store unit. This made it an incredible number cruncher and a top choice for Photoshop users.
PowerPC 604e
The 604 was later tweaked for even more performance, giving us the 604e in July 1996. As with the 603e, the newer CPU doubled the size of the instruction and data caches, significantly improving performance. On top of that, the 604e can process up to six instructions per cycle, 50% more than the 604, so overall performance was about 25% higher than the 604 at the same clock speed. Transistor count reached 5.1 million.
While the 604 topped out at 180 MHz, the 604e began at 166 MHz and went as high as 233 MHz on a system bus as fast as 66 MHz.
PowerPC 604ev 'Mach 5'
The last revision, known as the 604ev (Mach 5), was introduced in August 1997 and available at speeds from 350 MHz to 400 MHz (Apple only used up to 350 MHz), and it was an energy hog and big heat producer at higher speeds. Bus speeds up to 100 MHz were supported, and the 604e runs at 3x to 7x system bus speed.
PowerPC Family Overview
CPU         speed*    instructions  L1 cache  L2 cache
601       60-120 MHz   3 per cycle     32 KB  external to 1 MB
603       75-160 MHz   2 per cycle    2x8 KB
603e     100-300 MHz   2 per cycle   2x16 KB
604      100-180 MHz   4 per cycle   2x16 KB  external to 1 MB
604e     166-233 MHz   6 per cycle   2x32 KB  external to 1 MB
604ev    250-350 MHz   6 per cycle   2x32 KB  external to 1 MB
G3/750   200-450 MHz   3 per cycle   2x32 KB  external to 1 MB
750CX    366-466 MHz   3 per cycle   2x32 KB  256 MB onboard
750CXe   400-700 MHz   3 per cycle   2x32 KB  256 MB onboard
750FX    600-900 MHz   3 per cycle   2x32 KB  512 MB onboard
750GX   733-1100 MHz   3 per cycle   2x32 KB  1024 MB onboard
G4/7400  350-600 MHz  19 per cycle+  2x32 KB  supports 2 MB L2 cache
7410     466-533 MHz  20 per cycle+  2x32 KB  supports 1 MB L2 cache
7450     667-733 MHz  20 per cycle+  2x32 KB  256 KB onboard, up to 2 MB L3 
7455    600-1420 MHz  20 per cycle+  2x32 KB  256 KB onboard, up to 2 MB L3
7447A   600-1500 MHz  20 per cycle+  2x32 KB  512 KB onboard, no L3 cache
7457    867-1267 MHz  20 per cycle+  2x32 KB  512 KB onboard, up to 4 MB L3
        7457 used in some third-party Mac upgrades, never by Apple 
7448     1.0-1.7 GHz  20 per cycle+  2x32 KB  1024 KB onboard, no L3 cache
G5/970   1.6-2.0 GHz  38 per cycle+  2x32 KB  512 KB onboard 
970FX    1.8-2.7 GHz  38 per cycle+  64+32 KB 512 KB onboard
970MP    1.8-2.5 GHz  38 per cycle+  64+32 KB 1 MB per core 
__________ 
* as used in Apple or Maclone 
+ each AltiVec unit can perform up to 16 simultaneous calculations
PowerPC family: 601, 603/603e, 604/604e, G3, G4, G5
Other Resources
Great CPUs, past and present, John Bayko. See especially sections on 8080/85, Z-80, 6502, 6809, 680×0, 80×86, ARM (used in Newton), PA-RISC, Sparc, Alpha, PowerPC, and Itanium.
MacTips, RISC, CISC, and Your Mac
PC Magazine, Motorola and PowerPC (also covers 680×0 series)
PowerPC 601 v. 603, MacKiDo
How the G4 Compares to the G3, Scott Barber
AltiVec, MacKiDo
G4, MacKiDo
PowerPC G4 and other news from Microprocessor Forum, Henry Norr, MacInTouch
MPC7400 PowerPC Microprocessors, Motorola
Keywords: #powerpc604
Short link: http://goo.gl/OfMWkq
searchword: powerpc604