The iPhone 6 broke with Apple's traditionally small displays to keep the iPhone competitive with the larger Android smartphones that dominated the market and were cutting into iPhone sales. The iPhone 6 moved to a 4.7″ display from the 4.0″ of the iPhone 5 family, while the 6 Plus was a substantial 5.5″.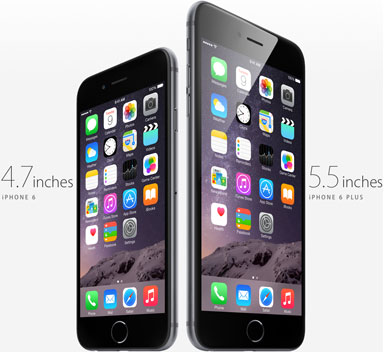 The iPhone 6 is bigger and heavier than the iPhone 5S, although it is a bit thinner at 0.27″. Screen resolution is 1334 x 750 pixels. The iPhone 6 screen is curved at its edges, and its back is made of aluminum. Finishes include gold, silver, and space gray.
The larger size provides room for a bigger battery, and the iPhone 6 specs claim about 20% more time for phone calls, online access, listening to music, streaming video, or whatever else you may do. Apple moved the power button from the top of the iPhone to the side, claiming it improved accessibility.

The iPhone 6 family runs Apple's A8 processor, which Apple claims is 25% more powerful than the 64-bit A7 found in the iPhone 5S. One new feature is a built-in barometer.
For connectivity, the iPhone 6 supports even more bands of LTE than previous models, and it can connect to 802.11ac networks for the fastest WiFi in an iPhone to date. Compared to the five base versions of the iPhone 5S, Apple simplified things by reducing their number to three: GSM, CDMA, and a third version that supports TD-SCDMA and TD-LTE for the China market.
A new iPhone feature introduced with the 6 and 6 Plus is near-field communication, which is used with Apple Pay – the breakout feature of the 2014 models.
The camera on the back, still a more than adequate 8 MP, is improved once again with larger pixels and a brighter lens for improved low light images. 1080p video can be filmed at 30 or 6o frames per second (fps). The iPhone 6 uses digital image stabilization as found in the 5S.
There is no 32 GB iPhone 6. Instead, it jumps from the entry-level 16 GB model to 64 GB for an additional $100 in price. It is also the first iPhone with a 128 GB option. It shipped with iOS 8, and it remains compatible with Macs running OS X 10.6.8 Snow Leopard as well as newer versions of OS X.
Apple took pre-orders for 4 million iPhone 6 and 6S model during the first 24 hours they were available for order, and sold over 10 million in the first three days the models were available for purchase. Both were iPhone sales records.
The iPhone 6S replaced the iPhone 6 in September 2015, and the 128 GB version of the iPhone 6 was discontinued.
Hardware Overview
Models
Announced: 2014.09.09 and available 2014.09.19 at $199 (16 GB), $299 (64 GB), and $399 (128 GB) with a two-year wireless contract. ($649, $749, and $849 respectively without contract.)
Included accessories: earbuds, lightning cable
Code names: N61
Identifier: iPhone7,2
Model number: A1549 (GSM), A1549 (CDMA), A1586
Product numbers
Technology
CPU: 1.4 GHz 64-bit dual-core Apple A8
RAM: 1 GB
Architecture: 64-bit
Graphics engine: 3-core PowerVR SX6450
Display: 4.7″ 750 x 1334 pixel 24-bit multitouch screen at 326 ppi
Cameras

rear: 8.0 MP autofocus with LED flash, 1080p video
front: 1.2 MP FaceTime camera

Sensors: proximity, ambient light, 3-axis gyroscope, accelerometer, assisted GPS, compass, Nike+iPod
Performance
Geekbench, single core: 1611
Geekbench, multicore: 2883
Connectivity
I/O port: Lightning
WiFi: 802.11b/g/n/ac
Bluetooth: 4.0
Networks:

A1549 GSM: UMTS/HSDPA+/DC-HSDPA (850, 900, 1700/2100, 1900, 2100 MHz), GSM/EDGE (850, 900, 1800, 1900 MHz), LTE (Bands 1, 2, 3, 4, 5, 7, 8, 13, 17, 18, 19, 20, 25, 26, 28, 29)
A1549 CDMA: CDMA EV-DO Rev. A and B (800, 1700/2100, 1900, 2100 MHz), UMTS/HSDPA+/CD-HSDPA (850, 900, 1900, 2100 MHz), GSM/EDGE (850, 900, 1800, 1900 MHz), LTE (Bands 1, 2, 3, 4, 5, 7, 8, 13, 17, 18, 19, 20, 25, 26, 28, 29)
A1586: CDMA EV-DO Rev. A and B (800, 1700/2100, 1900, 2100 MHz), UMTS/HSDPA+/CD-HSDPA (850, 900, 1900, 2100 MHz), TD-SCDMA 1900(F) and 2000(A), GSM/EDGE (850, 900, 1800, 1900 MHz), LTE (Bands 1, 2, 3, 4, 5, 7, 8, 13, 17, 18, 19, 20, 25, 26, 28, 29), TD-LTE (Bands 38, 39, 40, 41)

Data:
GPS: Infineon PMB2525 assisted by EDGE, 3G, and WiFi
Power
Battery: 1810 mAh lithium ion
Charge time:
Battery life:

Talk: up to 14 hours on 3G
Standby: up to 250 hours
Internet: up to 10 hours on 3G or LTE, 11 hours on WiFi
Video: up to 11 hours
Audio: up to 50 hours
Compatibility
Original OS: iOS 8
Maximum OS: current
iTunes Versions: iTunes 11.4 and later.
Mac OS Required: OS X 10.6.8 or later
Windows Versions Supported: 7, Vista, XP Home or Professional SP3 or later
Dimensions and Weight
Dimensions: 5.44″ x 2.64″ x 0.27″(138.1 x 67.0 x 6.9 mm)
Weight: 4.55 oz. (129 g)
Further Reading
Best iPhone Prices, best online deals on iPhones.
iPhone, Wikipedia
iPhone 6, Wikipedia
iPhone 6, apple-history.com
Keywords: #iphone6
Short link: http://goo.gl/wkeTBo
searchwords: iphone6