Since its introduction in 2007, the iPhone has only had one button on the front of it, the home button. What can it do?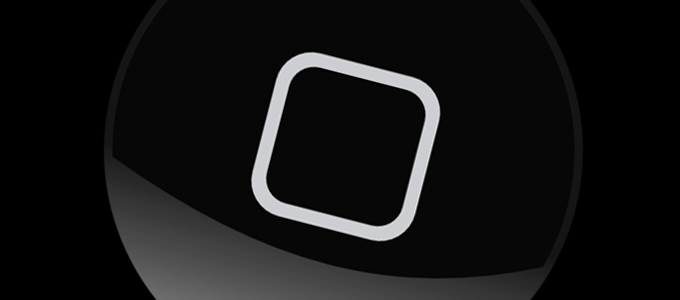 Steve Jobs didn't want a device hindered by its button layout. He didn't want an OS or apps to be designed around a physical keyboard or physical call buttons. He wanted to develop a device that could adapt with time. His vision was to have the OS and apps as flexible as possible, allowing Apple and developers to arrange onscreen actions/buttons how they wanted.
Its Design
When the iPhone was released, it had one button on the front – the home button. It remained unchanged until the release of the iPhone 5s in 2013.
It is a simple round button in the centre of the bottom of the screen. Its pre-iPhone 5s look features a single square icon on it representing an app.

Its Function
Home
It's basic function is where it gets it name from. Pressing it once in any app will take you back to your home screen showing you your apps.
Since Apple introduced multitasking with the iPhone 3GS the issue of closing apps has been there. A lot of people do not realise you have to close apps. Simply going back to the home screen doesn't quit it, but merely hides it in the background. If you forget to close apps, your device can become slow.
Voice Control & Siri
Hold the home button for a few seconds, and it will bring up Voice Control on iPhones before the iPhone 4s and Siri – the voice assistant – on the iPhone 4s upwards.
This will then give you hands-free control of your iPhone. Voice Control offers basic voice commands while Siri gives you an advanced interactive assistant.
App Switching & Quitting Apps
Double pressing the home button brings up the app switcher and multitasking screen, which is offered to the iPhone 3GS upwards – as the original and 3G don't have multitasking.
By default, double pressing the home button on an original iPhone or 3G will open the phone app and load the Favourites tab.
On the 3GS or any device running iOS 6, it brings up the app switcher screen with icons shown on the bottom of the screen. Holding down on one of the icons will make them 'wobble', and you can press the 'no entry' sign to close each open app. Swipe left, and you have quick access to the orientation lock, music controls, and volume control.
In iOS 7 you still have the app switcher screen, but it takes up the whole screen and you lose the orientation lock option, which is now in the Control Centre. To quit an app, bring up the multitasking screen, which will show you screen grabs of all open apps. You can scroll left and right on these and either open an app by tapping on it or swiping up to close each app. If you have a lot of apps open, you can also close two and three apps at once by using two or three fingers.
In iOS 8, the app switcher screen is similar to iOS 7 but now adds quick access to Recent and Favourite contacts.
Here is a video of the app switching and quitting process: https://www.youtube.com/watch?v=EJ0tFnkgGZo
Screen Grab
One of the neatest tricks I found on the iPhone is the ability to take a snapshot of whatever is on the screen. Simply press the home button and the power button at the same time while in any app or screen, and it will save an grabbed image of it to your photos folder.
Touch ID
The iPhone 5s upwards lost the square icon and added a touch ID button in place of the regular home button. This can recognise your finger print and is used for unlocking your phone without the need to swipe or put in a passcode, as well as in app authentication.
This gives the home button a two step function. One is the regular pressing of a physical button, and the newer feature is just holding your finger over the button, referred to as tapping.
Reachability
Because of the larger screens on the iPhone 6 and 6 Plus running iOS 8, Apple uses reachability mode. Double-tapping the home button – without actually depressing it – will shift the screen halfway down so your average hand can reach the top without having to readjust the position of their hand.
Android users have had something similar this on their larger screened phablets for a while now.
Accessibility
A further option can be enabled to add triple-pressing the home button. If switched on, this will add accessibility functions.
DFU Mode
One final use is to put the phone in DFU (device firmware upgrade) mode. This is a special mode used for fixing restore issues and uses a special button combo mode using the home button and the power button.
Conclusion
A neat idea of a single multifunction button is very cool. In general it works very well ,and after using an iPhone for a while, you get used to it – but it can be a little frustrating.
iPad/iPod
Most of the above functions of the home button also work on the iPad and iPod. However, as with iPhones, it will vary depending on which model device and which version of iOS you are running.
Who knew a single button could be so useful across so many devices?
---
Follow Simon Royal on Twitter or send him an Email.
Like what you have read? Send Simon a donation via Tip Jar.
---
keywords: #iphone #homebutton # #techspectrum #simonroyal
short link: http://goo.gl/gNHakM
searchword: homebutton