The big news about the Early 2015 13″ Retina MacBook Pro is its adoption of the same Force Touch trackpad introduced with the 12″ MacBook. It's also faster than its predecessor and has improved graphics.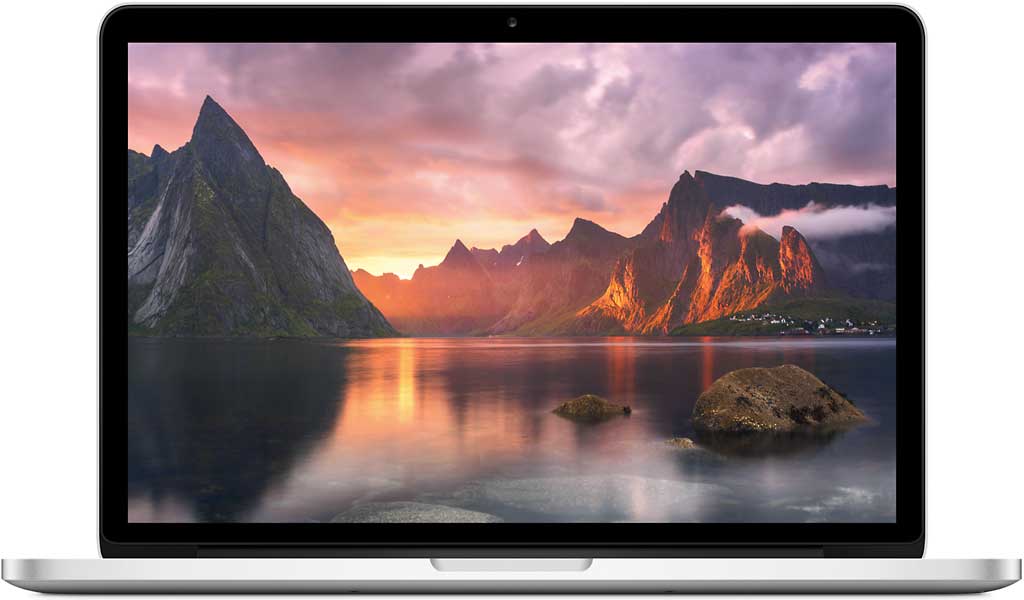 The base model has a 2.7 GHz dual-core Intel Core i5 with Turbo Boost to 3.1 GHz, and the better model has a 2.9 GHz i5 with 3.3 GHz Turbo Boost. The 2.7 GHz model can be configured with a the 2.9 GHz i5, and both can be ordered with a 3.1 GHz Core i7 that hits 3.4 GHz with Turbo Boost.
As with all Retina MacBook Pros, it's built around SSD technology for enhanced speed and ruggedness, not to mention allowing for a slim, cool running design.
As with the previous version, it has USB 3.0. The USB 3.0 specification is over 10x as fast as USB 2.0 and has half the bandwidth of Thunderbolt. There are a lot of USB 3.0 drives on the market, and they are far more affordable than Thunderbolt drives. Best of all, Apple uses the same port for USB 2.0 and 3, while the standard in the PC world is separate ports for each protocol.
Battery life is claimed to be 10 hours of wireless productivity.
This model shipped with OS X 10.10 Yosemite and supports all later versions, which are free updates.
Closed Lid Mode: All Intel 'Books support "lid closed" (or clamshell) mode, which leaves the built-in display off and dedicates all video RAM to an external display. To used closed lid mode, your 'Book must be plugged into the AC adapter and connected to an external display and a USB or Bluetooth mouse and keyboard (you might also want to consider external speakers). Power up your 'Book until the desktop appears on the external display and then close the lid. Your 'Book will go to sleep, but you can wake it by moving the mouse or using the keyboard. The built-in display will remain off, and the external monitor will become your only display.
To resume use of the internal display, you need to disconnect the external display, put the computer to sleep, and then open the lid. This will wake up your 'Book and restore use of the built-in display.
Details
introduced 2014.03.09 at US$1,299 (2.7 GHz dual-core i5, 128 GB SSD) and US$1,799 (2.9 GHz, 512 GB SSD). 3.1 GHz dual-core i7 build-to-order option
Part no.:
Model no.:
Identifier: MacBookPro11,1
Mac OS
Core System
CPU: 2.7 or 2.9 GHz dual-core Intel Core i5, 3.0 GHz dual-core i7 build-to-order option; discontinued 2016.10.27
Level 3 cache: 3 MB shared cache in i5, 4 MB in i7
Bus: 1600 MHz
RAM: 4, 8, or 16 GB from factory, no future upgrades
Performance, Geekbench 4

2.7 GHz i5: single-core, 3427; multi-core, 6478
2.9 GHz i5: single-core, 3583; multi-core, 6767
3.1 GHz i7: single-core, 3692; multi-core, 6949
Video
GPU: Intel Iris 6100
VRAM: uses 1 GB of system RAM
Video out: HDMI or Thunderbolt digital video port, which is backward compatible with Mini DisplayPort (VGA, DVI, HDMI, and DisplayPort supported with optional adapters)
display: 13.3″ glossy 2560 x 1600 18-bit 227 ppi color active matrix

supports 2560 x 1600, 1680 x 1050, 1440 x 900, and 1024 x 640
allows mirroring to external display or extended desktop mode
Drives
Hard drive: 128 GB to 1 TB SSD
optical drive: external only
drive bus: PCIe 2.0 x2 (over 700 MBps real world read and write speeds – 200-300 MBps faster than SATA Rev. 3)
Expansion
Thunderbolt 2: 2 ports
USB: 2 USB 3.0 ports
FireWire 400: via Thunderbolt adapter
FireWire 800: via Thunderbolt adapter
Ethernet: via Thunderbolt adapter
WiFi: 802.11ac
Modem: no longer offered by Apple
Bluetooth: BT 4.0 built in
ExpressCard/34: none
SD Card Slot: 1 SDXC slot
expansion bays: none
Power
battery: 71.8 Watt-hour
AC adapter: 60W MagSafe 2
Physical
size: 8.62 x 12.35 x 0.71″ (219 x 314 x 18 mm)
Weight: 3.48 pounds (1.58 kg)
Online Resources
keyword: retina13early2015