-The Apple MacBook Air is a gorgeous design masterpiece, and early 2015 saw me purchase an 11" model.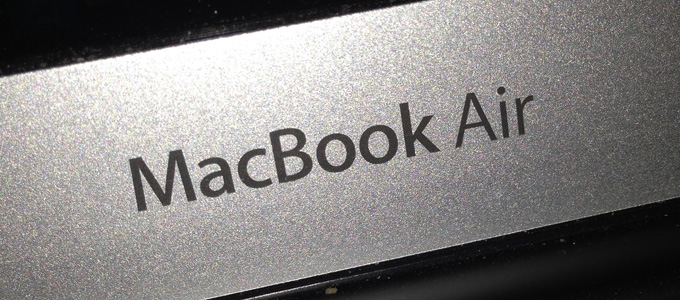 In 2008, Apple released the original MacBook Air. It was a super-thin wedge-shaped laptop sculpted from lightweight aluminium. Its minimal size came with some sacrifices, including lack of an internal optical drive, a single speaker, and only one USB 2.0 port. It also featured non-upgradeable RAM, shared graphics, and relatively small storage – especially if you chose the SSD version – and it only came in a 13.3″ model.
Further revisions saw increased processor specs, bigger drives, better graphics, a faster bus, optional RAM upgrades when ordering, faster WiFi, an additional USB port, and an SD card slot.
In 2010, Apple released a smaller version, the 11.6", alongside its 13.3″ range. A truly gorgeous tiny laptop. The smaller MacBook Air featured almost all the power of the its bigger 13.3" sibling but lacked the SD card slot.
In early 2015 I was in a position to get a newer Mac. My trusty white Early 2009 MacBook was still performing very well – especially after increasing it to 6 GB RAM – but I wasn't going to give up the opportunity to upgrade. I had wanted a MacBook Air since I first saw one and decided to go for one.
Hello 11″
Because of the lack of upgradeability, I wanted to go for as high a spec as I could get. I ended up going for a 2012 model 11" MacBook Air over the 2013 model because Hoxton Macs, the company I was getting it from, had 8 GB RAM models and 256 GB SSD drives in the 2012 versions, but not in the 2013.
My MacBook Air
So I grabbed an 11" mid 2012 model with a 1.7 GHz Core i5 processor packed with 8GB DDR3 RAM, Intel HD 4000 graphics chips with 1GB DDR3 shared memory. It is also the first MacBook Air to feature USB 3.0 ports.
A 13" model would have given me a little extra processor power, but I had played with an 11" in my local Apple Store and fallen in love with its size. Shortly after it arrived, I did wonder if I had made a mistake, but that soon faded when I used a 13" model and wondered how I ever used such a big laptop.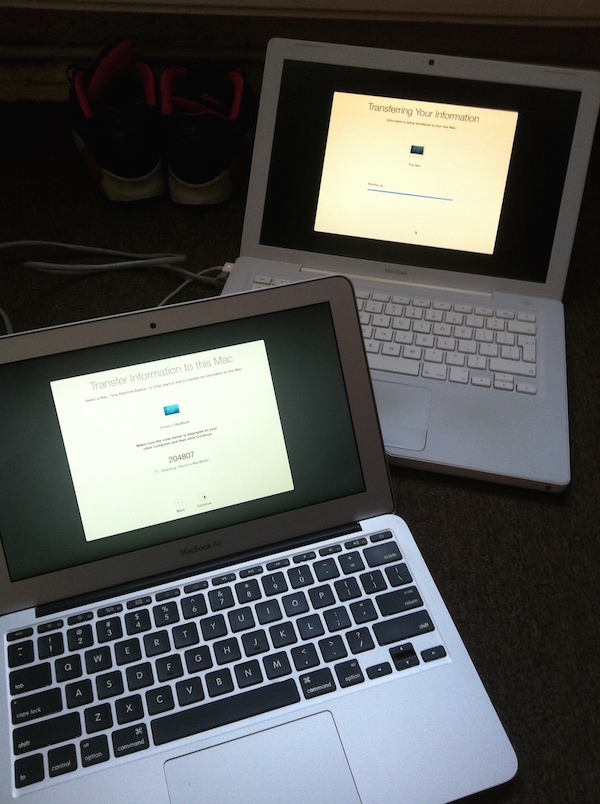 This tiny laptop blew my ageing 2009 MacBook out of the water in every way, from looks to performance. I did a lot on my 2009 MacBook – from web and print design to audio and video editing – and while it probably didn't process or render things as quickly as newer Macs, it coped very well. My MacBook Air, on the other hand, took this to a new level: its faster processor, faster system bus, increased RAM, and being SSD-based, make all that I throw at it very fast and a total joy to use.
I am sure a MacBook Pro or even a MacPro would perform much better than my tiny MacBook Air, but for what I use it for I am prepared to put this aside in favour of its tiny footprint and extreme portability.
Almost a year on, it still never surprises me what this little beast is capable of. It never gives me any issues or causes me any problems, and it is a true joy to use.
I have upgraded it from Mac OS X 10.10 Yosemite to 10.11 El Capitan, and this has increased performance even further.
Design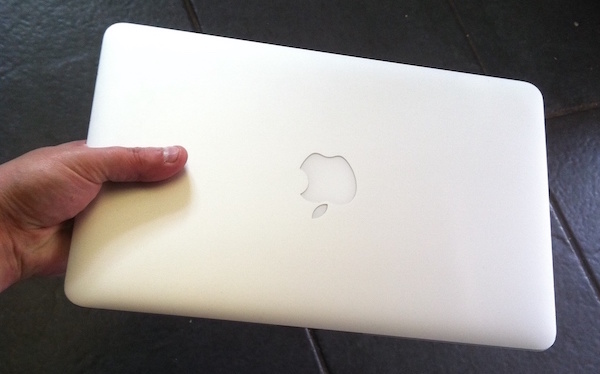 You can read about them, but it is not until you pick up a MacBook Air that you realise how gorgeous they are. The slim wedge design makes it a joy to hold. Others have taken on this design, such as the Samsung ChromeBook XE303 or Toshiba ChromeBook 2.
Despite being thin, it balances out the weight evenly. There is nothing worse than a laptop that is top-heavy, meaning the slightest jolt and it falls back.
Feel
The MacBook Air has a superb feel to it. That cold aluminium casing helps keep the temperature down – similar to the 12″ PowerBook G4 I had. It can make it very cold to use at times. Its metallic design makes it easy to keep clean, and unlike white Macs, it won't stain and mark over time.
Screen
Its tiny size doesn't give you that feel of using a netbook. While the small screen might not be to everyone's taste, you really have to experience it before you judge it. It isn't as small as you initially expect.
The only time I have had issues with screen size is when surfing. The odd webpage requires scrolling down to access boxes or fields, but this has only happened two or three times.
I have done picture editing on it without any issues. I used to do magazine publishing on massive 19″ CRT displays using professional packages, and doing the same on an 11″ MacBook Air screen doesn't feel cramped.
Keyboard
Unlike a lot of netbooks, the MacBook Air features a full-sized keyboard. The only difference between this and 13″ models is that the function keys are half height and the arrow keys are slightly shorter.

It has an amazing chiclet keyboard that is superb to type on. It is also my first backlit keyboard and something I have gotten used to very quickly. With varying degrees of brightness, it makes typing late at night a lot easier.
Audio
Sound is now covered by two speakers that sit above the keyboard below the screen, and for a laptop it has decent enough output to listen to music – but I wouldn't want to use it as my only source.
It has a headphone socket, but no audio in. If you need this, you would have to use some kind of USB input device.
Ports
It is a MacBook Air, and it lacks ports – that is to expected. However, compared to earlier models, this one has more to offer. It has a USB 3.0 port on each side, which is great, as my 2009 MacBook had both its ports next to each other, and if you had a large USB device it could prevent you using the other port.
The left side also has the MagSafe 2 connector and the 3.5 mm audio jack socket. The right also has the  ThunderBolt 2 connector, which I have only used for connecting via HDMI to my TV for watching videos on a large screen.
That is it for ports. It lacks the SD card slot of the 13″, and it has no ethernet port, which hasn't affected me so far, but I did like having it there as a fail safe.
Trackpad
Like a lot of newer computers, when looking at the trackpad it has no visible separate mouse button. The bottom half of the pad physical presses. One thing I still haven't gotten used is the multi-touch. I quite often end up zooming in on the screen because I have accidentally touched the pad in multiple places.
The trackpad itself is highly sensitive and excellent to use, and despite the tiny size of the MacBook Air, the trackpad is huge.
Battery
Battery life is around the 5 hours for this model, although later models and the 13" models offer longer batteries. I was pleased to see that Hoxton Macs had replaced the battery before sending it, so it came with a brand new battery featuring zero cycles.
Finally
What else can I say. It a Mac running Mac OS X, and it is tiny, without feeling like you are typing on a toy. After the MacBook range was discontinued in 2011, the MacBook Air is now Apple's entry-level range, and over the years it has dropped in price to reflect this.
Entry-level no longer means cutting too many corners. It might not be as powerful as the MacBook Pro, but it doesn't make them slow by any means.
Hoxton Macs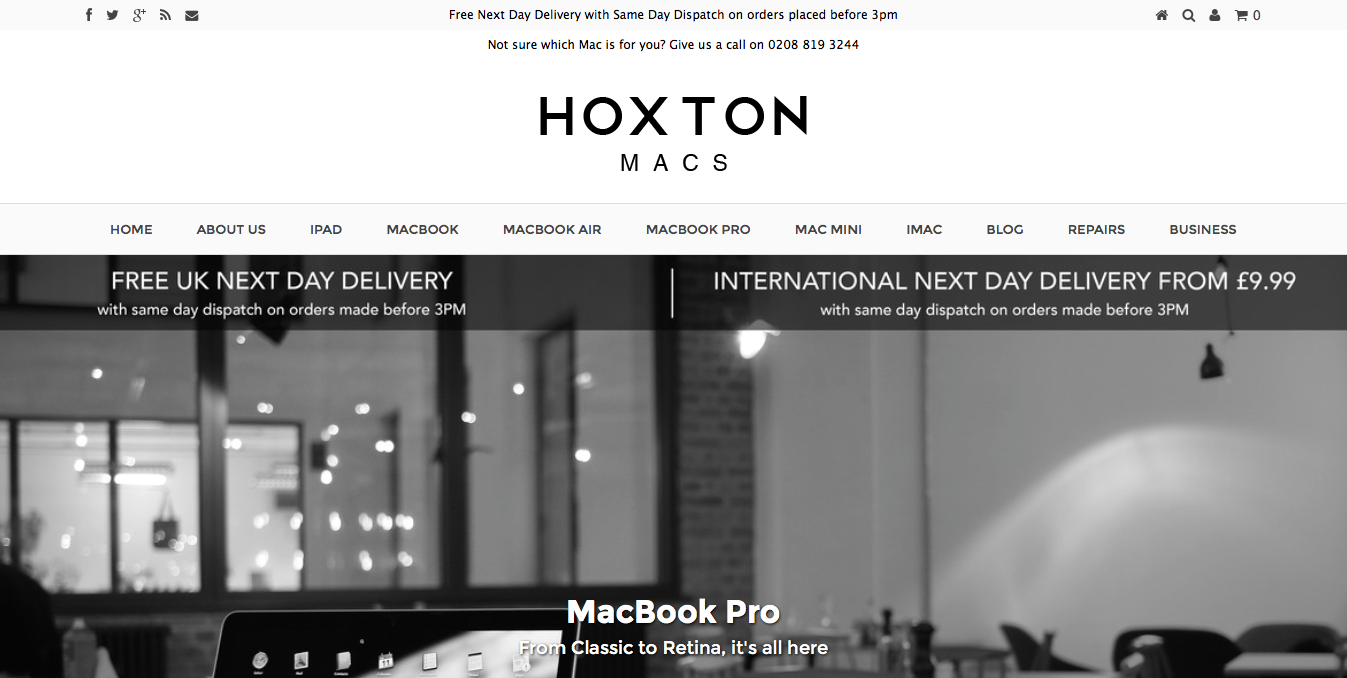 A fellow local Mac User member recommend a UK company called Hoxton Macs who specialise in refurbished Macs. When buying used, I didn't want to go down the eBay route. That's a lot of money to spend with no warranty. So after viewing what they had to offer and talking directly to them, I was impressed with their customer service and their pricing. I went ahead and ordered my MacBook Air. It came with a three months return-to-base warranty and free next day delivery, and I have been very happy with it.
I had an issue with a MagSafe 2 adapter that failed, and they promptly replaced it without question.
They may be UK-based, but they do offer cheap overseas shipping too.
Protect It

I like to keep my Macs as clean and protected as possible. I have always given them a thorough weekly clean.
I bought a clip-on clear case that fits on the bottom and top, protecting it from scratches and dirt. After nearly a year, the case is needing to be replaced. I also have a padded slip sleeve and a mini 11″ laptop messenger bag that holds all my accessories.
Conclusion
I love my 11" MacBook Air. I was quite sad at first to let my 2009 MacBook go, as it had served me so well, but the tech world moves on, and this MacBook Air is utterly amazing in every way.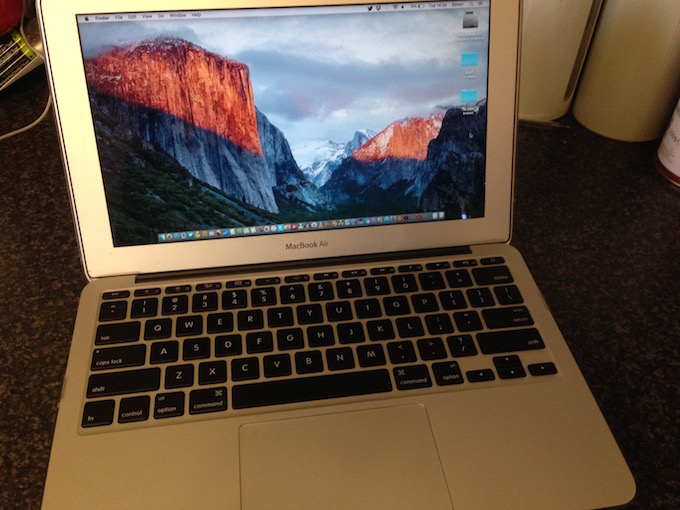 ---
Follow Simon Royal on Twitter or send him an Email.
Like what you have read? Send Simon a donation via Tip Jar.
---
keywords: #macbookair #hoxtonmacs # #simonroyal
short link: http://goo.gl/IHmfft
searchwords: macbookair