Apple shook up the Mac world when it announced in June 2005 that it would switch from PowerPC to Intel CPUs within a year. A lot of longtime Mac users felt betrayed. And when Apple introduced the first Intel Macs at the January 2006 Macworld Expo, we were shocked at how soon Apple had begun the transition.
The Last PowerPC Macs
The state of the Mac world at the end of 2005 included the following models (Geekbench 2 scores are for OS X 10.4 Tiger, faster model if available in two speeds):
Geekbench scores cover a broad range: 700-899 for G4 Macs, 1137-1233 for single G5 models, up to 2066 for dual-core G5, and an incredible 3298 for the quad-core Power Mac G5.
The First Intel Macs
The first generation of Intel Macs was built around the Intel Core Duo processor, a 32-bit extension of the Pentium family. All models shipped with OS X 10.4.x Tiger, at least 512 MB of memory, and a SATA hard drive. For the most part, they looked just like the models they replaced.
Because these were designed before the Core 2 Duo CPU, they are limited to a maximum of 2 GB of memory and OS X 10.6 Snow Leopard. Snow Leopard can run with 1 GB but doesn't run well until you have 2 GB. Replacing the Core Duo CPU with a Core 2 Duo does not allow use of additional memory.
MacBook Pro
The first Intel notebook was the 15″ MacBook Pro, which looked like the 15″ PowerBook, had almost the same screen (15.4″ 1440 x 900 vs. 15.2″ 1440 x 960 on the PowerBook), and added an iSight camera, the first 'Book from Apple with a built-in webcam. It has Intel Radeon X1600 graphics with 128 MB or 256 MB of dedicated video memory.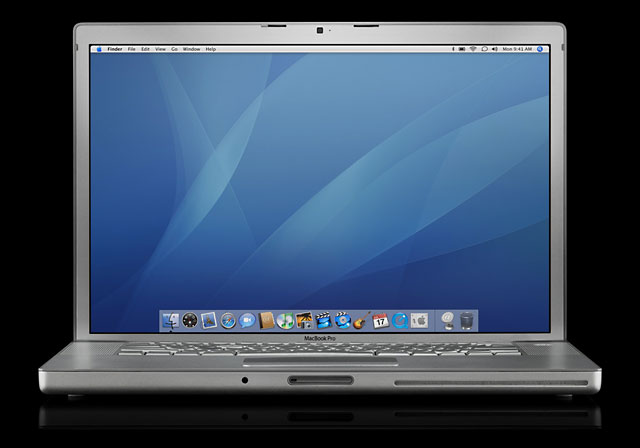 Apple announced the 15-incher at 1.67 and 1.83 GHz on January 10, 2006.It shipped with 512 MB or 1 GB of RAM and supports up to 2 GB, no more. It was the first Mac laptop with SATA for its hard drive.
By the time the MacBook Pro shipped, it had a 1.83 GHz CPU on the low end and a 2.0 GHz chip on the faster model. There was also a 2.16 GHz build-to-order option available. Geekbench scores were 2308 at 1.83 GHz, 2482 at 2.0 GHz, and 2684 at 2.16 GHz – nearly 3x the speed of the 1.67 GHz PowerBook G4!
It took Apple a couple months to work out some firmware issues, so the 17″ MacBook Pro didn't arrive until late April 2006. This was a 2.16 GHz machine with 256 MB of video memory and a 1680 x 1050 display. Its Geekbench score was 2645, nearly 3x that of the 1.67 GHz 17″ PowerBook G4 that it replaced.
iMac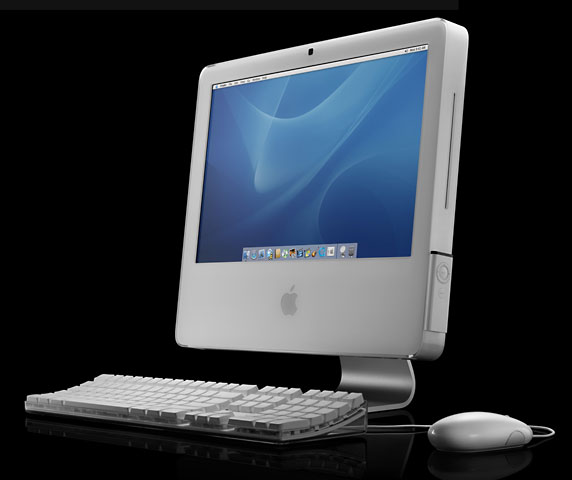 Also introduced on January 10, 2006, the first Intel-based iMacs came in 17″ and 20″ sizes, and they looked just like the iMac G5 iSight models that Apple had introduced in October 2005. Both models shipped with 512 MB of RAM and use ATI Radeon X1600 graphics with dedicated video memory.
Geekbench scores are 2363 for the 17-incher and 2542 for the 20″ iMac. This essentially doubles performance compared to the Late 2005 17″ and 20″ G5 iMacs.
Mac mini
On February 28, 2006, Apple moved the Mac mini from its G4 CPU to Intel – and introduced the only Mac ever built around the Intel Core Solo CPU. The focus was on making a low cost computer, not a speed demon.
The top-end Mac mini ran at a decent 1.66 GHz, making it the slowest of the Core Duo Macs. It shipped with 512 MB of memory and used Intel GMA 960 integrated graphics, which tied up 80 MB of system memory. It can supports 1920 x 1200 graphics using DVI and 1920 x 1080 using VGA.
Then there was the Core Solo Mac mini plodding along at 1.5 GHz. Except for its single-core CPU, it is the mostly same hardware as the 1.66 GHz Core Duo model. It does have a lower capacity hard drive and a Combo drive instead of the dual-layer SuperDrive on the faster model.
The 1.66 GHz Core Duo model has a Geekbench score of 2157, over 2.5x that of the 1.5 GHz G4 Mac mini. The 1.5 GHz Core Solo model achieves a Geekbench score of 1459 – 81% faster than the 1.5 GHz G4 Mac mini. Respectable, especially for $599, but the Core Duo Mac mini offered so much more at $799.
MacBook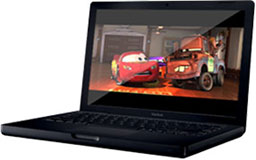 Apple replaced the iBook with the 13″ MacBook in May 2006. Like the Mac mini, it used GMA 950 graphics, but it runs at more respectable speeds of 1.83 and 2.0 GHz. 512 MB of RAM is standard.
The 1.83 GHz MacBook hits 2391 on Geekbench, while the 2.0 GHz versions (white and black) turns in a slightly better score of 2468. That's over 3x the power of the 1.42 GHz 14″ iBook – a huge step forward. (At the same time Apple introduced the MacBook, it made 2.0 and 2.16 GHz standard on the 15″ MacBook Pro.
Conclusion
With no G5 option for PowerBooks and the G5 never hitting the 3.0 GHz mark that IBM had promised years earlier, Apple made a wise move in leaving behind PowerPC chips in favor of Intel CPUs. In most cases the new Intel models provided 2-3x as much power as the machines they replaced.
There was one big downside to Apple making the switch to Intel in early 2006 instead of later: The 64-bit Core 2 Duo CPU wasn't ready yet, so as powerful as the new Macs were, they would have limitations that Core 2 Duo models would not.
Core 2 Duo Macs can all run OS X 10.7 Lion, Apple's first 64-bit only version of OS X, and support at least 3 GB of memory, and the Core 2 Duo CPU itself is is more efficient than the Core Duo that it replaced.
If you can get by with OS X 10.6 Snow Leopard (I can) and 2 GB of memory (doable, but tight if you use a lot of apps), you might be able to find some excellent deals on first-generation Intel Macs. To really unleash one, use Snow Leopard, be sure you have 2 GB of RAM, and seriously consider using a Solid State Drive (SSD) – good 256 GB ones are now below $100, and smaller ones cost even less.
Keywords: #coreduo #firstintelmacs
Short link: http://goo.gl/ubZAjn
searchword: firstintelmacs