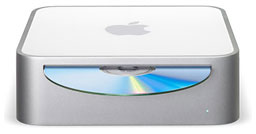 We cannot recommend the Core Solo version of the Mac mini unless you plan to upgrade to a Core Duo or Core 2 Duo CPU. Performance of the Core Solo model is so sluggish that most buyers who've written us express regret at the purchase. Because of this, used prices are low, which makes this an excellent candidate for a CPU transplant.
The Mac mini was the third Apple computer to make the switch to Intel CPUs – and the entry-level 1.5 GHz model was the only Mac ever to use Intel's single-core Core Solo CPU. Both versions of the Intel-based mini include AirPort Extreme, Bluetooth 2.0, Apple's remote control, gigabit ethernet, and Front Row with Bonjour.
The Intel-based mini has a 667 MHz memory bus, four times as fast as the G4-based mini. The new Mac mini supports two memory modules for up to 2 GB of RAM.
There's one bank with two memory sockets, so to upgrade RAM, you have to remove the 56 MB modules that came with the computer. Apple says that memory upgrades should only be done in matched pairs, but Other World Computing has discovered that you can use "mismatched" memory in the Mac mini (and some other Intel-based Macs where Apple specifies that upgrades should only be done with matched pairs). Their test results show that in general there is more benefit from having more RAM – even mismatched – than there is from having less RAM that is matched.
Front Row with Bonjour allows users to share music, photos, and video over a local network, and the Mac mini can be connected to a television set, making it more of a digital hub than ever.
The Core Solo Mac mini runs at 1.5 GHz and includes 512 MB of RAM, a 60 GB hard drive, and a Combo drive. It retails for US$599 – $100 more than the entry-level G4 Mac mini did. Apple claimed the Intel-based Mac mini was "up to four times faster" than the old G4 Mac mini, but that only applies to the Core Duo model.
The 2006 Mac mini was Apple's first computer to use Intel graphics and the first Mac in a long, long time to use "vampire video" (that's where the video bites into system memory). The Intel GMA950 graphics processor uses 80 MB of system memory, so increasing memory beyond 512 MB is a good idea.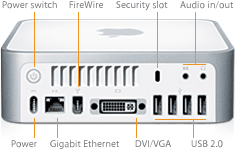 The Intel-based Mac mini looks just like the G4-based one from the front, but the rear panel is different. The Intel-based mini has four USB 2.0 ports and no internal modem.
The tiny Mac mini (6.5″ square, 2″ high, 2.9 lb.) has a minimalist design. On the front, there's just a slot-loading optical drive and a power light. On the rear, just enough ports to do everything important.
The Mac mini doesn't include a keyboard or mouse. Apple says buyers can plug in their favorite USB keyboard and mouse – or buy Apple's offerings. Mac OS X includes support for remapping the Windows alt and option keys to option and cmd.
Apple offers several Build-to-Order options, such as 80, 100, or 120 GB hard drives; a dual-layer SuperDrive; Mighty Mouse and a keyboard, or a wireless mouse and keyboard. And with a $19 DVI to Video Adapter, you can connect the Mac mini to most modern TVs using S-video or composite video.
Intel-based Macs use a partitioning scheme known as GPT. Only Macintel models can boot from GPT hard drives. Both PowerPC and Intel Macs can boot from APM (Apple's old partitioning scheme) hard drives, which is the format you must use to create a universal boot drive in Leopard. PowerPC Macs running any version of the Mac OS prior to 10.4.2 cannot mount GPT volumes. PowerPC Macs won't let you install OS X to a USB drive or choose it as your startup volume, although there is a work around for that.
Details
introduced 2006.02.28 at US$599; replaced by faster Core Duo models 2006.09.06
Part no.: MA205
Model Identifier: Macmini1,1
Mac OS
requires Mac OS X 10.4.4 Tiger to 10.6 Snow Leopard; not compatible with OS X 10.7 Lion
Mac OS X 10.6 Snow Leopard compatibility

Grand Central Dispatch not supported with Core Solo CPU. Upgrading with a Core Duo or Core 2 Duo should enable GCD support.
64-bit operation is not supported with Core Solo or Core Duo CPUs. Upgrading with a Core 2 Duo CPU will not change that.
OpenCL is not supported with the Intel GMA 950 GPU.
Core System
CPU: 1.5 GHz Core Solo (Yonah), Socket M makes upgrades possible
L2 cache: 2 MB on CPU
bus: 667 MHz
RAM: 512 MB, expandable to 2 GB using two PC2-5300 DDR SDRAM. Best performance with matched memory modules. 80 MB of RAM set aside as video memory. Will not support 3 GB of RAM even with a Core 2 upgrade.
performance:

Geekbench 2 (Leopard): 1324
Geekbench 2 (Tiger): 1459
Video
GPU: Intel GMA 950 with resolution to 1920 x 1080 (VGA) and 1920 x 1200 (DVI).
VRAM: 64 MB DDR2 SDRAM (shared with main memory, and according to Apple actually uses 80 MB of system RAM)
video out: DVI, VGA with included adapter, S-video with optional adapter
Drives
hard drive bus: 1.5 Mbps SATA I
hard drive: 2.5″ 60 GB 5400 rpm Serial ATA standard; 80, 100, 120 GB available as build-to-order options
optical drive bus: UltraATA
Combo Drive: reads DVDs at up to 8x speed, writes CD-R discs at up to 24x, writes CD-RW discs at up to 16x, reads CDs at up to 24x
Expansion
USB 2.0: 4 ports
FireWire 400 ports: 1
FireWire 800 ports: 0
ethernet: 10/100/gigabit
WiFi: 802.11g AirPort Extreme built in
Bluetooth 2.0: standard
IR receiver: supports Apple Remote (included)
no internal modem; external USB modem available
microphone: none
Physical
size: 2.0 x 6.5 x 6.5 in/5.1 x 16.5 x 16.5 cm
weight: 2.9 lb./1.3 kg
power: 85W external power supply
PRAM battery: 3V CR2032 lithium
Upgrades
CPU can be replaced with a faster Socket M Core Duo or Core 2 Duo.
Online Resources