The Mac mini was both the smallest Mac ever sold and the least expensive. Introduced in January 2005, the Mac mini has only been through one design change. The original design was 6.5″ square and 2.0″ tall; the later design was 7.7″ square and 1.4″ tall.
The Mac mini doesn't include a keyboard or mouse. Instead, you can plug in your favorite USB keyboard and mouse – or buy one from Apple or any computer retailer. Mac OS X 10.4 (Tiger) includes support for remapping the Windows alt and option keys to option and cmd.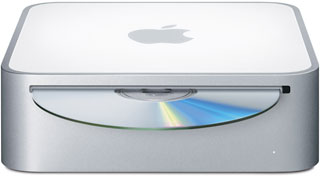 Original Design, PowerPC

Original Design, Intel Core
Mac mini, New Design
There is no built-in optical drive with the 2011 and later models.

Memory on the G4 mini can be expanded to 1 GB (there's only one memory slot, so if you upgrade, you have to remove what's installed), and Apple doesn't recommend that users upgrade RAM (although it won't void your warranty). The early Intel-based mini supports 2 GB of RAM, the 2007 3 GB, and the 2009 models 8 GB.
The 2014 model has its system memory soldered in place and cannot be upgraded after the original purchase. The 2018 brings back memory expansion.
Any laptop drive should work inside the pre-2018 Mac mini. Higher speed 7200 rpm drives can make the mini an even perkier machine, and an SSD will really unleash their power.
With USB 2.0 and FireWire (through the 2014 model), it's easy to add all sorts of peripherals, and Apple moved to USB 3.x starting with the 2012 model.