In late 2015, I reviewed the budget Microsoft Lumia 435 handset. Now its 2016, and I check it out upgraded to Windows 10 Mobile.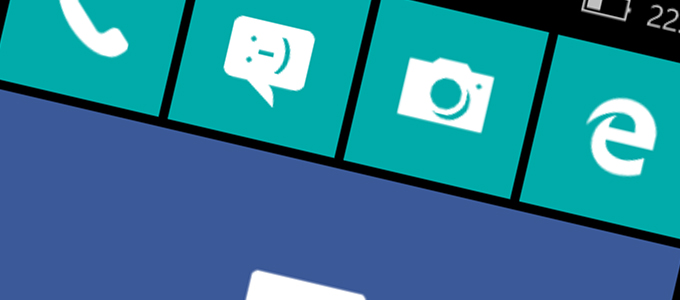 Windows 10 Mobile finally launched in March 2016, but not all handsets will see it. This has annoyed a lot of people, and there seems no clear reason or set specifications for which phones received it or for those cut off by it.
I recently reviewed Windows 10 Mobile on my midrange Microsoft Lumia 535. Now I look at it on the budget handset, the Microsoft Lumia 435.
The Lumia 435 is quite possibly the lowest hardware that can run Windows 10 Mobile, so in true low-end style, it was interesting to see how it would run.
Installation
To install, you first need to download the Windows Advisor app on your handset. This will check if your device is compatible and then set up your device for the update. Once Windows Advisor has done its magic, system updates are found in settings > phone update.
Now just sit and wait. My Lumia 535 took a very long time; however the Lumia 435 was done in under an hour.
Updates
Once installation is done, I recommend waiting for the app updates to complete. I had 18 updates coming in, and it's worth letting these finish before checking out the new OS. This took about 30 minutes. When everything has finished, do a reboot, and then you are good to go.
First Impression & Speed
This is not a dedicated Windows 10 Mobile review – if you want that check out my other articles showing my first impressions. This is a look at how it performs on the budget Lumia 435.
The Lumia 435 features a dual-core 1.2 GHz Cortex A7 processor, 1 GB RAM, and Adreno 302 graphics chip. This is by no means top of the range, but it is still no slouch either. In iOS terms, it's somewhere between the 2011 iPhone 4s and 2012 iPhone 5. In Android terms, it is similar to the HTC One SV or Sony Xperia L, all of which are from the 2011/2012 era. The Lumia 435, however, is a 2015 handset.
Under Windows Phone 8.1, the Lumia 435 runs very fast, and I have to say performance under 10 Mobile is just as fast.
The OS is very fluid, and the built-in apps open without hesitation. Third party apps are just as quick. Opening Facebook and Twitter is nice and fast and refreshes very quickly.
There is slight stuttering when scrolling fast and the occasional split second where the screen catches up. This is more down to the budget screen technology used, rather than slow processor/RAM combo. It is nothing annoying and nothing that isn't expected on a sub-£50 handset.
It seems Microsoft have done a very good job of creating a new OS without bloating it, even on low-end handsets. This is something of a rarity these days.
Screen Shots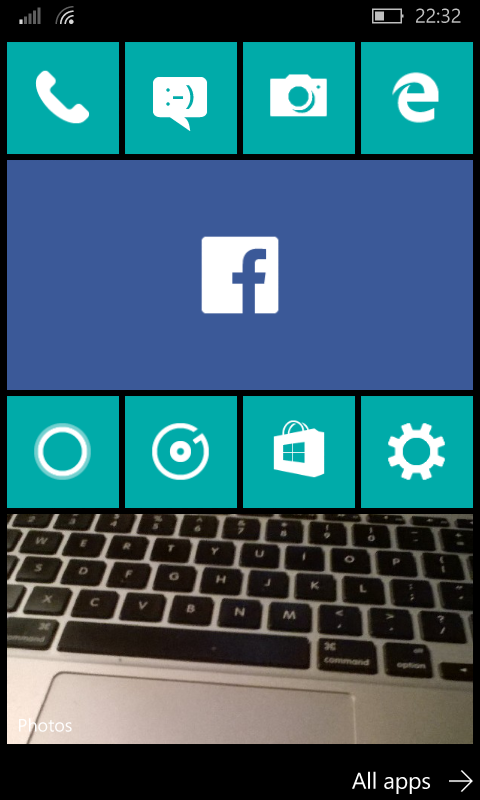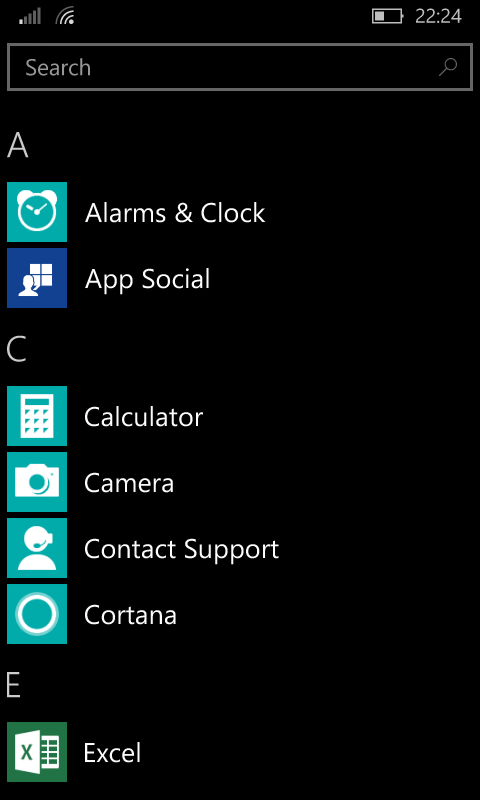 Lumia 435 Screen Grabs: Lock Screen. Home Screen. App Drawer.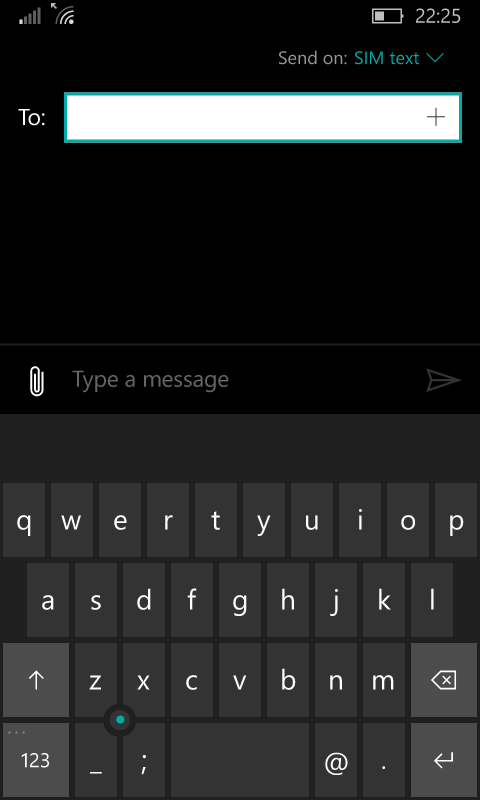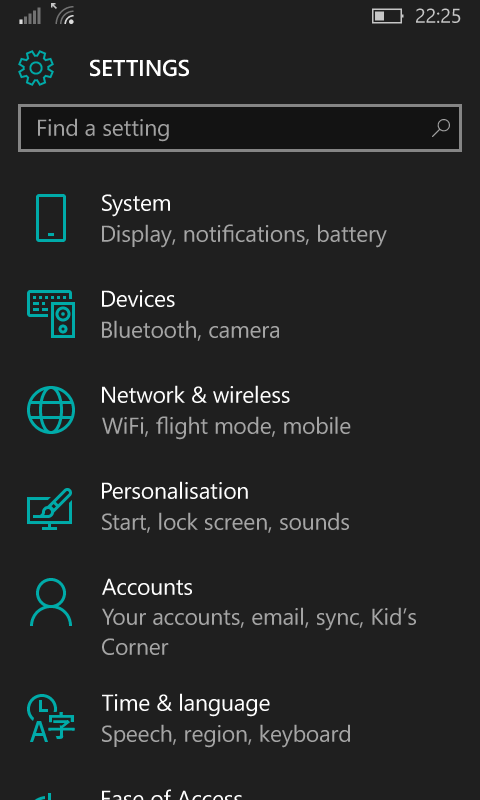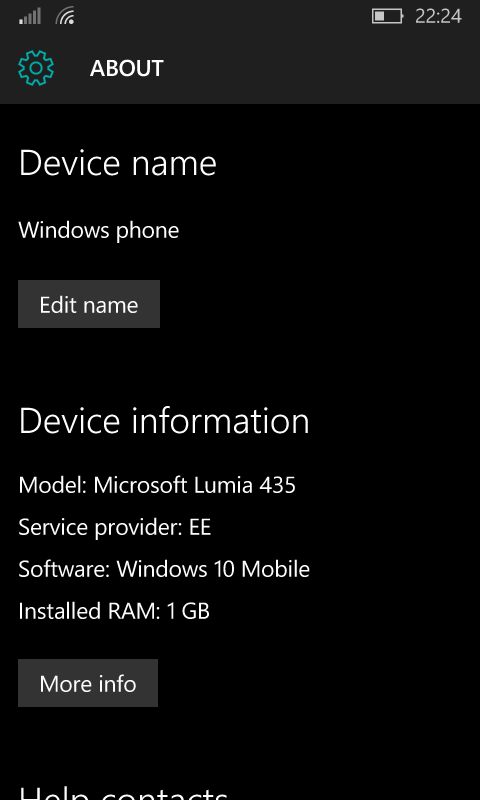 Lumia 435 Screen Grabs: Message Screen. Settings Screen. About Screen.
Battery
As with my Lumia 535, battery doesn't seem to be any different under 10 than it was under 8.1. I have been running this for nearly two days – and have used it extensively. All the updating of apps and setting them up and tweaking the new OS was done whilst off charge using the battery, and it didn't affect it too much.
10 Moible Needs 1 GB – But Why?
Microsoft changed the requirements for Windows 10 Mobile quite a few times during its beta stages. There are a lot of handsets not getting it despite having decent specs – and some having 2 GB RAM. However, one certain requirement now is all devices with 512 MB have been dropped. Whether this was to ensure a smooth experience or not, it would be interesting to see how it ran on even lower-end hardware.
There are some powerful Windows Phone 8.1 handsets with only 512 MB RAM that – in my opinion – would run Windows 10 Mobile very well.
Conclusion
There isn't really much more to say regarding Windows 10 Mobile. If your device can run it, upgrade. It is still fast and runs no differently to Windows Phone 8.1. Even on the very budget conscious Lumia 435, which is about as low as it gets, performance is fantastic.
Whatever faults the Windows Phone platform has, you can't knock its performance especially on lower hardware. I am very pleased with it, and the general buzz in the Windows Phone/Mobile world is the same too.
---
Follow Simon Royal on Twitter or send him an Email.
Like what you have read? Send Simon a donation via Tip Jar.
---
Keywords: #lumia435 #window10mobile #techspectrum #simonroyal
Short link: http://goo.gl/1qXZD9
searchwords: lumia435-windows10mobile