Low End Mac has been on the Web since April 1997, and one of the first community-building things we did was create an email list for Mac Quadra users later that year. While groups already existed for 68030 and earlier Macs as well as PowerPC Macs, 68040 Macs had been overlooked.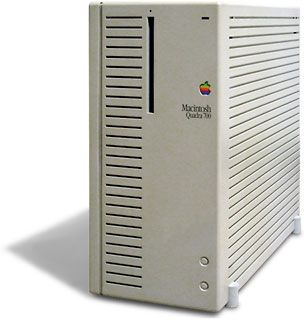 That was the start of things. Quadlist was an immediate success, followed by groups for pre-68040 Macs and PowerPC Macs – and then a host of other topics such as PowerBooks, Linux on Mac, some national groups, and LEM Swap.
The original intent of Low End Mac was to provide information to support those using the oldest Macs that were still useful in 1997, starting with the Mac Plus and going up through the 68030 models initially. Then adding Quadras and PowerBooks. Later on, Power Macs. The iMac when it was announced in May 1998. All because sooner or later every Mac becomes low end.
The frugal, the cash-strapped, the students, and the patient flocked to Low End Mac in droves. Our emphasis on value – getting the most out of the Mac you have, buying enough Mac but not too much, choosing sensible upgrades – drew a lot of attention from companies reselling used Macs and offering Mac upgrades.
Our community includes our staff of volunteer writers, our readers, and those organizations that support us in making the most of our aging Apple gear.
Site Statistics
Over the past 19 years, we've accumulated over 9,000 pages of content and served more than 160 million pages. Over the past 12 months, we've served 2.5 million pages, 1.6 million sessions, and 1.25 million visitors. Of those, 367,000 (nearly 23%) are returning visitors. 70% of pages were served to one-time visitors in the past 12 months, 9.5% to those who visited twice, 3.7% to three-time visitors, 2.0% to those who visited lowendmac.com four times, and so on.
Over 13% of pages were served to those who visited Low End Mac at least six times over the course of the year. I'd call that our core audience, people who visit at least once every other month. That's currently about 8,000 people who are regular visitors.
Helpful and Generous
Our Facebook group has over 2,650 members helping each other out. We have over 1,300 followers on Twitter (@lowendmac) who receive site updates every time we post a new page. We use Google groups, but that has never done much in the way of building site traffic or community – more a matter of covering our bases.
Every time we've put out a request for funds, you've come through. Last week Tuesday we posted a request for $2,000 to cover our taxes, our monthly expenses, and provide a bit extra for equipment upgrades – and the community came through beyond our expectations!
Living at the Low End
My newest Mac is a 2.0 GHz Late 2008 Aluminum MacBook with a 500 GB hard drive and 4 GB of memory. It usually runs OS X 10.9 Mavericks, and it can also boot into OS X 10.11 El Capitan when I want to familiarize myself with it. Next is my 2007 Mac mini, also 2.0 GHz, with 3 GB of RAM (its maximum) and a 256 GB SSD running OS X 10.6 Snow Leopard. (I'd like an SSD in the MacBook next.) Third is a 2.3 GHz Late 2005 Power Mac G5 Dual with 3 GB of RAM and two hard drives that normally runs OS X 10.5 Leopard but can also boot OS X 10.4 Tiger when necessary.
Each of these Macs is connected to a 20″ 1600 x 1200 pixel display in my office, two of them in vertical orientation. I picked those up second-hand for $75 each many years ago. They have served me well.
Going Forward
I would like to get more up-to-date equipment over time. I'm getting by with my 2.0 GHz MacBook and Mac mini, but they can be slow. An SSD in the Mac mini has really helped speed up things.
I stick with OS X 10.6 Snow Leopard on the Mini because it is the last version to support PowerPC software – things like Microsoft Office 2004 and AppleWorks, apps I can't replace or see no need to. It would be great to have one of those quad-core Mac minis or a quad-core Mac Pro as my main desktop machine, something with more power and more memory than the Mid 2007 Mac mini allows. This would become the new home network server.
For the field, I would love a 17″ MacBook Pro capable of running OS X 10.9 Mavericks very well (the Early 2011 can also run 10.6 Snow Leopard and has Thunderbolt – even the Mid/Late 2007 model can run El Capitan). I like my little 13″ MacBook, but the screen feels so small when working in the field. A 17-incher would be so much nicer. When used at home, the MacBook is connected to a 20″ display, but something larger than 13″ for the field would be awesome.
The iPhone 4S is feeling very sluggish. I've covered that in my hands on article about the iPhone 5S. Two generations behind the 6S, two ahead of my 4S, and it packs quite a punch from my perspective. We've picked up a 5S and will be looking for a second after next Monday's Apple news conference.
You Are Low End Mac
Whether you have the latest Mac, an old Core 2 Duo model, a PowerPC machine, or an ancient 680×0 Mac, your Mac is getting older. Or your iPhone. Or your iPad. And the longer you use it, the more you need the kind of support the Low End Mac community offers.
We have thousands of articles online covering everything from the first Mac through the latest iPhone. We have thousands in our Facebook group, a very helpful bunch. We run several forums on Google Groups covering the whole range of Mac hardware. We are Low End Mac – and so are you.
Thank you for being part of our community. We look forward to celebrating 19 years online in April – and 20 years in April 2017. We hope to be here for you as long as Macs and other Apple gear remain in use.
Short link: http://goo.gl/Gpze6D