A new personal assistant, iCloud, and wireless syncing were a few major introductions for this small but important update.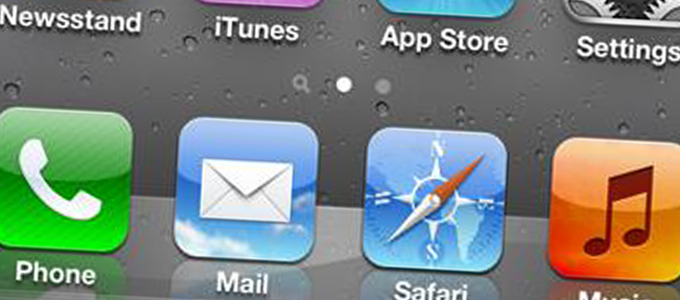 While iOS 5 was a relatively short upgrade, it did bring with it some major new features. Announced at WWDC in June, it was finally released in October 2011 alongside the iPhone 4s.
Visually identical to the iPhone 4 – apart from some antenna marks – the iPhone 4s introduced a dual-core A5 processor and improved GPU, whilst keeping the 512 MB RAM. It also upped both cameras. These changes put it miles ahead of its predecessor.
iOS 5's biggest new wow feature was Siri, the new digital personal assistant, available exclusively for the iPhone 4s – and later the iPad 3rd generation. It was a smart new way of giving your device voice commands, asking it questions, and many other functions. It was far more advanced than Voice Control but required an internet connection to talk to the servers.
Aside from Siri, Apple introduced iCloud. It was the first time you could manage your device without relying on a computer. 5 GB of storage was given free, plus an Apple email address and the ability to sync your music, pictures, videos, and more across iCloud devices.
A new iDevice-to-iDevice messaging service called iMessage was introduced. Similar to BlackBerry Messenger, it allowed users to send and receive text, pictures, and videos via a data connection, unlike regular SMS which uses a cellular connection. Cleverly, it used the regular Messages app and could automatically tell if your recipient was an iDevice – and messages would go blue – or a regular device and messages would go green. Apple would later introduce iMessage to the Mac – called Messages – meaning you could read and write your iMessages on your computer too.
Wireless syncing was introduced with iOS 5, allowing your device to be updated and media synced without connecting a cable to your computer. It also allowed activation to be wireless.
Apple changed the way notifications came in. Gone were the bubble pop-ups in favour of a banner at the top and access via the Notification Centre (although it could be reverted it preferred).
A quick access icon on the home screen made accessing the camera quicker, and pressing the volume up button whilst in the camera now would take a picture – like a dedicated camera button.
Apple finally got with the times and offered social media integration – something Android had for a while – making Twitter built-in and sharing to it a lot easier.
Version 5.1 was released in March 2012 with the introduction of iPad third generation and added Japanese support in Siri.
Version 5.1.1 – the final version for iOS 5, was also the final ever release for the original iPad and iPad Touch third generation, and brought a few bug fixes and HDR improvements.
As you can see, there weren't many updates for iOS 5 over those six months – but it did bring some amazing new features. Other than Siri for the iPhone 4s and iPad third generation, other supported devices received all introduced features.
---
Check out the next release, iOS 6: Over 200 New Features?, or read the previous, iOS 4: It's All About The Face.
---
Follow Simon Royal on Twitter or send him an Email.
Like what you have read? Send Simon a donation via Tip Jar.
---
keywords: #iphone3gs #iphone4s #iphone4 #icloud #imessage wifi #sync #siri #ios5 #ipodtouch #ipad #techspectrum #simonroyal
short link: https://goo.gl/RXyTfb
searchwords: ios5