I think my first mobile phone was a Sprint, and I later switch to Alltel with my wife because she had to travel in Michigan's upper peninsula, and it was the only carrier with good coverage on those long stretches of road between towns. I was there when Verizon acquired Alltel in 2008, and I continued to use their service for years. More recently, I have been with AT&T – until last week.

I decided it was time to really investigate Consumer Cellular (CC), a small carrier with a small price tag for service. CC is highly rated by users, and for good measure there is a small discount for AARP members.
See Consumer Cellular: A Low End Mobile Solution for an overview of Consumer Cellular plans and devices.
My Circumstances
But my needs are anything but typical.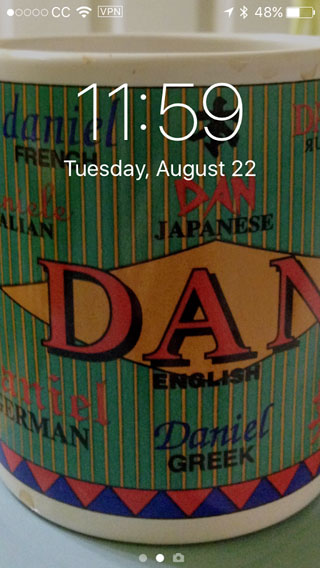 First of all, I have older phones. My newest is a 2012 iPhone 5 that supports the current version of iOS (10.3.3), but it won't be supported when iOS 11 arrives later this year. The other one I use is a 2011 iPhone 4S, but I have used it more as an iPod touch exclusively on WiFi. It's on iOS 9.3.5. (I also have a 2009 iPhone 3GS with iOS 6.1.6, but it's hard to find up-to-date apps for it.)
One problem is that I work in a dairy cooler, which is metal clad and functions quite well as a Faraday cage. In other words, it block radio frequency signals very well. That means my phone has to work extra hard looking for WiFi or mobile service. On top of that, a cold battery holds less of a charge than a room temperature battery. I usually have to charge my iPhone 5 on my lunch break and again when I leave work.
Solution: Switch to using the iPhone 4S, which tends to hold a charge through the entire shift.
But the other problem is that the free WiFi network at work no longer supports my iPhone 4S. For that I have to use the iPhone 5. When you have a limited data plan, every bit of WiFi helps you stretch your budget.
The Temporary Two Phones Solution
Faced with an iPhone that has battery issues but works over WiFi at worek and an iPhone that doesn't work on WiFi at work but has great battery life, I decided to pursue a two phone solution: I use the iPhone 4S for phone calls, because it's a lot less likely to have a drained battery than the iPhone 5.
I use the faster, newer, slightly larger iPhone 5 primarily on WiFi, but I also have it set up for phone service so I can use Waze GPS on its bigger display.
One phone for calls (technically the iPhone 5 could be used, but I don't want to confuse people with two phone numbers). One phone for use on the WiFi network at work. And both phones have access to 3G and 4G service (only the iPhone 5 and later support 4G LTE).
And I don't think I mentioned it yet, but this is on the same AT&T network I've been using for years. Consumer Cellular contracts with both AT&T and T-Mobile to provide service to its customers. (I probably should get my phones unlocked so they can use T-Mobile as well.)
No, it's not quite as convenient as having a single phone, but I'm not in a position to buy a newer phone until the next generation is released in mid-September. Besides which I want a larger screen, like the 4.7″ on the iPhone 6, 6S, and 7. I could get an iPhone 6 from Consumer Cellular for $200, but it's I will hold out for the price reduction that comes when new models are released. And then I will go back to using just one phone for calls and data.
I'm on the 250 minute calling plan, which costs just $15 per month. Add $10 for the second phone. Add just $5 for the 2,000 text/200 MB data plan, and we're up to $30 a month before my small AARP discount and taxes and other fees. That's about $10 per month less than I had been paying for service, and if I go over my plan cap, CC will automatically move me to the next plan for the rest of the month, adding just $5 to my mobile bill.
I've already used almost 100 MB, so I'm definitely going to end up on the 500 MB plan for $5 more. My bill will be $33.25 plus any taxes – until I get an iPhone 6 or newer and revert to using a single phone for everything.
And if I weren't using a two-phone solution, it would be $10 less. That would help pay for a newer iPhone…. Maybe I will go for a 6S when the newer models ship later this month!
Service
Consumer Cellular has the highest customer satisfaction rating in the mobile industry, which you'll see the minute you reach the website. It's options are easy to understand, and letting you pick a minutes plan and a text/data plan that fits you gives you more options. Best of all, they don't gouge you for going over plan limits until you break the 5 GB barrier.
Making the switch was as easy as installing the new SIM, powering down my iPhone, turning it back on, and verifying that the new phone number is in place. As further evidence, where the phone used to show AT&T at the top of the screen, it now says CC.
I have been using CC for over a week and am impressed with the service and the pricing options. It's definitely worth looking into if you are not streaming a lot of video over the cellular network.
Notice: Consumer Cellular has a Refer a Friend program that provides a $10 credit to both users. If you choose to switch to CC, please use me as your Refer-A-Friend and the number 616-406-6663, the number on the phone that I don't use for phone calls. Thank you!
Searchword: centurycellularswitch
Keywords: centurycellular lowendmobile
Short link: https://goo.gl/8376Pk