When Steve Jobs debuted the MacBook Air on January 15, 2008 at the San Francisco Macworld conference, he famously demonstrated its thinness by pulling one out of a manila envelope. He claimed it was the thinnest laptop in the world.
The Early 2008 MacBook Air
At the time, though, thinness didn't come cheap – the 13″ MacBook Air (model A1237) base price was US$1,799, which got you a 3 pound laptop powered by a special smaller, more battery-friendly version of Intel's Core 2 Duo Merom – a 1.6 GHz model custom made by Intel for Apple. Standard storage was an 80 GB 4200-rpm hard drive. A 64 GB SSD was available as an added-cost ($999!) option; this was the first time Apple offered an SSD drive option. 2 GB of memory was built-in – with no other RAM options available.
With the default CPU and hard drive, this was the slowest performer in Apple's 2008 product line. Geekbench results put it in the same ballpark as the Early 2006 1.83 GHz Mac mini with the original Core Duo CPU. You could order a faster 1.8 GHz processor and the SSD option to improve performance – and boost the price to US$3,098.
Notable at the time was what wasn't included: Unlike most laptops of the day, there was no optical drive; users needing to install software from a DVD disc were encouraged to either purchase Apple's SuperDrive connecting via USB or to share the optical drive on another Mac across a WiFi network.
Also missing were multiple USB ports. You got one. Enjoy it.
Need more than 2 GB of memory? Tough.
Want wired Ethernet? Buy a USB dongle.
Need FireWire? Sorry.
Need more than 64 or 80 GB of built-in storage? Then this isn't for you.
It's Not a Netbook
Unlike popular and affordable ultra-portable Windows or Linux netbooks of the day, the MacBook Air included a reasonable screen resolution – 1280 x 800 pixels (the same resolution found on MacBooks of the day) – and a full-sized keyboard and trackpad in a sleek aluminum case.
At release time, the original Air was praised for its thinness, low weight, and full-sized keyboard and trackpad, but reviewers were concerned by its limited configuration options, relatively slow performance, non-replaceable battery, and by the flip-down door covering the audio jack and USB and micro-DVI ports – the door kept some plugs from fitting properly into the ports. Having just one USB port required juggling at times – if you needed to connect to an ethernet network and a USB printer at the same time, you would need a USB hub.
That original MacBook Air model was controversial – but PC manufacturers rushed to release competing models, generically referred to as ultrabooks. Intel happily sold them the shrunk-down CPU it had developed for Apple.
Curious but True
Like other computers of the era, Apple shipped the original MacBook Air with a set of DVD discs for reinstalling the operating system (OS X 10.5.1 Leopard) and more. But the Air lacked an optical drive. The discs, however, included a Remote Disc utility in both Mac and Windows versions that was designed to be used on another computer; Apple's Bonjour networking would allow the Air to read the remote data disc. The Air was even able to boot from the remote disc to reinstall OS X (slowly).
The Early 2008 MacBook Air has a drive connector unique among Macs. Other World Computing sells 64 GB and 128 GB SSDs for this model at much nicer prices than Apple charged for them back in 2008.
Late 2008 MacBook Air
That original model stayed in production from January through October 2008; the Late 2008 model (A1304) offered improved performance even though it used the same CPU models by speeding up the data bus and graphics chipset, including a larger cache, and switching from PATA to SATA for its hard drive or SSD. In benchmarks, it scored 10-20% better than the original.
Geekbench 3, 32-bit multi-core results
1.6 GHz Early 2008, 1183
1.8 GHz Early 2008, 1283
1.6 GHz Late 2008, 1453 – 23% faster than 1.6 GHz Early 2008
1.86 GHz Late 2008, 1416 – other Geekbench tests have a higher score than the 1.6 GHz Late 2008 model
The micro-DVI port of the original model was replaced with a mini DisplayPort, allowing it to drive higher resolution external displays.
A 128 GB SSD was available as an option, offering twice the storage at a lower price ($699) than the original model, bringing the price of an Air tricked out with the faster CPU and SSD to $2,499.
Other World Computing offers 60, 120, 240, and 480 GB SSD upgrades for this model.
Mid 2009 MacBook Air
That model was replaced in turn in June 2009. The Mid 2009 MacBook Air (A1304) offered 1.86 and 2.13 GHz Core 2 Duo CPUs and a choice of either a 120 GB hard drive or a 128 GB SSD. Price was reduced on both the base and high-end model, ranging from $1,499 to $1,799.
Geekbench 3, 32-bit multi-core results
1.6 GHz Late 2008, 1453
1.86 GHz Late 2008, 1416
1.83 GHz Mid 2009, unknown
2.13 GHz Mid 2009, 1859
Geekbench 4, 64-bit multi-core results
1.6 GHz Late 2008, 1772
1.86 GHz Late 2008, 1972
1.83 GHz Mid 2009, unknown
2.13 GHz Mid 2009, 2217
Other World Computing offers 60, 120, 240, and 480 GB SSD upgrades for this model.
Late 2010 MacBook Air: SSD Only
October 2010 brought bigger changes. While still sporting a 13″ screen, the Late 2010 MacBook Air (A1369) got a redesigned case design – one that continues to be in use (with only minor modifications) in 2018, perhaps the longest Apple has kept any single design in production. It kept the same Core 2 Duo CPU models used in the previous incarnation, but Apple dropped the traditional hard drive – from now on, all MacBook Airs would come with solid state storage – 128 or 256 GB options. 2 GB RAM was standard, but for the first time users could opt for 4 GB at the time of purchase. Again, RAM could not be upgraded after purchase.
Screen resolution got a boost to 1440 x 900 pixels, powered by an Nvidia GeForce 320M graphics processor. Connectivity was improved with two USB 2 ports along with an SD memory card slot. Battery life was rated at 7 hours (from the original model's 5 hours) and maximum battery cycles had jumped to 1000 from the original 300. Pricing dropped again, starting at $1,299, with the larger SSD adding $300 to the cost.
One More Thing: An Even Smaller MacBook Air
Apple was phasing out its relatively affordable polycarbonate white $999 MacBook – what proved to be the final version was released in May 2010, staying in production through July 2011. Along with the new 13″ MacBook Air, October 2010 saw Apple's release on a different $999 model – the first 11″ MacBook Air (A1370). Like it's bigger sibling, the smaller Air's design remained – without major modification – through the rest of this product's lifespan.
Smaller and lighter than the 13″ Air, this first iteration of the 11″ Air came with somewhat slower Core 2 Duo processors: 1.4 or 1.6 GHz options; the $999 base model shipped with a 64 GB SSD; $200 more boosted that to 128 GB. (A 256 GB SSD was also available). Like the larger model, it could be ordered with either 2 or 4 GB of RAM – again, this was not upgradeable after purchase.
Like the 13″ model, the smaller Air included a pair of USB 2 ports and a GeForce 320M graphics card. Unlike the larger model, it lacked an SD memory card slot and had a lower screen resolution: 1366 x 768 pixels.
Geekbench 4, 64-bit multi-core results
1.4 GHz 11″ Late 2010, 1628
1.6 GHz 11″ Late 2010, 1749
1.83 GHz 13″ Late 2010, 2192
2.13 GHz Mid 2009, 2217
2.13 GHz 13″ Late 2010, unknown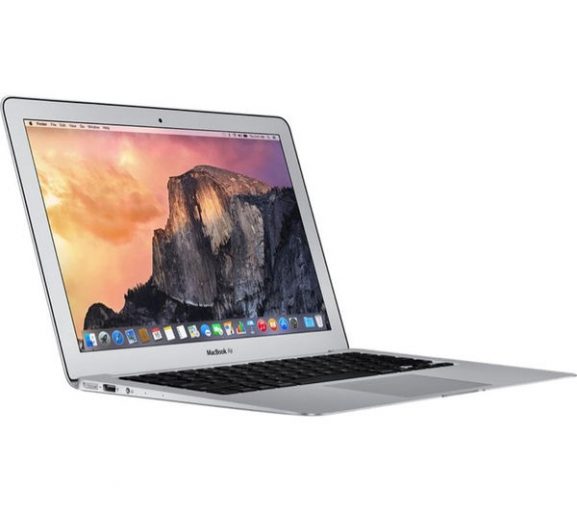 Mid 2011 MacBook Air: Intel Core i Doubles Processing Power
The July 2011 13″ and 11″ models kept the same model numbers but replaced the Core 2 Duo CPUs with Intel's new Core i5 and i7 Sandy Bridge CPUs; a 1.7 GHz i5 or 1.8 GHz i7 in the 13″ Air, while the 11″ model offered a 1.6 GHz i5 or 1.8 GHz i7. With the new Core i CPUs, these models more than doubled the processing power of their immediate predecessors!
In both models, the Mini DisplayPort was replaced with Thunderbolt ports – visually identical, but much more capable – allowing, for instance, faster Ethernet dongles that didn't need to take up a USB port.
And these remained the standard MacBook Air designs for the rest of the product's run, with relatively modest improvements.
Geekbench 4, 64-bit multi-core results
1.4 GHz 11″ Late 2010, 1628
1.6 GHz 11″ Late 2010, 1749
1.83 GHz 13″ Late 2010, 2192
1.6 GHz Core i5 11″ Mid 2011, 3788
1.7 GHz Core i5 13″ Mid 2011, 4366
1.8 GHz Core i7 13″ Mid 2011, 4696
1.8 GHz Core i7 11″ Mid 2011, 4788
Mid 2012 MacBook Air
The June 2012 update brought Ivy Bridge generation CPUs to the MacBook Air – for the 13″ (A1466), 1.8 GHz Core i5 or 2.0 GHz Core i7. The 11″ (A 1465) came with a 1.7 GHz i5 or 2.0 GHz i7. The slowest Mid 2012 model was more powerful than the fastest Mid 2011 MacBook Air.
Both models could be ordered with 8 GB of RAM, a first for the MacBook Air product line, and a 512 GB SSD.
For the first time, the MacBook Airs included faster USB 3 ports.
Geekbench 4, 64-bit multi-core results
1.6 GHz Core i5 11″ Mid 2011, 3788
1.7 GHz Core i5 13″ Mid 2011, 4366
1.8 GHz Core i7 13″ Mid 2011, 4696
1.8 GHz Core i7 11″ Mid 2011, 4788
1.7 GHz Core i5 11″ Mid 2011, 4803
1.8 GHz Core i5 13″ Mid 2012, 5008
2.0 GHz Core i7 13″ Mid 2012, 5785
2.0 GHz Core i7 11″ Mid 2012, 5898
Mid 2013 MacBook Air: Dramatic Battery Life Improvements
For the Mid 2013 MacBook Air, Intel's Haswell chipset promised dramatic battery life improvements over previous generations – Apple promised up to 12 hours of battery life on the 13″ model (still A1466) and up to 9 hours on the 11″ (still A1465), due to its smaller battery. Both models sported CPUs that appeared to run slower than the previous generation: 1.3 GHz Core i5 or 1.7 GHz Core i7 on both the 13″ and 11″ models – these slower base speeds were touted as battery-saving features; these CPUs feature Turbo Boost, allowing them to run at nearly double their rated speed.
Geekbench 4, 64-bit multi-core results
1.7 GHz Core i5 11″ Mid 2011, 4803
1.3 GHz Core i5 13″ Mid 2013, 4937
1.8 GHz Core i5 13″ Mid 2012, 5008
1.3 GHz Core i5 11″ Mid 2013, 5012
2.0 GHz Core i7 13″ Mid 2012, 5785
2.0 GHz Core i7 11″ Mid 2012, 5898
1.7 GHz Core i7 13″ Mid 2013, 6227
1.7 GHz Core i7 11″ Mid 2013, 6328
Early 2014 MacBook Air
Released in April 2014, the Early 2014 MacBook Air still used Haswell generation chips; 1.4 GHz i5 or 1.7 GHz i7 on both models. The base price of the 13″ model dropped to $999, while the 11″ model started at $899.
Early 2015 MacBook Air
In March 2015, Apple introduced the Early 2015 MacBook Air using Intel's Broadwell generation CPUs: 1.6 GHz Core i5 or 2.2 GHz Core i7 on the 13″. Updated Intel HD Graphics 6000 chipsets, faster Thunderbolt 2 connectors. This was the final version of the 11″ MacBook Air – production of that model ended in October 2016.
Mid 2017 MacBook Air
As of June 2017, the 13″ Mid 2017 MacBook Air became the only model available. It still uses Broadwell CPUs, either a 1.8 GHz Core i5 or a 2.2 GHz Core i7.
Geekbench 4, 64-bit multi-core results
This list only includes 13″ models from 2014 through 2017. Geekbench does not have sufficient results to report on all processor options.
1.4 GHz Core i5 Early 2014, 5145
1.6 GHz Core i5 Early 2015, 5585
1.8 GHz Core i5 Mid 2017, 6170
2.2 GHz Core i7 Early 2015, 6893
One more thing – the 2018 'new' MacBook Air 13″ Retina
On October 30, 2018, Apple announced new versions of the iPad Pro, Mac Mini, and yes, the MacBook Air – the first extensive redesign since late 2010. The late 2018 model retained the 13.3″ screen size, but finally replaced the 2010-2018 models' 1440 x 900 pixel screens with a 2560 x 1600 pixel Retina display. By shrinking the size of the bevels, the new model is 17% smaller – and somewhat lighter that the previous generation.
At the same time, Apple replaced nearly all the 'legacy' ports with a pair of USB-C/Thunderbolt 3 ports. The MagSafe charger port is gone – replaced by USB-C charging. The only additional port is a headphones/speaker jack. Like the rest of Apple's laptop line, the new Air gets the thinner (but controversial with some users) 'butterfly' keyboard. The new models are available in three colours – Space Grey and Rose Gold in addition to the traditional Silver.
The trackpad got Force Touch (as on the MacBook Pro) and a fingerprint reader was added – serving double-duty as the power switch – powered by Apple's T2 security coprocessor. Apple promises improved sound output, 25% louder than on the previous model with 50% better bass response.
Users could opt to go from the base 8 GB of memory to 16 GB and increase the SSD storage from a (too-small!) 128 GB through 256 GB, 512 GB, or 1.5 TB. The only CPU offered was an '8th generation' 1.6 GHz ('with Turbo Boost up to 3.6 GHz) Intel Core i5-8210Y – a new 7W, dual-core processor and accompanying chip set making it possible for Apple to promise battery life of 12 hours of local video playback or wireless web usage – better than any contemporary Apple laptop.
Base price went up, by US$200; removing the under option US$1000, instead the pricing was in the same ballpark as Apple's 12″ MacBook and 13″ MacBook Pro lines. Maxxing out the RAM and storage boosted the price to US$2600.
The 2017 MacBook Air remained for sale – for customers prepared to buy an older (5th generation) CPU and lower-resolution display in order to save a couple of hundred dollars.
And more…
2019 Retina
Apple kept the 2018 model's form factor and basic idea with the 2019 update, in the product line from July 2019 through March 2020. Relatively modest upgrades, though the processor and speed remained the same, and the highest-end 1.5 TB SSD storage option of the 2018 model was replaced with a somewhat more affordable 1 TB option. This relatively modest upgrade did include the True Tone display and somewhat improved 'butterfly' keyboard of the 2019 MacBook Pro.
2020 Retina
March 2020 brought another short-lived (until November 2020) modest upgrade in the same body as the 2018 and 2019 models. This one, finally dropped the lower-priced 128 GB storage option of earlier models and added an Intel Core i3-powered model at a base price of US$999, along with a US$1299 Core i5 model and a higher-end Core i7 model – all members of Intel's 'Ice Lake' processor family.
Storage included 256 GB, 512 GB, 1 TB ad 2 TB SSDs. The graphics processor was upgraded to Intel's next generation: Iris Plus, and external monitor support was improved. Bluetooth support jumped a notch from Bluetooth 4.2 to version 5. The 'butterfly' keyboard was replaced with a 'Magic Keyboard' design similar to what was included in the 2019 16″ MacBook Pro. (I breathed a sigh of relief!)
2020 M1
November 2020 saw Apple unveil the first Macs powered by the company's home-grown ARM-based M1 processors – relatives of the CPUs used in the company's iPhones and iPads. The first M1-powered models included the MacBook Air, the Mac Mini, and a 13″ MacBook Pro.
While continuing to use the same basic form-factor as the 2018/2019/2020 Intel-powered models, the 2020 M1 Mac restored the low-capacity 128 GB storage model (US$799), dropping the price of the 256 GB model to US$999 and the 512 GB model to US$1249. 1 and 2 TB SSDs were also available.
The 128 and 256 GB models came with 7-core graphic processors; models ordered with larger SSD featured 8-core graphic processors – otherwise, the basic M1 processor was the same for all units.
Thunderbolt ports offered upgraded USB4 support improving USB performance to 40 Gbps.
The improved efficiency of the M1 platform allowed for a finless, quieter design.
2022 M2
While the 2020 M1-powered Air used the same basic design as the 2018-2020 Intel-powered models, for new for 2022 version moved up to the next-generation M2 CPU and packed it in a totally redesigned body – instead of a thin wedge like previous Air models, this is a (still-thin) slab. It looks like an ultra-thin take on the previously released 13″ M2 MacBook Pro.
Along with the upgraded processor (which benchmarks about 30% faster than the previous generation's M1) it offers a brighter screen, improved webcam (1080p instead 720p) and sound, and strong battery life. Some may grumble that to fit the webcam in with thin bezels, Apple placed it in a notch in the middle of the menu bar.
Lacking the cooling fan found in thicker MacBook Pro models, the processor in the M2 Air is set to run at a slower speed – and still may run hot  under heavy load. Most Air-users will never find themselves in this situation, I suspect.
Two more grumbles – at US$1199, pricing starts US$200 more than the entry-level M1 Air; Apple is continuing to sell the M1 Air as its sub-$1000 Mac laptop. As well, the 256 GB SSD found in the base-model M2 Air runs slower than the higher-capacity SSDs that Apple will happily install (for an additional US$200 or more).
Overview
The MacBook Air started life in 2008 more as a high-priced proof of concept than as a model aimed at mass acceptance: Apple wanted to demonstrate that it could make a thin, light laptop, showing what that era's netbook could be if it wasn't designed to be ultra-cheap along with ultra-light. The compromises – together with the high price – relegated the original MacBook Air to a niche market.
The 2010 redesign gave us a form factor that is still being used in the current 13″ MacBook Air and bypassed several of the limitations of the original model. More significantly, it rethought the Air's price point – from now on, the MacBook Air – and especially the 11″ model – became Apple's entry-level portable computer, moving from luxury model to (relatively) affordable.
The Mid 2013 models were perhaps MacBook Air's peak – Intel's Haswell generation chipset produced a big jump in battery life, with the 13″ model promising up to 12 hours on a charge compared to 7 hours in the 2012 model. And in a laptop designed to be taken places, that made a big difference in usability, making it a laptop that could last a whole day and was light enough to want to take around with you.
Models between 2013 and 2020 saw only modest improvements. In particular, Apple didn't changed screen resolution from 2010 to 2018. When the Retina-screen 12″ MacBook was released in April 2015, its 12″ screen and single USB-C port was reminiscent of the original MacBook Air. Its base price was higher ($1,299) than either the 11″ or 13″ Airs, and both of those models remained in Apple's product line, offering options for customers whose budgets stopped at US$1000.
Apple stopped selling the 11″ Air in 2015 – the 13″ model remains for sale, but with minimal upgrades and – in particular – a screen resolution that was good in 2010 but by 2018 was a bit of an embarrassment. Continued sales were a testament to the quality and value of its then 8-year old design, but I wonder how much longer it will remain in production?
Update (early 2020): The October 30 2018 revision suggested that Apple believed that this product line continued to have life. At the same time, the nearly identical base pricing for the MacBook Air, 12″ MacBook, and 13″ MacBook Pro (non Touch-Bar) made it difficult for some consumers to choose.
While Apple dropped the 12″ MacBook from its product line in 2019, the MacBook Air received only modest updates in 2019 and 2020.
The move to Apple's home-grown M1 processor in late 2020, even in the same body as the 2018/2019/2020 models kept the MacBook Air part of Apple's improved product line. Still, for many users, it may be difficult to choose between Apple's 13″ MacBook Air and 13″ MacBook Pro models, with relatively modest differences in weight, pricing, power, and features. And in 2022 Apple released an M2-powered MacBook Air in a new body design alongside the higher-priced 13″ MacBook Pro. Despite some grumbles (see above), in 2022 the MacBook Air remains Apple's laptop for most of us.
Confession – I'm a MacBook Air user. My model of choice? A 2017 MBA with a 3rd-party 512 GB SSD. (Yes, you CAN relatively easily upgrade the storage on most MacBook Airs – though they use non-standard SSDs, similar to the the widely-available M2 SSDs (not to be confused with Apple's M2 Apple Silicon SSD), but with a different connector.). I like this model for two reasons:
— I need 32-bit application support (that's another story) so the last Mac OS version I can use is Mac OS 10.14 Mojave. More recent Mac OS versions only support 64-bit software.
— I can't stand Apple's butterfly keyboards, which were built-into 2018 and 2019 MacBook Airs. While the 2020 Intel and M1 Airs have what I consider usable keyboards, neither allow installation of Mojave.
So the 2017 MacBook Air is the most recent model that both offers a keyboard I can stand to type on and supports the all the software I need to run. So far, that's working just fine.
2022 confession (continued): I recently bought a 2015 11″ MBA – the last version produced. (I got it from the LEM-Swap used gear email list posting). I got it partly out of nostalgia for the 2013 11″ Air that I lost in a house burglary, and partly because I wanted a relatively small, light-weight laptop that I could take travelling – and it was inexpensive enough that if it got broken or stolen on the trip, it wouldn't be a major loss. It has 8 GB of RAM and a modest 128 GB SSD – so I rely on cloud storage for most documents, photos, music, etc when I'm using it. But I like it a lot. Used in that way, it works well – I'm sticking to Mac OS 10.14 Mojave on it – the last version with 32-bit support – so that I can edit web pages using my old standby KompoZer, but that's fine with me.
* No, it isn't a typo. Compleat is a legitimate, albeit archaic, spelling for complete. As Kenneth G. Wilson says in The Columbia Guide to Standard American English: "This obsolete spelling of the adjective complete suggests an air of antiquity that seems to please some of those who name things…." We find that fitting for Low End Mac's guides to "obsolete" hardware and software.
keywords: #macbookair #compleatguide
short link: https://goo.gl/GBN3Cg