Several weeks ago I ordered a retro Mac CPU upgrade on eBay that I wanted to write an article about. I was very excited to get my hands on one; I've been keeping an eye out for years, and now I'd finally be able to run some tests and get an idea as to how much it helped the performance of several retro Macs I own. When it arrived I was both excited and disappointed. When I ordered the the card, the item pictured showed a necessary PDS Adapter to make it work with one certain model. I just assumed that the adapter was included with the card; I was wrong.
I reached out to the seller. I told him that I was a columnist for Low End Mac and that I purchased the card so I could write an article about it. Mark (the seller) reached back to me and was happy to send the adapter my way. He mentioned that he was with MacEffects, a new LLC that makes special clear injection molded cases for retro Apple computers. He asked me if I'd like a new MacEffects Clear Case for one of my Mac SEs to review. I accepted his offer, as I knew that their Clear Cases looked great; I'd actually been wanting to write a review on one for a while, but I hadn't been able to justify the expense.
A few weeks later, Mark reached back to me and let me know that he had finally received more stock of both the Macintosh Clear Case and a clear ADB Mouse to match. He told me that he had sent them my way, and a few days later I received the Clear Case and the mouse. When I opened them up, I was absolutely blown away by the amazing quality of the plastics that were used. This is not some cheap lightweight plastic that feels like you're going to break it just by looking at it the wrong way; it is very solid and has a good weight to it. The ADB Mouse also feels very nice, and it's awesome to see the Axis Wheels spinning as you use the mouse.
---
WARNING!
Installing the components of your Macintosh into the clear case is not for the faint of heart. It requires that you discharge the CRT and remove High Voltage components from the original case. Please do not try this at home if you're not familiar with how to safely work with High Voltage Electronics. If you do decide to take this project on, please remember to safely discharge the CRT in your machine before you attempt to remove any components. DO NOT leave your machine plugged in at any time when the back cover has been removed.
Once you have the CRT discharged the removal of components from the old case and installation in to the new Clear Case is very easy. You have to be careful of the CRT's neck, you don't want to bang it on anything. If you do the CRT could be damaged.
---
Once I had played with the mouse for a moment, I decided it was time to take apart one of my Mac SEs and transfer all of the components in to the new Clear Case. Using my special Extra Long T-15 screwdriver and my MacCracker, I was able to crack open my Mac SE. I discharged the CRT, and proceeded to remove all of the components. I installed the CRT first, as I didn't want it laying around, the rest of the components you have to install in reverse order.
The clear case came with a new cooling fan that is clear and has a green LED that turns on when you turn on the computer. It really has a stunning look to it when it is all assembled. I really like how the whole thing looks when it is all put together. As I said before, it has a quality feel to it. Actually, I'd go as far as to say the plastic actually feels better than the original case plastics did. I love being able to see the Hard Drive Rotor moving as the drive seeks, and the green LED in the included clear cooling fan really makes the whole thing stand out when it's turned on.
There are a few things that I'd like to see in future revisions of the Clear Case. I love that it includes a clear programmer's switch with the Reset and Interrupt icons on it, but the case itself does not have any port icons over the ports on the back; I'd like to see those added.
I'd also like to see a brightness indicator icon below the brightness knob, and possibly a place to put the Apple Logo from the original case. The only real complaint that I have with the setup is that there is no easy way to remove the mouse ball for cleaning. The bottom housing for the mouse is a solid piece, meaning you have to take the whole mouse apart in order to clean it.
Aside from the very minor criticisms that I had for the kits, these are incredibly solid products that I would encourage anyone who is in the Retro Apple Community to consider these products. They make your existing device feel that much more special and will give you many more years of enjoyment.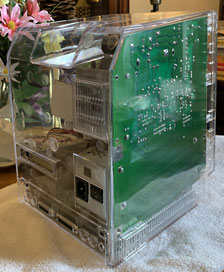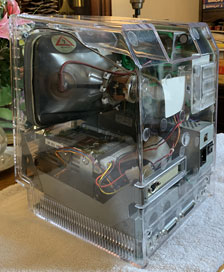 Thank you, Mark, for giving me the opportunity to review these products. They are extraordinarily excellent, and I can't wait to see what you have in the pipeline.
---
I am still working on the articles about the card that I bought that led to this article. It is a Power Macintosh Upgrade Card, and the articles will be about various Macs that it is compatible with – and the performance boost you get from it. I'll also be writing at least one new article about the x200 series of Macs. Based on new data, I've been led to believe that the reputation they have may not be deserved. I look forward to setting the record straight.
Until next time, thank you for reading and have a great day!