I know what you're thinking, and you're right. We're a bit late on our Mac OS news update – the first for 2021. That's because I was busy, busy, busy – sorry! But lots of activity in the (retro) Mac OS scene and many exciting projects we need to talk about!
Sherlock is back.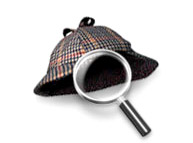 No, not the detective. The search utility from Apple for Mac OS 8 & 9. The Macintosh Garden team created new plugins, fixed banner support, enabled auto update and other stuff. Basically it allows you to use Sherlock to search through a lot of (retro) Mac OS compatible websites and services again. I'd label that an "essential" update for any Mac OS 8 & 9 machine!
Info & download: http://macintoshgarden.org/apps/official-macintosh-garden-sherlock-plugins
More Searching
Two other great new projects for Mac OS users regarding web search. FrogFind! is a search engine (think Google!) specifically tailored towards vintage computer needs. What does it? It uses the DuckDuckGo search engine in a kind of a man-in-the-middle fashion. Results get stripped of anything that'd bring a retro browser close to exitus – namely modern JavaScript & CSS. Then it serves the remains up to your retro browser.
I've had some mixed results while searching (a lot of modern websites are simply broken as text-only) but it's a good one e.g. when hunting for a download that someone hid on a site forcing SSL encryption. (I've heard these things happen …)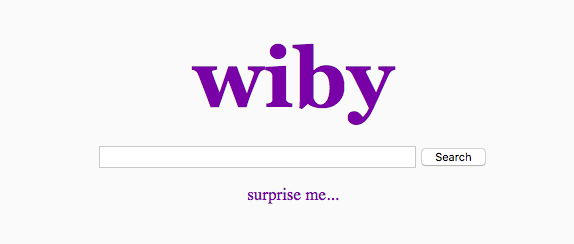 Another contender is Wiby.org. Not ashamed to admit that I fell in love with it. Did you join the web before the whole web 2.0 thing started? If so, you may remember how different things were. Early websites were usually done by academics, enthusiasts and hobbyists. All those MBAs were still out "in the real world". It might seem this is history – but it's not! Those pages are still there – they're just hidden under a pile of SEO-optimized commercial pages in Google.
This is where the Wiby search engine comes in: It's building a search index that only contains non-commercial websites without bloated scripts. What a relief! A neat "surprise me" function sends you to a random website which was one of the real joys of web-surfing during the 90's – finding things you didn't know you wanted to know!
An option to exclude SSL encrypted pages from search and a form for submitting missing websites to wiby.org are on there as well. What else to say? I've had a lot of (nostalgic) fun with this one on a Macintosh IIci and Netscape 4.8.
Website: http://frogfind.com/
Website: http://www.wiby.org
In today's news …
Speaking of exciting new projects – did you know you can now read the latest world news on your old Mac (again)? Action Retro created a website that aggregates news articles from Google News and displays them in text-only HTML – compliant with even the oldest versions of Netscape! How cool is it to boot your Mac SE/30 to catch up with the latest news? :-)
Headlines from the Future: http://68k.news
Real videos are greyscale!
If you think of video animation on black & white Mac hardware, you probably think about MacroMind's excellent VideoWorks (II) from the 80's. Well, don't anymore! MacFlim is exciting news for owners of 68k compact Macs. It actually makes it possible to play video full-screen on seriously under-powered 68k systems – in greyscale, yes. There's no sound yet, though the later is supposed to be added soon. If you ever wanted to see your Macintosh SE run a scene from Star Wars in full-screen – give it a try!
Website: http://www.macflim.com/
BBSing time!
Whether you fondly remember your time spent in Bulletin Board Systems (BBS) during the 80's or you're just simply curious to try one out – you've now got two great Mac-themed options! While we wrote about Applefritter's eWorld reboot before, Captains Quarters II is dedicated to Macintosh & IIgs users and adheres more to the original 80's BBS feeling.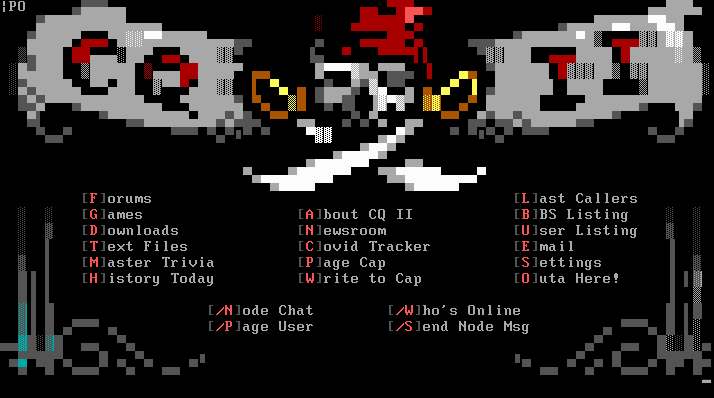 Here at LEM we love both! The eWorld reboot has been a little less active lately but appears to have a bigger downloads area. The Captains Quarters II has more daily activity and, of course, classic BBS games. The links below will take you to the respective website with info on how to join – do yourself a favor and try it out, it's fun!
eWorld reboot: https://www.applefritter.com/content/welcome-applefritter-bbs
Captains Quarters II: http://cqbbs.ddns.net/
A sequel to The Queen's Footsteps
Back in September 2020 we reported the commercial release of a new boxed Macintosh interactive fiction game named The Queen's Footsteps. The author, Davide Bucci, is finishing up work on a successor called Silk Dust. Same as with the royal footsteps, it'll be a text-adventure in the tradition of early Infocom games. According to him, he's getting close to version 1.0 and since rewrote the routine to allow saving on System 6 too. (only worked with System 7 & higher before)
No word has been out whether there will be another boxed copy release for the Mac. We'll have more to report on this in our upcoming update #4!
Update time!
The past few months also brought some updates for projects we mentioned in earlier updates:
Mac Garden Image Hosting – now supports PICT files! Take a screenshot on your Mac OS machine and directly upload it. The service will convert it to GIF and you can share it via link with the world!
Cornica.org – added many more QuickTime movies & an optional alternative (CSS-based) theme. They're celebrating 500 Quicktime videos. Check it out!
That's it for this time – quite some exciting things happening in the Mac OS scene! And we haven't even entered the holiday season 2021 yet. Look for an update #4 of Mac OS news in a few weeks from now!